TAKEAWAY: It's been a year since the publication of my digital book about tablets: so what's happening with newspaper tablet editions today? This is Part 1 of a four-part series.
TAKEAWAY: It's been a year since the publication of my digital book about tablets: so what's happening with newspaper tablet editions today? This is Part 1 of a four-part series.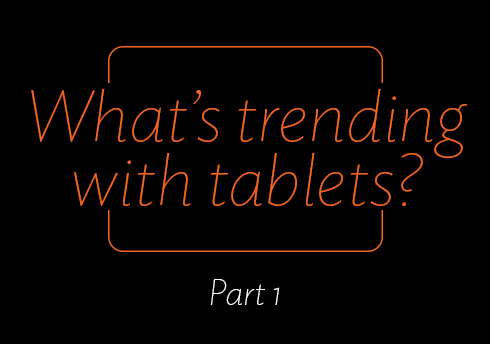 Illustration by Reed Reibstein
It will be exactly one year since my digital book, The iPad Design Lab: Storytelling in the Age of the Tablet, was published.
It may be a year, but it feels more like five, if we measure it in terms of news tablet editions and their development. Rarely a week goes by when I am not wondering when I should begin an update of the book.
However, this week I had a chance to look at the new Virginian Pilot tablet edition, Evening Pilot, and felt that it would have made for a good addition to the book.
The Evening Pilot which I will discuss in this blog Wednesday appears at the end of Summer of 2013, and it is a refreshing way to look at the state of news tablet editions.
First, however, it would probably be helpful to take a look at the state of tablet editions generally.
Judging by the mail I get these days, it would be safe to summarize the mood of publishers and editors in two words: doubt and fear, although we could add a third, inertia.
Here are some of those messages in my mailbox:
Are you still feeling strong about curated tablet editions?
Indeed, I do feel that a good newspaper tablet edition must have material that has been selected, prepared and crafted for what the tablet can do. It does not have to be an entirely curated edition, however. It does not have to be an app. But, it definitely needs to have the extra ingredients which the tablet is so good for.
Have you heard that (Germany's) "Bild" completely closed down its HD due to high costs?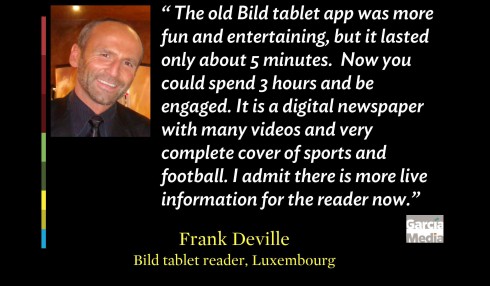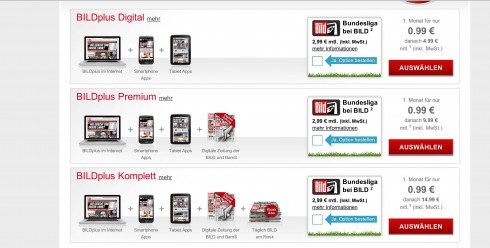 Here are the various packages offered by Germany's Bild
Yes, I have, and I think we all will miss those fun and engaging pop ups, many of which I have used in TheMarioBlog, as well as in my presentations. So I decided to ask our European blog correspondent, Frank Deville, a loyal Bild tablet reader, what he thought of what Bild offers now. Here is what he said:
While some of those pop ups in the old Bild tablet edition were fun, it was fun that lasted about five minutes. I am impressed with the amount of information that Bild now presents in its app. It feels more like you are reading a newspaper. It goes straight to the information, and, especially with sports, it is 100% complete, with videos, results and every detail. And I like the fact that all of this is combined across all the platforms. So, a good thing, if you ask me, especially because breaking news is always there.
Do you think that enriched ePaper is popular?
I believe that it is part of what makes a tablet edition strong, but NOT its only component. Perhaps the Bild model is one to observe: live reports, constant breaking news accessibility, plus an increased number of videos and photo galleries, even if the pop ups (a favorite) have been decreased at the moment.
Here are some of my random thoughts:
Accommodating reality: The tablet is as hot as ever and there is no reason to believe that this will change. However, publishers and editors are coming to terms with the realities of production costs (digital storytelling can be expensive), the willingness of users to pay (we hope that this attitude changes), and the fact that the tablet is becoming a substitute for either print and/or online editions, and therefore how content is presented must accommodate those issues.
The lean forward factor: I see more tablets in the hands of people during the course of the day, which prompts me to believe that it is getting a little bit more lean forward than it was six months ago. People actually read online news throughout the day on their tablet devices, while they may save some of the longer pieces and more finger happy, engaging features for lean back time.
Users' expectations have changed: We know that people come to the tablet to browse, to read, to see photos and videos. But we also know that they want immediate access to breaking news.
A good tablet edition offers something special: They also feel special when the tablet edition, as does Evening Pilot, offer something special, that was not necessarily presented the same way in the newspaper. This is tablet enterprise storytelling, which for the Evening Pilot this week has been a special feature about that timely subject of spies, as in How to Spot a Spy. We also know that the look of a tablet edition should not be a replica of the printed newspaper.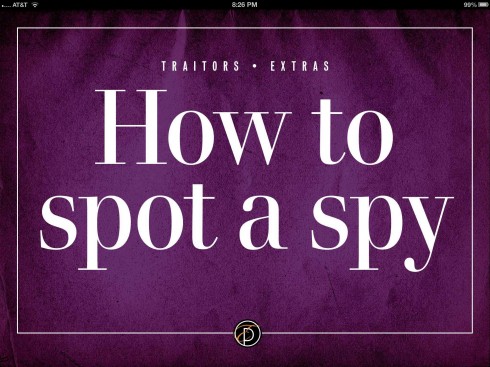 Two screenshots from The Virginian Pilot's Evening Pilot
Era of compromise
During the next three days in this blog we will see a variety of approaches and opinions about what constitutes effective newspaper tablet editions. I think we will see an era of compromise where the curated material is selective and less, as opposed to an entire edition. Breaking news access will play a key role, and so will be videos and photos.
What's Trending With Tablets?
Coming up in TheMarioBlog:
Tuesday: It's a short but vibrant history for newspaper tablet editions.
Wednesday: We take a look at Evening Pilot, the new tablet edition of The Virginian Pilot
Thursday: A conversation with Joe Zeff and Michael Eder about where newspaper tablet editions are headed
Pages we like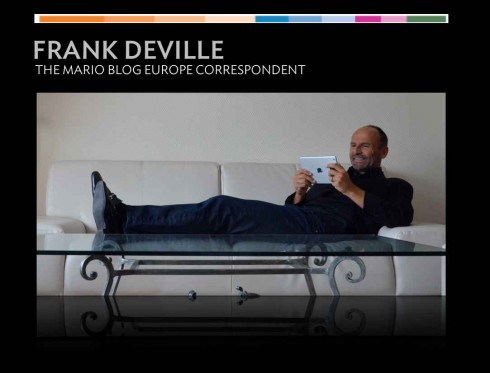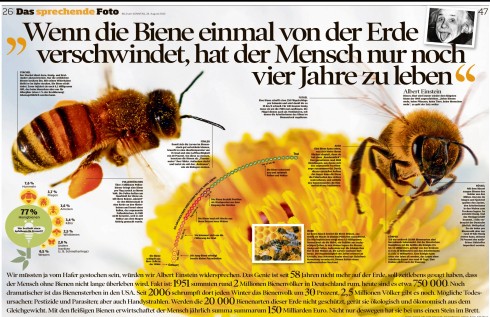 Our Europe blog correspondent Frank Deville has selected two double page spreads from the Bild am Sonntag: one devoted to the timely subject of bees, with a headline that reads:
If the bees disappear, so will we in about four years
The second spread is devoted to the fastest runner alive Usain Bolt, and a nice touch where the dot of the "i" in the word Blitz is actually a headshot of the photographer who took the photos.
TheMarioBlog post # 1317