TAKEAWAY: The news breaks on Twitter, that's a fact, but it takes professional journalists to take it beyond that first Tweet. Nothing wrong with that. Newspapers lost the time advantage , but the media still have the upper hand in terms of making the significance of news explained to readers.
Let the Tweeters break the news…...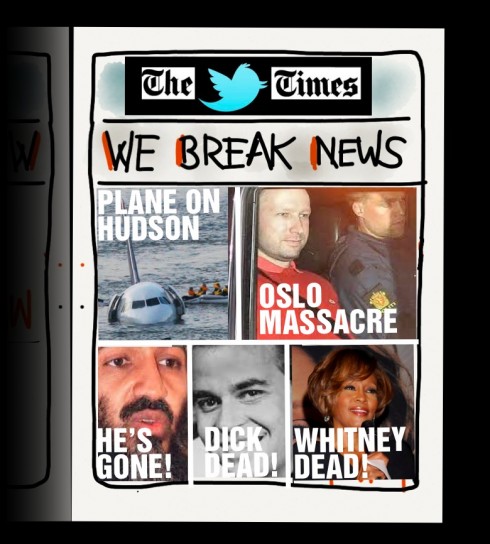 Twitter breaks the news, no doubt: from the plane landing on the Hudson to the Oslo massacre to the deaths of Bin Laden, Dick Clark and Whitney Houston; Tweets told us about it first


How "Breaking News" Broke the News
Highlight:
Breaking news used to be "news of transcendent importance." Now it's a joke.

In this provocative Lyle Spencer, in which he wrote in 1917:
Any accurate fact that will interest a large number of readers, and, of two stories, the accurate one that interests the greater number of people is the better one.
My own definition for 2012 is something like:
Anything you know now that you did not know 15 minutes ago….or 15 seconds ago
Nobody questions that breaking news has found a comfortable launching station with Twitter, Facebook and other social media.
We all accept that. Everyone armed with a mobile telephone is reporter, videographer and photographer.
He is not a journalist, however.
That function is still with the men and women who train to do the job. And, although they may not break the news in the old fashioned sense of the word, they will help even those reporting it first, to understand how it affects them.
Real journalism goes beyond a 140-character Tweet.
In my view, there is nothing to worry about with the "demise of breaking news" for traditional journalists.
They break the news, you the journalists pick it up and run with it.
Most obstetricians who deliver babies do just that.
They don't raise them, nurture them and see them grow. Parents do that, in most cases.
Let every "obstetrician" out there who is armed with the tools of reporting take care of the delivery, as I am sure they will continue to do.
Let the journalists do the rest. Their job has not been more crucial.
I don't lament the end of breaking news. I celebrate the challenge that this presents to editors, journalists and designers: to surprise beyond the House of Twitter.
We must be up to the task.
Related blog posts:
Breaking news and the people in the Central Square
http://garciamedia.com/blog/articles/breaking_news_and_the_people_in_the_central_square/
News agencies and social media: challenges of producing news when everyone's a "journalist"
http://garciamedia.com/blog/articles/news_agencies_and_social_media_challenges_of_producing_news_when_everyones_/
Those smartphones gaining momentum with Japanese newspapers

I have seen at least a model of the future, and wish I could tell you more about it, except that it is all contained within a smartphone where typical news/features fare sings, dances, moves as in video, with, of course, stories to read.
It is not a prototype of 2050, by the way, but perhaps 2015 or earlier.
So it is with great interest that I read about http://www.reuters.com/article/2012/04/23/idUS19492+23-Apr-2012+HUG20120423

Highlight:
The deal includes Apple's iPad* and a subscription to the digital edition of Helsingin Sanomat. If preferred, the standard, home-delivered version of the paper can be added to the package.
So more than 50% of Finns who took the Helsingin Sanomat consumer survey are "very or rather interested" in the option to also include an iPad in their paper subscription,
My take:
While this is a survey that took place in Finland, I imagine that this will be a combo that subscribers to newspapers and magazines globally may take to at one point or another, and I think that point will be sooner rather than later.
Several of our clients are experimenting with such subscription packages at the moment, and even in places where the presence of iPads may not be as prevalent just yet, subscribers admit that they will eventually get an iPad.
It will be good to keep an eye on how the Helsingin Sanomat experiment goes.
Where in the world is Mario?
It is an interesting week ahead for me, moving across two continents, but engaging in some good programs.

April 20-23, Buenos Aires—catching up with Garcia Media Latinamerica team; plus enjoying one of my top five favorite cities in the world.
http://www.garcia-media.com.ar/

April 25, Santiago de Chile—speaking to the WAN-IFRA America Latina 2012 Congress; my topic: Designing for the 21st century, across platforms.
http://www.wan-ifra.org
April 27, Rochester, NY—speaking at Digital Reading Symposium at RIT (Rochester Institute of Technology). I am honored to be in this gathering which explores the art and science of reading on screens .
http://www.rit.edu/cias/readingdigital/
The iPad Design Lab: Storytelling in the Age of the Tablet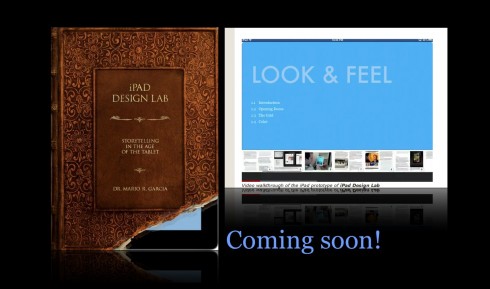 Video walkthrough of the iPad prototype of iPad Design Lab
TheMarioBlog post#1002
comments powered by

Disqus