We love those Sunday newspapers, don't we?
I have said it many times: for me, one of life's pleasures is a robust, heavy, bursting-at-the-seams Sunday newspaper that promises to keep you occupied thru two pots of coffee, several croissants, and that, upon finishing it, you know it is already 3 pm, and time for the next big Sunday activity. For me, the Sunday New York Times, El Pais (Madrid), La Nacion (Buenos Aires) and the Financial Times (Weekend) do it well.
I have also mentioned here repeatedly that the future of a printed newspaper is more likely to be found in a weekend edition, than daily.
That is why I am so disappointed to see that in India, this ever effervescent, booming country, with its fast growing middle class—-and home to the cheapest automobile ever, Tata's Nano, at under $2000 is introduced this week—- Sunday newspapers are still far from becoming the model they should be.
Yesterday was a lazy, leisure day for me, and I picked three Sunday editions here: Times of India, The Hindu and the Hindustantimes. Starting on the front pages, you got a sense that the world was on fire, and that it might come to an end within 17 hours or less. Headlines everywhere, little images jumping around the pages like frogs in the backyard of my mother's house in Miami, one color here, another color there, and a third color (totally incompatible) for the headline on that other article at the bottom of the page. Nervousness and anxiety settle in with your first cup of coffee Sunday morning. And that is only the front page. The moment you enter inside sections on Entertainment, Sports and the rest, it seems that the level of visual nervousness accelerates. Exhaustion sets in. It is barely 11 a.m. and you are ready for a relaxing Ayurvedic massage in the spa, with hot stones and special oils from Kerala. In fact, each subscriber to a Sunday edition of an Indian newspaper should be given one as part of the subscription.
Of the three Sunday newspapers I happened to read here yesterday, The Hindu comes the closest to approaching the model of how a Sunday newspaper should look and read.
What should a Sunday newspaper be like?
Sunday newspapers are supposed to be contemplative and meditative. I know the news already perhaps, but I don't understand all of it. Help me make sense of it all.
Sunday newspapers should emphasize analysis, interpretation, and be more like a book than even a magazine. Teach me, illuminate me, allow me to have a better conversation for that dinner I am attending tonight, or for my meetings at work this week.
Sunday newspapers should entice readers to buy the newspaper the rest of the week, perhaps. To do this, they have to play more violins and soft pianos than trombones and drums. The design of the page should incorporate some nice elements of white space, perhaps ONE dominant photo, not 25 of them, or a good illustrative graphic.
Sunday newspapers should send me wide and far, to the websites that I may still need to discover, to the blogs where some of the hottest topics are being discussed.
Sunday newspapers should get personal: Twitter me. Facebook me. Sunday me, if you will. Make me feel that unless I get this newspaper, I am missing out on something.
But whatever you do, don't give this Sunday edition exactly the same nervous fare as if this was Wednesday and I only had 7 minutes to read. Make me stay in bed with my Sunday edition. Make me tell those around me about the article they should not miss.
Yes, large Indian metropolitan cities are chaotic and busy, but, as I looked outside my window on this sunny Sunday morning in Delhi (population approximately 15 million), even the streets seemed to have taken a break from the schizophrenic tempo that brands them.
The Sunday newspapers here should do the same.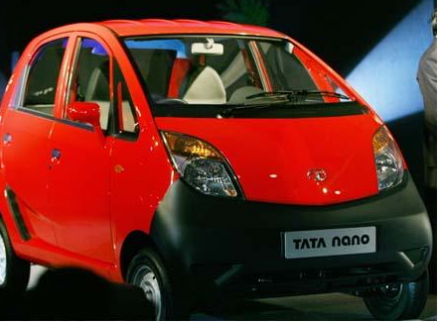 This week Tata Motors introduces in India the cheapest ever car, the Nano, which sells for under $2000 dollars.

The Monocle Weekly: Mario in the Tyler Brulé radio show


Sunday's The Monocle Weekly radio show was devoted to the future of news; Tyler Brulé's guests discuss the end of the Seattle P-I, the future of network news

On the heels of the Seattle Post-Intelligencer's final printed edition, Tyler Brulé devotes his weekly Monocle Radio show to the future of newspapers. I was honored to be one of the guests.
For those interested to listen: the program aired live Sunday, March 22, at 12:00 CET and is downloadable on iTunes as The Monocle Weekly and is available to listen to on Monocle's website, www.monocle.com.
From www.monocle.com:
This week Tyler Brûlé anchors the show from New York and takes a special look at the current state of the media industry. Newspaper design guru and consultant Mario García shares his insights about where print media is heading and Kate O'Brian, senior vice president for news at ABC, is in the studio to talk about the future of the network nightly newscast. In the face of financial cutbacks across the board we also take a look at how the US market is treating the design community, with Jenna Lyons, creative director of J.Crew, and architect Deborah Berke. Monocle's bureau chief for the Americas Ann Marie Gardner is also in the studio and editor Andrew Tuck joins the team on the line from London. We also hear from culture editor Robert Bound, who's visiting Sharjah for the Art Biennial.
Mario Garcia Jr. discusses online navigation

Go here:
Is top navigation still necessary on news sites?

http://garciainteractive.com/blog/view/37/
:


To read TheRodrigoFino blog, in Spanish, go:
http://garciamedia.com/latinamerica/blog/
TheMarioBlog posting # 221
Sign up and we will keep you updated.