TAKEAWAY: These pages impressed us with their tributes to Steve Jobs.
Update #14: Monday, Oct. 10, 2011; Vienna, Austria, 15:09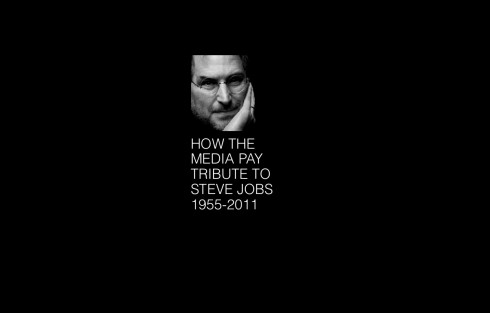 As I have compiled the pages that appear here, honoring the incredible genius that was Steve Jobs, I can't help to notice the irony of it all: in almost all of these pages we see pure "day after" treatments for headlines, more magazine styled than the traditional newspaper treatments we give stories, and particularly, obituaries. Steve Jobs changed the way we worked, introduced us to products that we and our audiences embraced fully, along with a different philosophy of how we receive information.
As a result, many of us (me included) first heard of Steve Jobs' death the evening of Wednesday, October 5, on an Apple device—-for me, the iPhone. We then followed up on the news via the iPhone, iPad, Mac. By the time that printed newspaper appeared at our doorstep, the breaking news surprise element had passed, and we were more into the meditative and contemplative mode of wanting to know more about the life of this remarkable man. Newspaper editors and designers did not fail us, as you can see here.
These are not only great tributes to Steve Jobs. They are also magnificent lessons on the role that print plays in a world where news travels fast through a variety of platforms.
While newspapers may have lost their time advantage, as we see here, they have not lost their ability to surprise and to engage.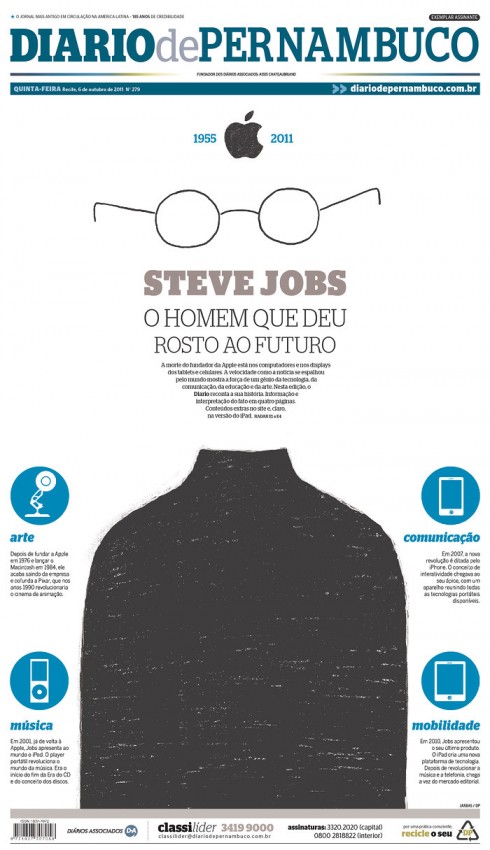 Diario de Pernambuco, Brazil—headline reads :Steve Jobs, the man who gave the future a face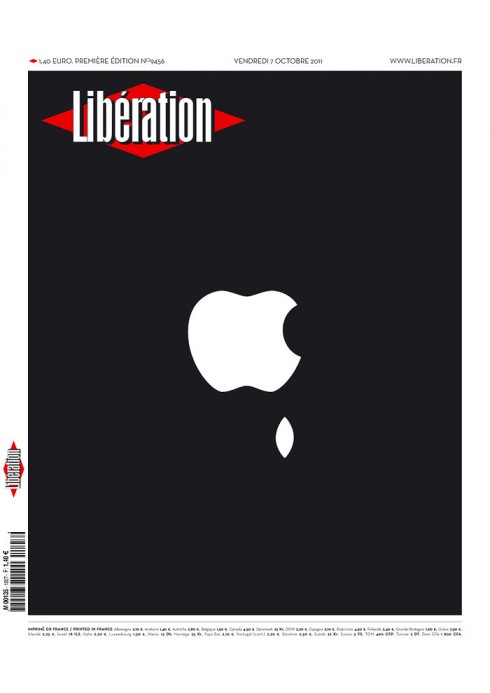 Liberation, France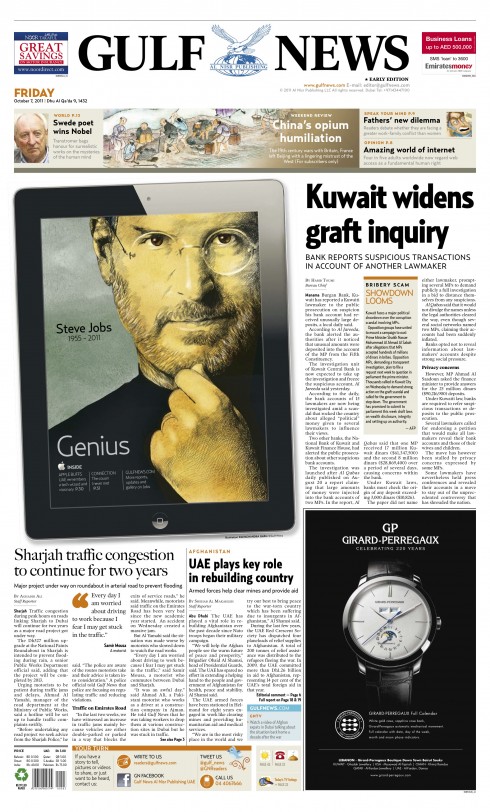 Gulf News, Dubai, UAE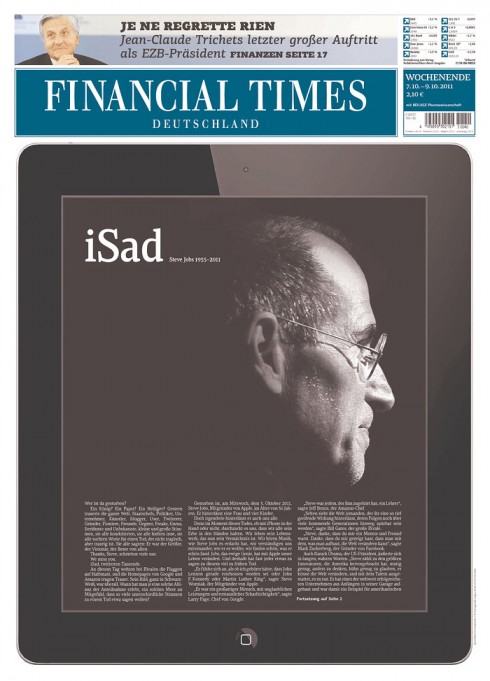 Deutsche Financial Times, Germany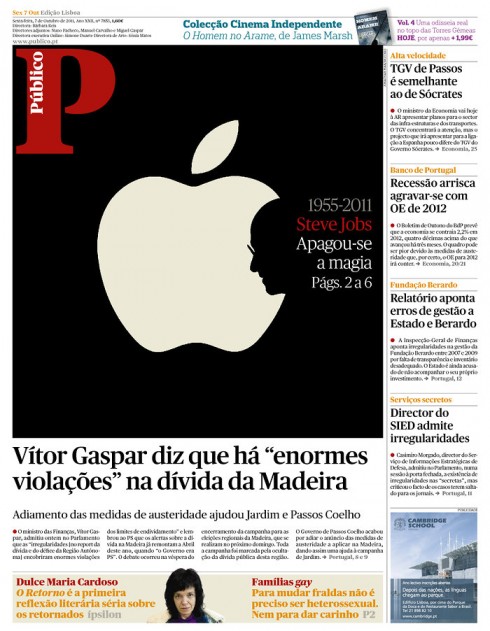 Publico, Portugal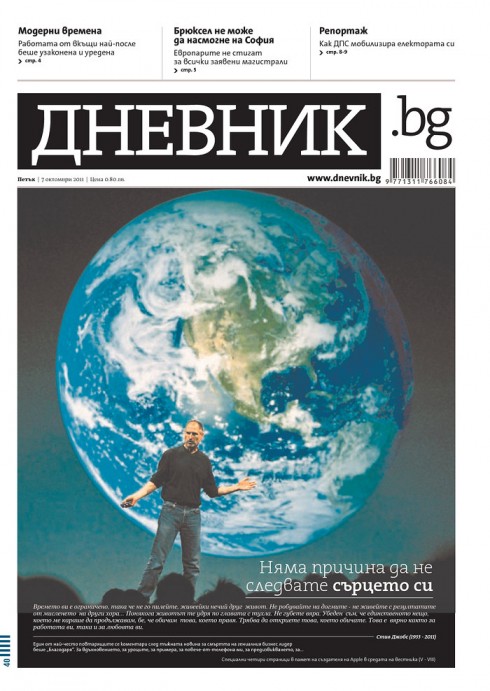 Devenik Daily, Bulgaria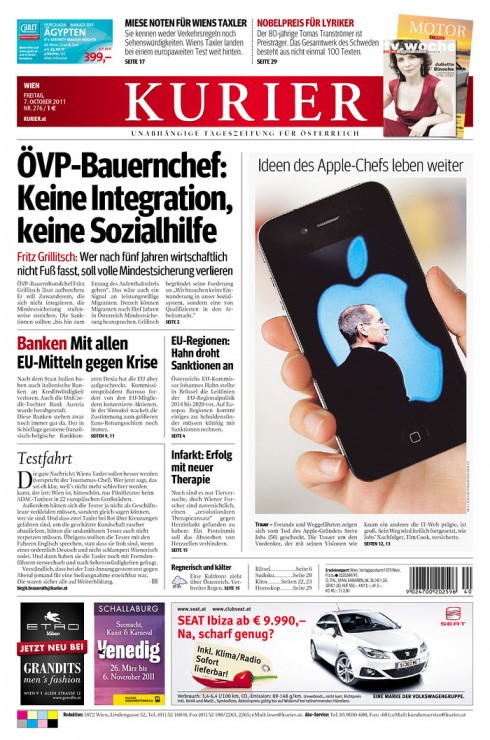 Kurier, Austria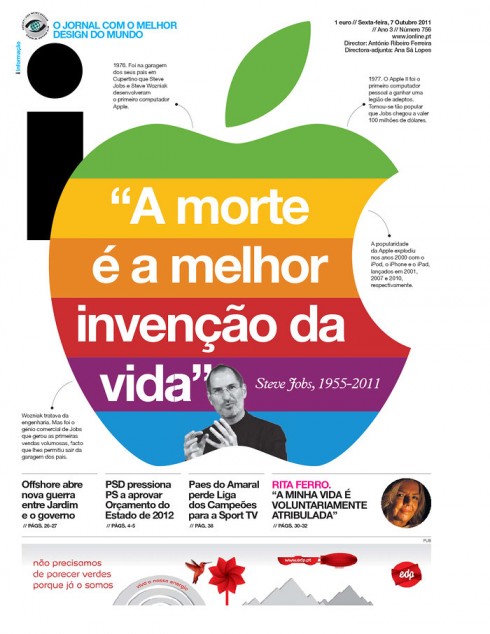 i, Portugal—headline quote from Jobs: "Death is life's best invention"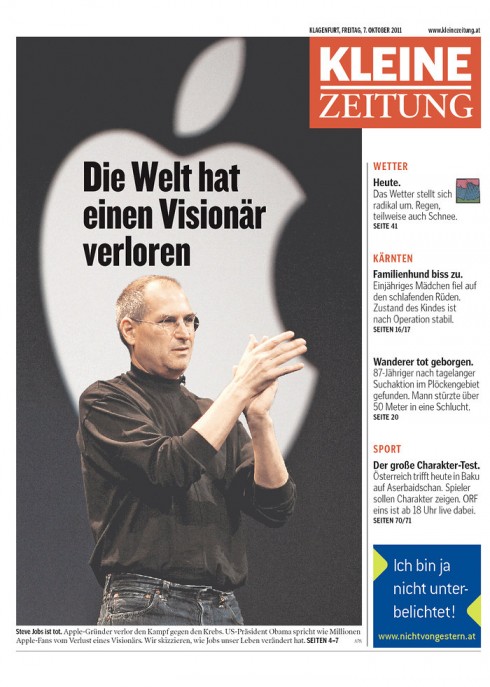 Kleine Zeitung, Austria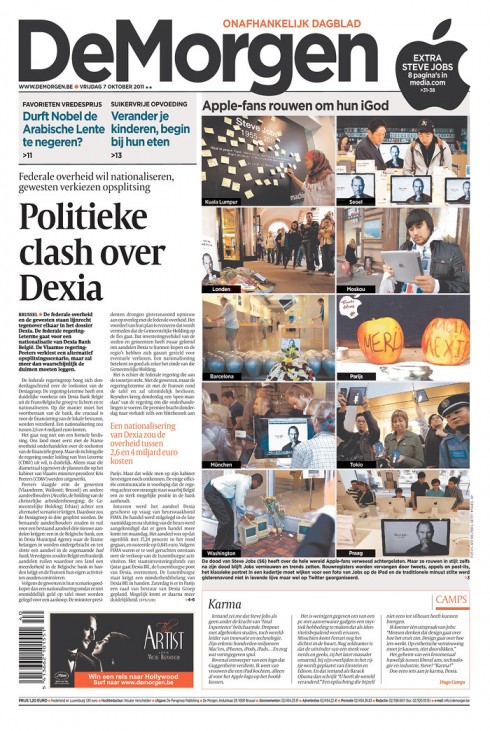 DeMorgen, Brussels


The (Kentucky) Ledger Independent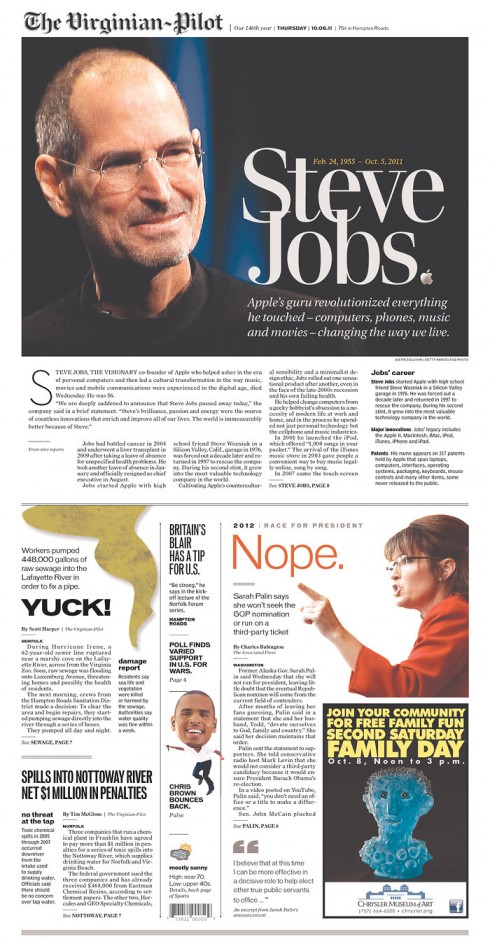 The Virginian Pilot

San Jose Mercury News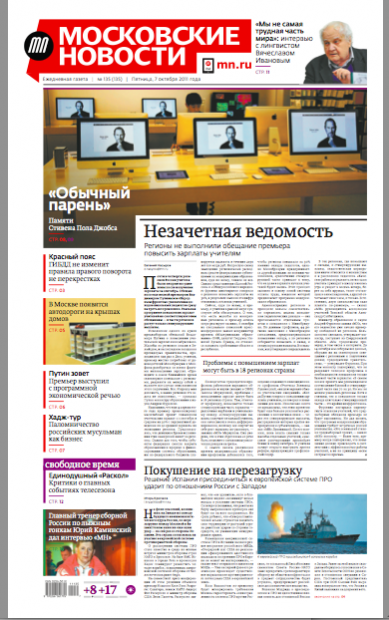 Moscovskiye Novosti, Russia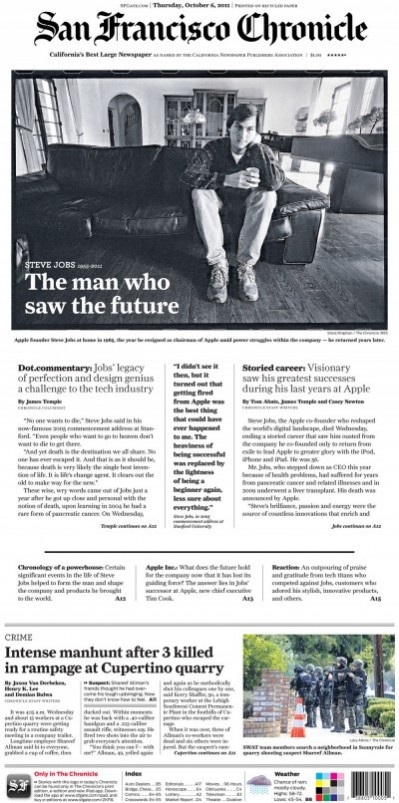 San Francisco Chronicle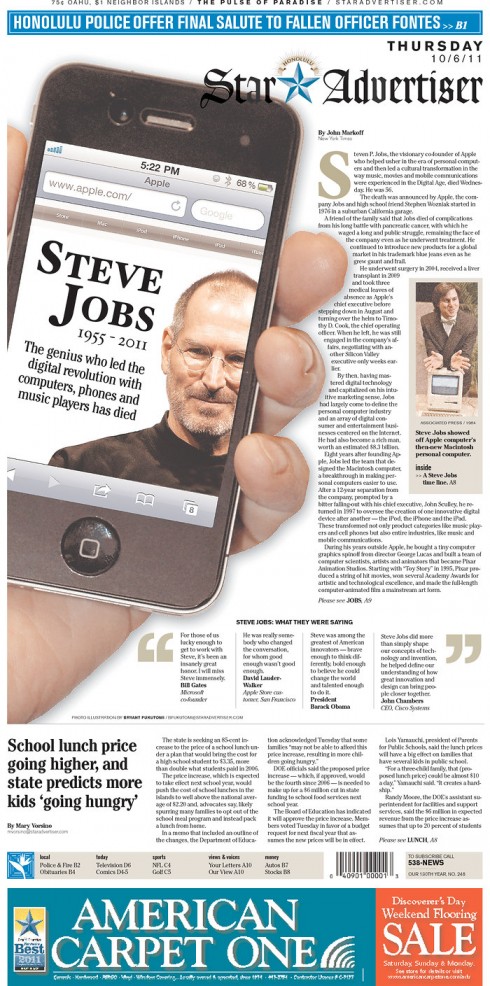 Star & Advertiser, Hawaii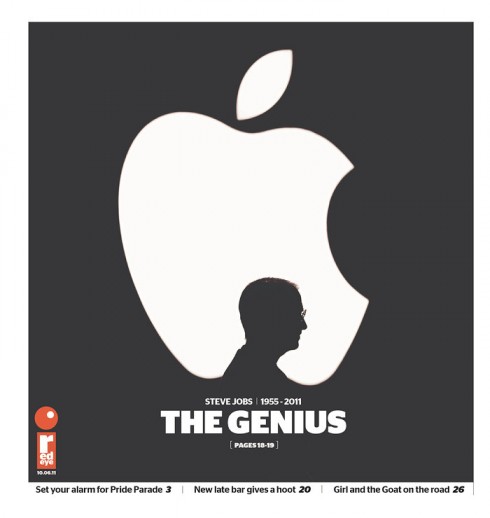 Red Eye, Chicago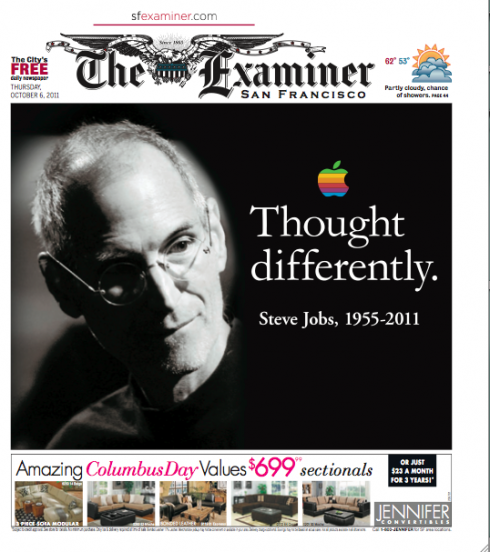 San Francisco Examiner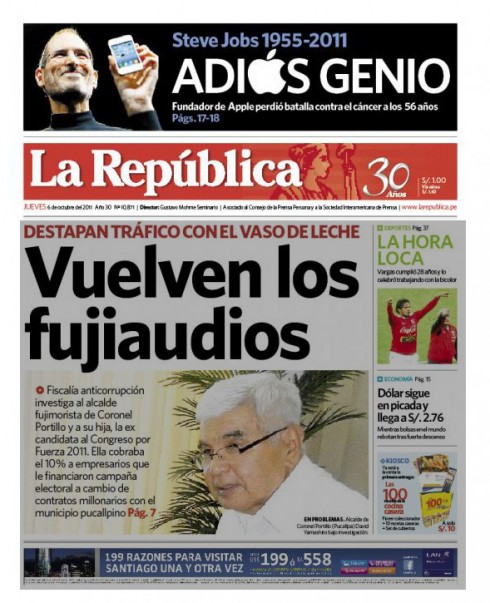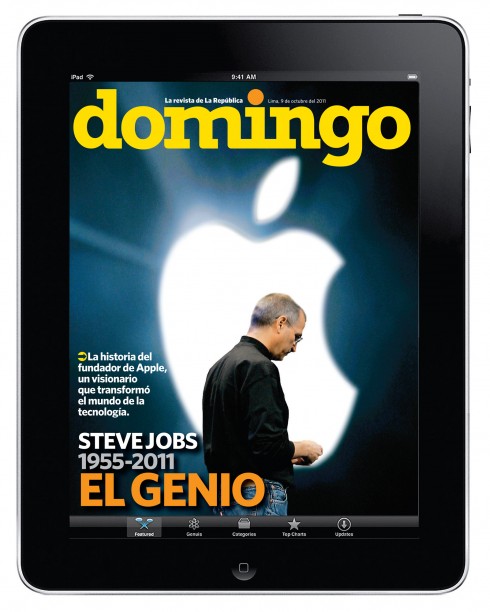 La Republica, Peru—headline: Goodbye, Genius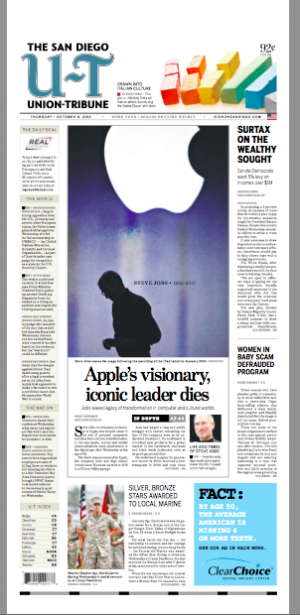 San Diego Union Tribune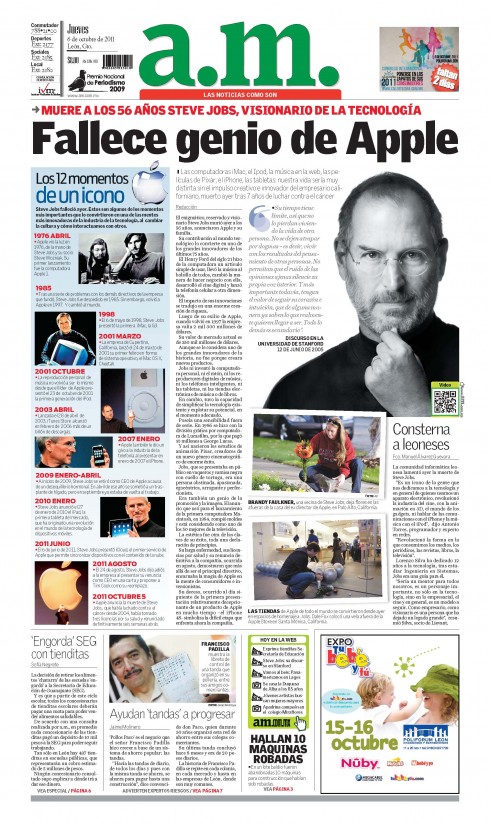 a.m., Mexico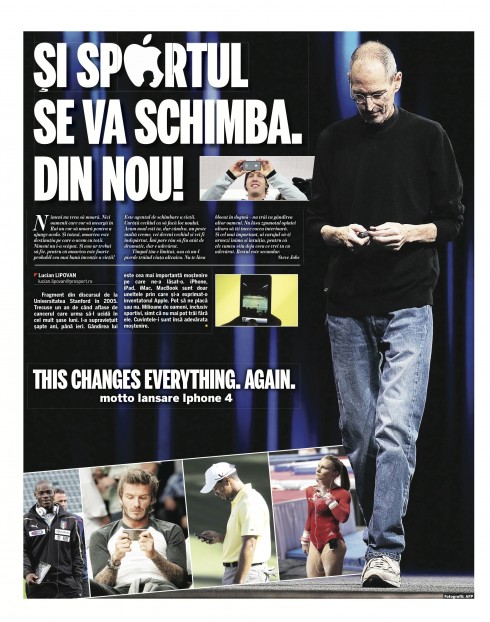 ProSport, Romania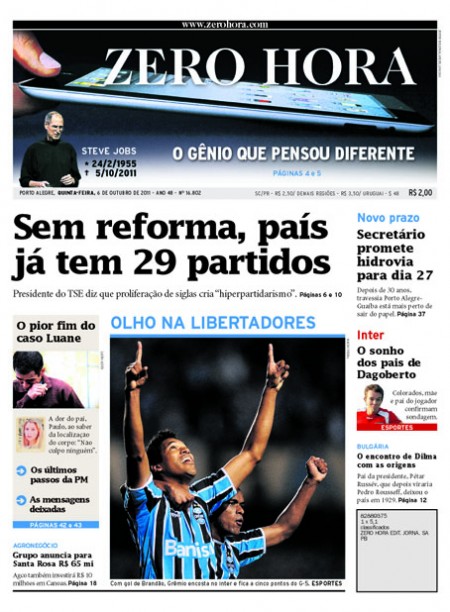 Zero Hora, Brazil—headline: The genius who thought differently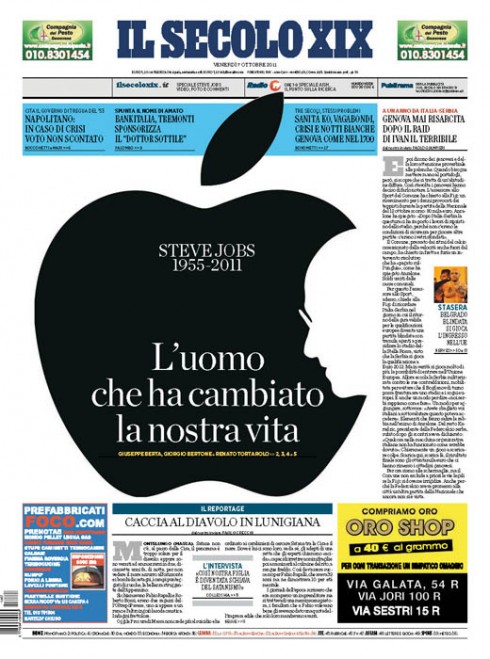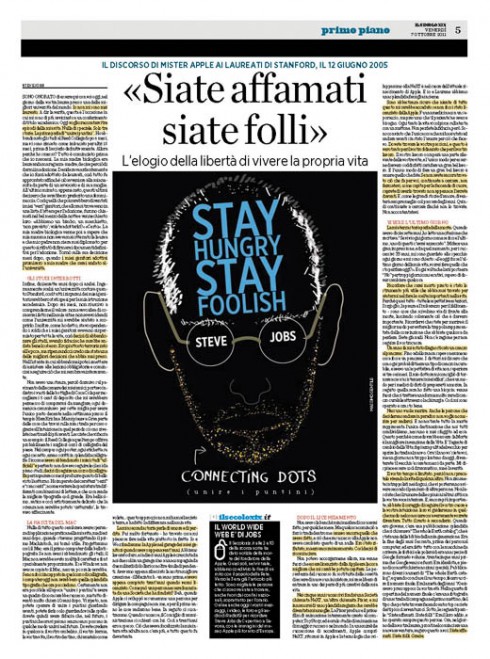 Il Secolo XIX, Italy
At Italy's Il Secolo XIX (pages above), design director Massimo Gentile writes us that : "The treatment of our front and inside page for coverage of Steve Jobs' death created an interesting discussion in the newsroom; at first the editor asked if this was not a little too modern (or shocking) for our readers, but, in the end, we decided that this was the perfect story with which to be a bit more innovative. It is healthy to create a surprise for the reader, a signal that we are a newspaper with a strong personality. Our inside page treatment basically takes inspiration from Steve Jobs' speech for the graduates at Stanford University, where he mention about connecting the dots, so we did the same here."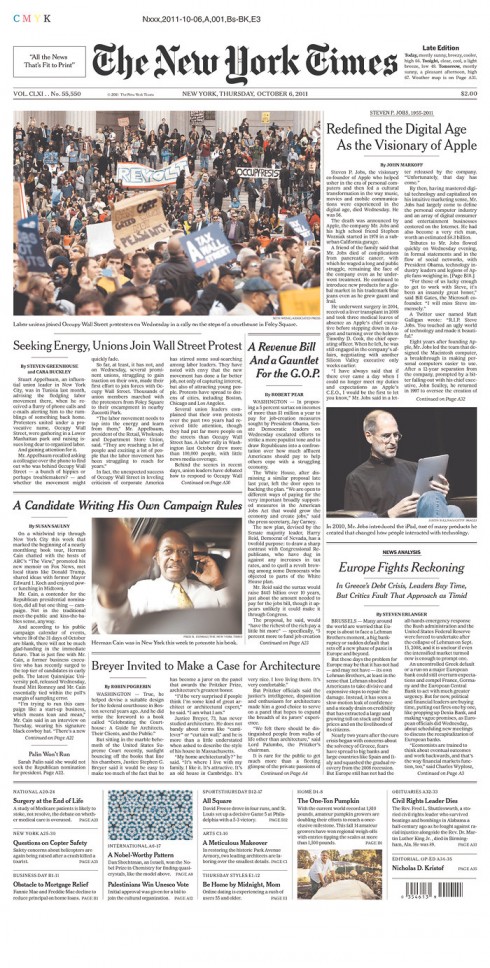 The New York Times
Notice that The New York Times, which, graphically speaking did not do much with the Steve Jobs' story, has, indeed, taught us a valuable lesson with the writing of the headline. It avoids the Steve Jobs Dies first dead headline with something everyone knows; instead, it goes for a second day approach that invites the reader in: Redefined the Digital Age as The Visionary at Apple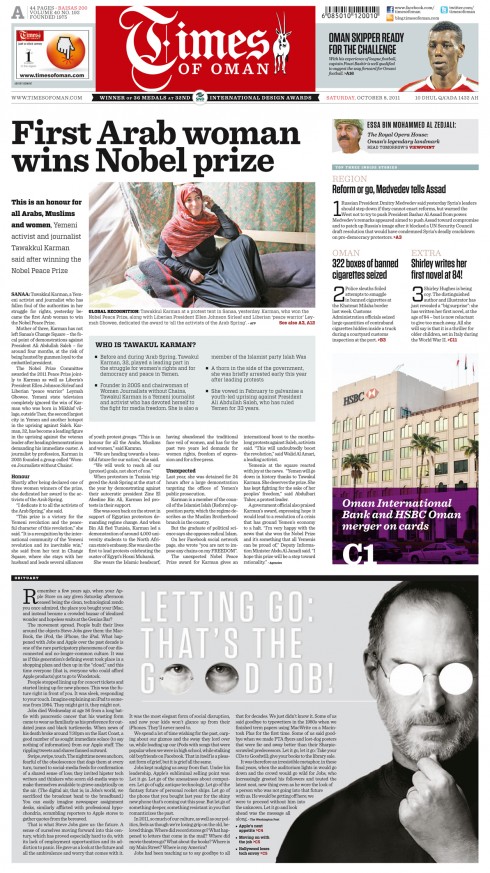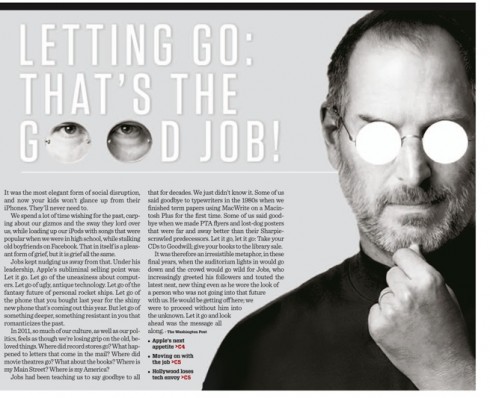 Times of Oman, Oman
Adonis Durado, design director, Times of Oman, sends us his front page with this explanation: In our design, we tried a simple approach (since we are only carrying it as a secondary story) by juxtaposing the two characters of the headline to Steve Jobs's eyes. I guess our theme for this is "See differently" which is inspired from the Apple slogan "Think differently".
Of related interest:
Steve Jobs, 1955 – 2011
http://www.wired.com/
First paragraph: Steven Paul Jobs, 56, died Wednesday at his home with his family. The co-founder and, until last August, CEO of Apple Inc was the most celebrated person in technology and business on the planet. No one will take issue with the official Apple statement that "The world is immeasurably better because of Steve."

Farewell to an icon: Steve Jobs
http://www.spd.org/2011/10/farewell-to-an-icon-steve-jobs.php
First paragraph: We lost a great one yesterday. Here, the design community reacts to the impact that Apple co-founder Steve Jobs had on themselves and design along with a look at how magazines have covered his early death.
Wonderful private photos of Steve Jobs (TIME Magazine)
http://lightbox.time.com/2011/10/06/in-a-private-light-diana-walkers-photos-of-steve-jobs/#1
NPR News Special Remembering Steve Jobs
http://www.npr.org/2011/10/07/141142613/listen-to-npr-news-special-remembering-steve-jobs
First paragraph: Computer visionary Steve Jobs died after a long battle with pancreatic cancer on Wednesday at the age of 56. The co-founder and longtime Apple CEO leaves behind an indelible imprint on modern society. In this NPR News special, David Greene looks back at the life of Steve Jobs.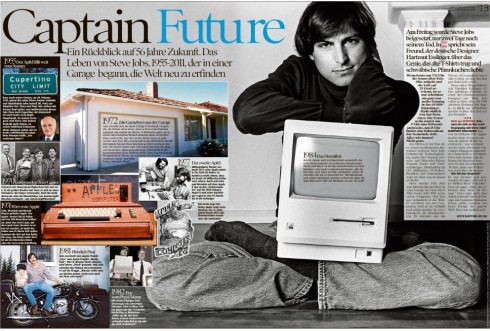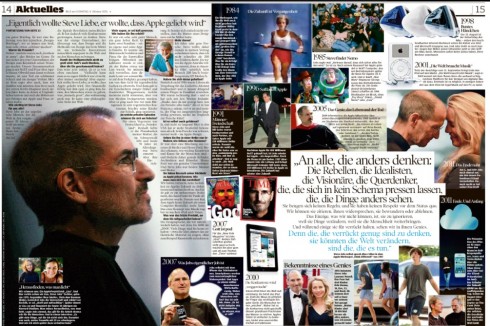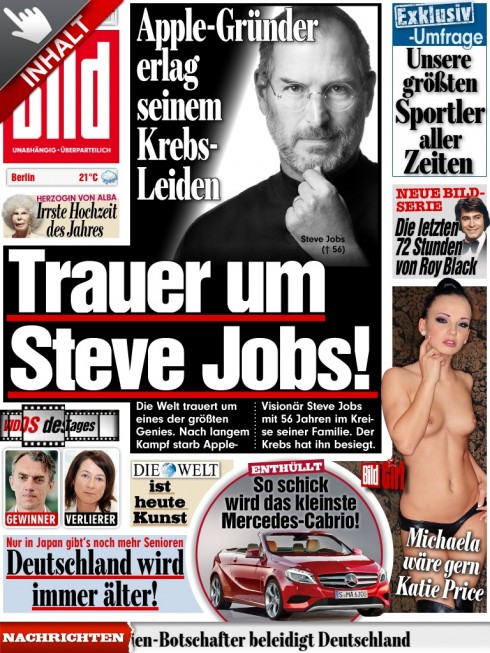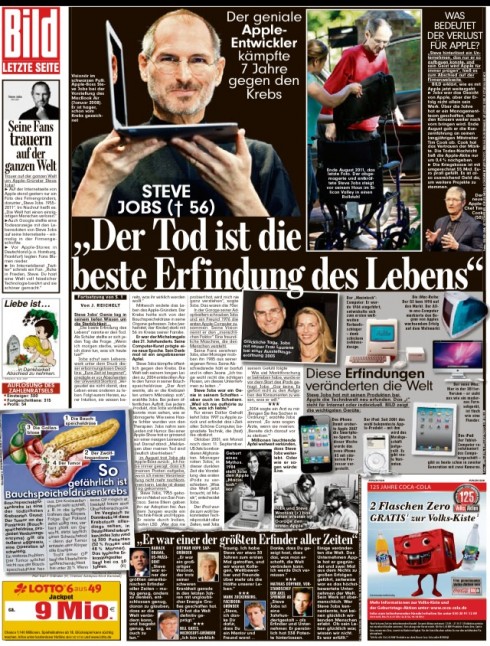 More to come.
TheMarioBlog post #873
Mankind mourns a giant
TAKEAWAY: Steve Jobs, 1955-2011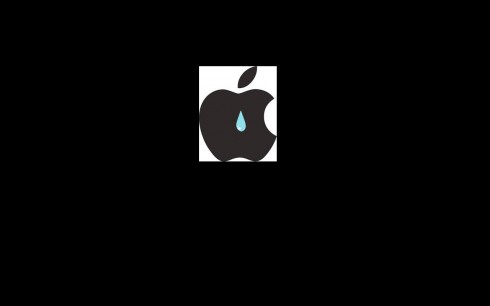 MARIO GARCIA
Much will be written today and in the days ahead about Steve Jobs.
To me he was technology's Leonardo, Shakespeare, Cervantes.
I cannot think of anyone who has had a more profound impact in the way we do everything from getting map directions, to reading books, newspapers and magazines, to listening to music and playing games.
Specifically, Jobs' products have defined the way a generation of journalists and designers carry out their work.
He made the world happy with his vision and his products.
A good tribute to him, as we celebrate his life , would be to mention his name today every time we make use of a product that he brought into our lives
The world that he changed so dramatically, and in such a fun way, mourns his death deeply.
As with Leonardo, Shakespeare and Cervantes, we are not likely to see another Steve Jobs any time soon.
May he rest in peace.
TheMarioBlog post #872