Sunday July 6, The Sunday Times launched a new look created by Spanish designer Al Trivino; there is something for everyone here. Look for the details, new typography, interesting inside page architecture, and a front page that combines the best of traditions with some new twists.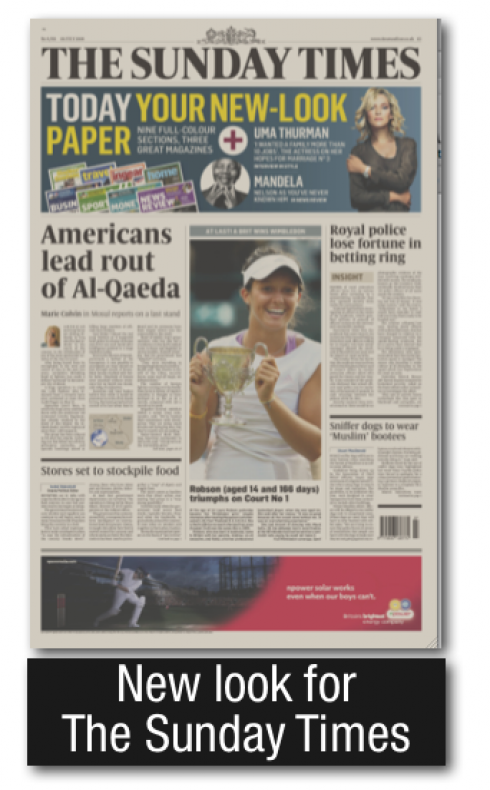 My next few blogs will be dedicated to the remake of The Sunday Times. Today, I would like to concentrate on the use of typography, which I believe is a highlight of this project.
Al Trivino, whom I consider to be perhaps the best designer of his generation, has a keen eye for detail, respect for the traditions of a newspaper as venerable as The Sunday Times, and a way to give each page a twist of surprise, which is so often lacking in many other projects.
For the Sunday Times, Al has selected what he calls "five fonts that do the job of 22". Apparently, The Times carried a legacy of many fonts, and this project has served to do a clean up and concentrate on a few.
The fonts selected are:
!. Sunday Times—-a crisp, elegant font which short ascendents and descendants, which allow for tighter leading. Headlines in this new font already show great impact, and are visible from a distance.
2. Text font is Greta, which is a clean, easy to read, elegant font, especially good in small sizes. Legibility is enhanced here. Readers will be happy, especially the over 60 set.
3. For sans serifs, Relato Sans is exactly what the doctor ordered. Similar in style to those old standbys Helvetica and Franklin Gothic, Relato Sabs is, in the words of Trivino, "warmer, and more unique."
For me, Relato Sans is quite similar in style to Retina, and perhaps the two of them will become the replacement for Helvetica and Franklin Gothic in the future.
All in all, a redesign that shows great impact, elegance of type, and one worthy of studying.
I will continue to display pages, and more of them, as soon as my holiday comes to an end in beautiful Maspalomas, where the connections are slow. More images to come.
My hat off to Al and the editors of the Times.
WE SEND YOU:
Some like the Sunday Times' new look:
www.mediabistro.com
Some definitely don't like the Sunday Times' new look:
www.guardian.co.uk/organ grinder
T0MORROW: My three-minute interview with designer Al Trivino.
WHERE IS MARIO?
All good things must come to an end, including my Maspalomas
vacation. This is the last day here. Tomorrow, flying to Paris, and work continues.
Sign up and we will keep you updated.