strong>TAKEAWAY: Ask an American editor about British journalism and the likely answer will probably be "racy"; ask a British editor the same question about U.S. newspapers and you are likely to hear something like "bloody serious".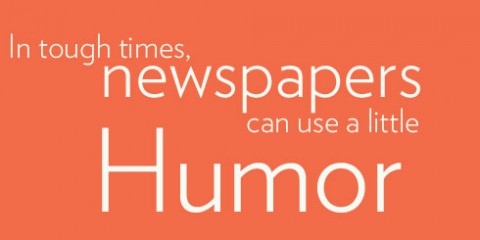 Where is the fun?
A Financial Times piece published in its Oct. 11 Weekend Edition with the title Why Journalism Wins My Vote, carries a thought-provoking piece by Lionel Barber about American journalism and the coverage of the 2008 Presidential Election.
One quote in this article rang a special bell with me:
According to Michael Elliott, the British-born editor of Time's international edition who has spent almost 20 years working as a journalist in the US, the decline in US journalism can be summed up thus: a broken business model overly reliant on classified advertising revenue that has now moved online; a mistaken notion that post-1945 newspaper staffs of 800-plus journalists were the norm rather than a historical aberration; and, crucially, a stultifying failure to innovate because of the lack of competition.
"The mainstream press in America is so conservative," Elliott says. "Where are the DVD giveaways, where are the special promotions like in Britain? Look at the sports pages! They write about sport like they do City Hall. Where is the sense of fun?"
Elliott attributes the lack of playfulness to "the terrible burden" of living up to the demands of the First Amendment, which guarantees free speech under the US constitution. At its best, it imbues every American journalist with a sense of moral purpose that views journalism as a civic duty; at its worst, it has encouraged a stuffy self-importance.
Changing attitudes during difficult times
As someone who works with a variety of editors and publishers worldwide, I know that perhaps the statement above contains some element of truth.
American editors tend to take their roles extremely seriously, as perhaps they should; whether this is related to the First Amendment, what their journalism professors taught them, or even a sense of arrogance, I don't know. And, of course, there are exceptions. What the Brits may consider funny, may not be so funny for the Americans.
Where is the sense of fun?, asks Elliott. I agree, this is a great opportunity to put some stories and images that are fun on Page One. That story that is buried on page 34 could move to the front. The readers will appreciate it.
These are difficult times, and, indeed, it is difficult to find anything humorous about the coverage of financial crisis of major proportions, war and natural disasters. However, maybe readers now need a little humor in their newspaper more than ever.
When the subject is green, so is the flag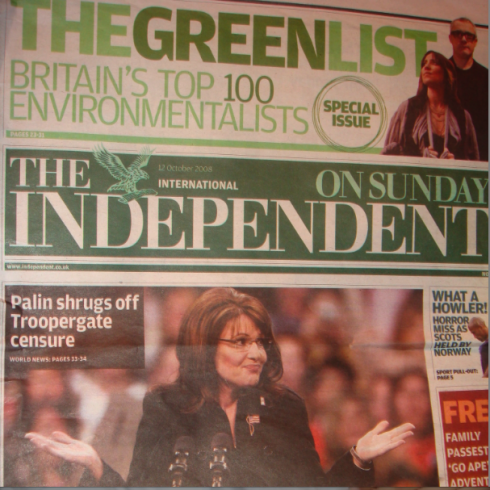 The editors of London's The Independent apparently had a little fun in Sunday's edition, which included turning their flag to green for an in-depth piece about the 100 British environmentalists.
By the way, it is interesting to notice that in its new life, The Independent becomes less and less tongue in cheek in how it approaches the news—-much less interpretative—-and more meainstream British style daily.
Anoither newspaper in transition, perhaps.
For complete text of Why Journalism Wins MyVote on the FT:
http://www.ft.com/cms/s/0/00719b74-972b-11dd-8cc4-000077b07658.html
WHERE IS Mario Garcia

In Lagos, Nigeria, through Wednesday.
Eventful arrival here in heavy rains last night: my Lufthansa flight coming into Lagos aborted its first landing attempt as the weather would have made the landing "a little risky" according to the captain. One more go round 20 minutes later and, voila, a successful landing. Soon I find myself going through puddles of water and mud as my driver had parked the car closer to Ghana perhaps. No kidding, half a kilometer away was his car, by then my dress shoes were wet and dirty.
But, good things await those who are patient: a delightful dinner at the home of Dele Olejede, with our work team here. And early to bed.
By the way, Internet connections are not the most reliable here, so if TheMarioBlog does not update as quickly as we would like, just be patient. No connection at all in the room at the Sofitel hotel, so I take the computer to public areas, as I do now, to file this report.

Mario to speak in Amsterdam Oct. 17
I am honored to be part of the World Association of Newspaper's 11th Readership Conference, in Amsterdam, Netherlands, Oct. 16-17. The program is built as The Audience-Building Conference for Publishers, Editors, Marketeers and other Senior Executives.. The conference includes a keynote presentation titled The Eternal Power of Print (Why print will endure beyond the digital revolution and remain a part of our private and business lives forever! The business implications for media publishers of a bright future for print.) by William Powers, media columnist, National Journal magazine (Atlantic Media), USA .
My own presentation is titled A Successful Audience Strategy and will deal with the path of the story in a multiplatform world and focusing on specific segments of the readership. I will have coverage of the conference in this blog next week as it happens.
For registration and full program information:
http://www.wan-press.org/amsterdam2008/home.php

TheMarioBlog posting # 118
Sign up and we will keep you updated.