The color evolution of USA Today: a three-minute interview with Richard Curtis
COLOR WEEK CONTINUES: In my posting yesterday I mentioned that USA Today was the last American newspaper to innovate with color use. Today we ask Richard Curtis, managing editor/design, for an update on how color has evolved at his newspaper.
THEN AND NOW: Pages of the early USA Today next to those produced today.
TAKEAWAY: Color use at USA Today is "smarter", and so is white space. The result? A more upscale look, says Curtis.
MARIO: How has color use evolved at USA Today?
RICHARD: We begin in 1982 by using a LOT of color, some of that not as smartly as we use it today. In those early days, we used it because (a) we could; and (b) it made us different from every other newspaper (a key marketing strategy that should not be forgotten). A lot of things played into our strategy; color was just one of them.
Most folks won't remember but we didn't have full color on every section front when we began. On the Money and Life fronts, we only had spot-color
blue (100% cyan). It was only a year or so later (I don't remember exactly), that those sections got full color. The reason, of course, is that USAT
isn't printed on just one press as most other newspapers. While I don't remember the numbers of different print sites in those days, today we print
on 34 domestically and 4 internationally. Each is different, offering different press configurations and color availability. In those early days,
some of the presses didn't have the color capability they have today. But because USAT is the same regardless of where it's printed, we have to offer the
same configuration everywhere. We started with a 48-page maximum with 16 pages in color. Today our basic four-section newspaper has a 64-page
maximum with 20 pages of that in four color.
Over the years, there has been this shift away from a LOT of color for USAT. We've also shifted our color palette to one that is more subdued than in 1982. With the slight redesign in 2000, we started using what we called"less ink." This meant less black but also less color and certainly less gratuitous color. We now rarely apply color tints to boxes of text. We
downsized the black horizontal rules, for example, from 4-point to 2-point.
We changed the entire typography for many reasons but one of them was to use "less ink" to lighten the overall feel of the paper. We began using more white space, although still not as much as other papers.
One downside of this "less ink" approach has probably caused a slight loss in single-copy, impulse buys (at least that's what the circulation folks
believe). But the upside is that it's probably led to a slighter more upscale appearance with a more serious approach to displaying the news.
MARIO: And, what other newspapers in the US do you feel are doing color creatively and functionally?
RICHARD: I don't actually see that many other newspapers, certainly not regularly enough to comment intelligently on them. I do read the Washington Post daily and often look at the New York Times and Wall Street Journal. I admire all of them for different reasons and always find something of value in each issue. For those papers, I believe they're handling color appropriate to their strategy and for their readers.
I do read a couple of papers when I travel for vacations or to visit relatives, and they do not impress me but more so for their content than for
their use of color. Luckily for me, USA TODAY is available there, too.
WHERE IS MARIO: Working in Tampa all week.
COMING TOMORROW IN THE MARIO BLOG: A three-minute interview with one of the top newspaper color experts, Dr. Pegie Stark Adam.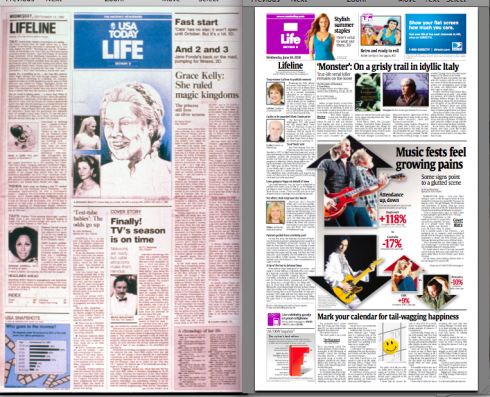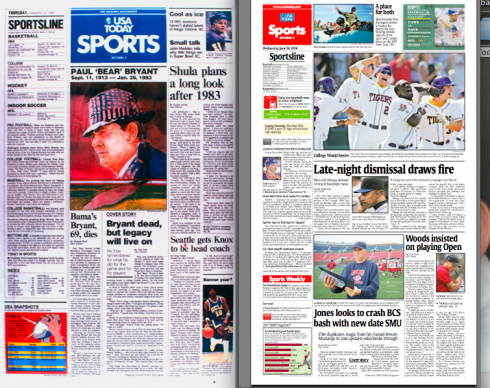 Sign up and we will keep you updated.