So now Twitter launches Moments to help users follow breaking news. According to Twitter, Moments will let users keep up with the best of what's happening at any given time, without having to go through a long list of people's Tweets.
Moments will be housed via a lightning bolt tab, available within the app and from Twitter.com.
In the case of major breaking news, Moments is said to allow users to follow conversations between world leaders and celebrities, eye witnesses reporting events as they happen, live commentary, etc.
Who will curate the Moments?
Twitter has put together a behind the scenes curation team. But there will be partners, too, to help in the curation process: BuzzFeed, Fox News, among others.
And, if you live outside the US, chances are you won't have access to Moments just yet.
It seems the competition for the users' attention increases. This means that publishers and editors of newspapers (and magazines, for that matter) need to sharpen their mobile storytelling packages, truly emphasize curation at certain times of the day, and mobilize their newsroom teams so that they can create momentous experiences of their own, especially with local stories.
Now I have joined Moments. My first experience has been one of curiosity, above all. I was interested in looking at the stories curated around 8 in the evening Wednesday. A sampling of those stories includes Sports: NHL opening night , Television: Hotel premieres tonight, Washington Post: Inside the Caliphate, Mashable: Putin celebrates his 63rd birthday. US News: Missing tanker search to be suspended.
These gave me the option to decide which ones I would follow.
AT the end of the scroll a note reminding me that "You're cuaght up. Check later today for updates or swipe to explore more."
For more about Moments

http://www.wsj.com/articles/twitter-with-dorsey-as-ceo-unveils-curated-news-feature-moments-1444136401
Highlight:
With Moments, a team of editors will pick through the roughly half a billion tweets sent each day to find the most interesting content about live events. For example, a "moment" about the South Carolina floods in a prereleased version of the product this week featured a montage of photos and videos taken by residents, reporters and emergency crews. The product aims to highlight Twitter's relevance as a real-time communication tool during breaking-news events and sports contests as well as spotlight lower-brow trends such as viral videos of cute animals.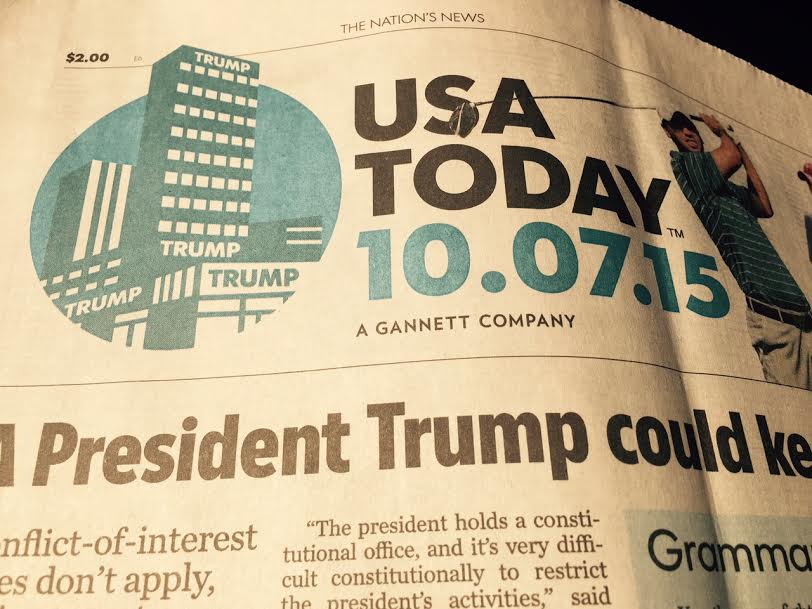 Oh, no, not only is Donald Trump rising in the polls but now his brand has made it to the circular logo of USA Today. That was a shock, particularly because I failed to see the significance of a Trump story on this particular edition.
The logo? C'mon, guys!
I am honored to be one of the keynote speakers today at the New England Newspaper Press Association annual gathering, in Boston area.
For more information:
TheMarioBlog post # 2022
comments powered by

Disqus