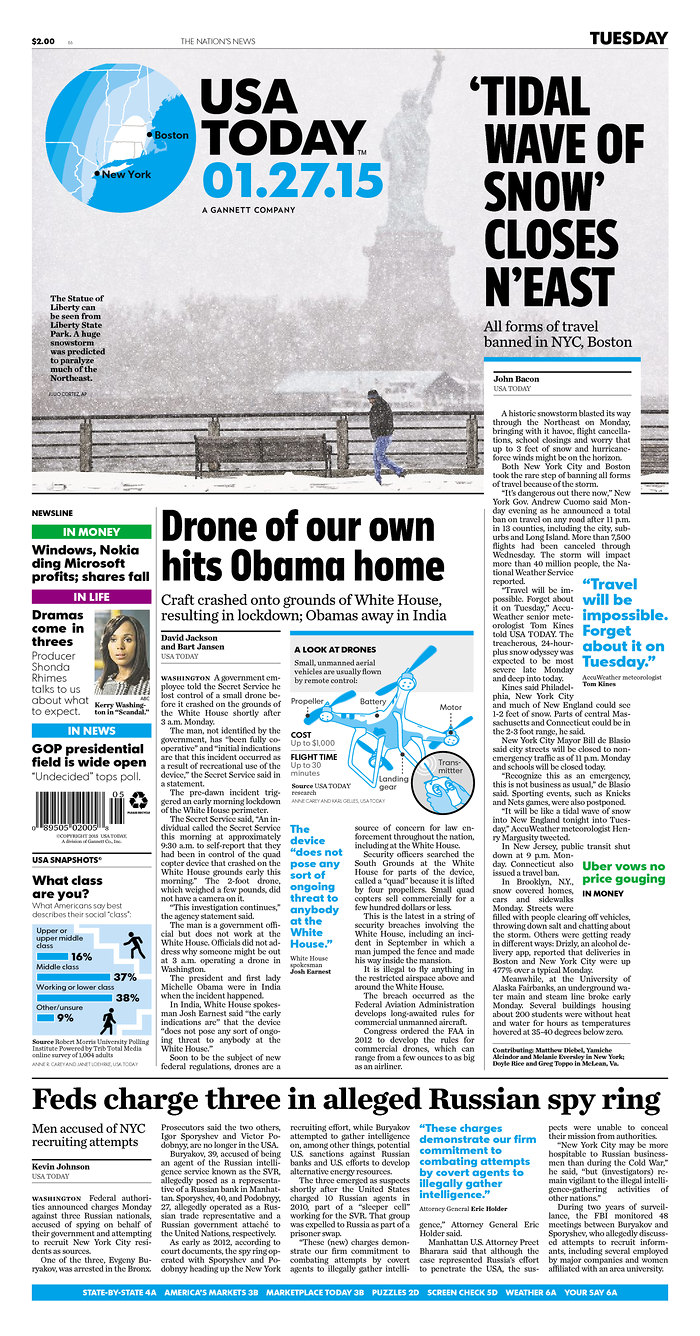 For the past 48 hours, some 55 million people living in 7 states of the northeastern United States braved themselves for the worst winter storm in years.
In New York City, preparations led to school, public transportation and airport closings. There were scenes of people lying flat on their back in the middle of Fifth Avenue, or in the always crowded Times Square. The city that does not sleep took a long nap as it prepared itself for the wiinter storm of storms. Luckily for New Yorkers, those weathermen had it wrong, and the storm took a detour and New York City did not get the amount of snow predicted.
Take a look at the newspapers here.
Among the front pages covering the Blizzard of 2015 here is USA Today. And, finally, here is one example of where the use of that circle in the logo became functional and part of the storytelling process. Good job.
One highlight of the blizzard coverage was a story in The New York Times offering tips for all those people forced to stay home.
The piece was headlined: Snowed In? Here's What to Watch, Read or Listen To
Highlights for me:
You want to be a detective:
TWIN PEAKS If you've never seen David Lynch and Mark Frost's truly groundbreaking 1990 mystery series, watch it now before the new third season (directed by Mr. Lynch) arrives on Showtime. All 30 episodes of the first two seasons are at cbs.com and various streaming sites; if you're pressed for time, just watch the first 15.
You Want to Lose Yourself for a Few Hours:
TBS This network is always good for some storm-day rerun comfort food; its daytime lineup for Tuesday includes blocks of "American Dad," "The King of Queens" and "Friends." Among the "Friends" episodes on the schedule, at 4 p.m., is one from Season 3 called "The One Without the Ski Trip," in which Lisa Kudrow's character, Phoebe, gives some advice to the just-split-up Rachel (Jennifer Aniston) and Ross (David Schwimmer) that might be useful to any snowbound household full of restless children or cranky adults or both. "You don't have to love each other," she says. "You don't even have to like each other much right now. But please — you have to figure out a way to be around each other."
You're Looking for a Classic:
DIRECTED BY LUIS BUÑUEL This five-film tribute to Buñuel (1900-1983), called the father of Surrealists cinema, begins with "Belle de Jour" (1968), starring Catherine Deneuve as a frigid young housewife able to achieve sexual satisfaction only after becoming a prostitute. Then moves into "The Discreet Charm of the Bourgeoisie" (1972), an Oscar-winner for best foreign film, six upwardly mobile friends try to have dinner together — but find they can't.
TheMarioBlog post # 1661
comments powered by

Disqus