TAKEAWAY: All Romanians know the 133-year-old newspaper Romanian Libera, as it has accompanied the country and its citizens through tumultuous times, Today, however, the RL adopts a new logo, new look and looks forward to continue chronicling the life of Romanians. Its marketing campaign uses the movie concept to remind Romanians that the RL is a daily reel of their lives. Many will do a double take at the breakfast table, or at the cafe, or in the bus on the way to school or work: it is a new Romania Libera, and many will say it looks younger. We think so too. ALSO: New look for Estado de S. Paulo, Brazil AND: Having fun with page one of Austria's Die Presse
Update #6: Monday, March 15, 07:22 EST: To be updated thorughout the day
TAKEAWAY: All Romanians know the 133-year-old newspaper Romania Libera, as it has accompanied the country and its citizens through tumultuous times, Today, however, the RL adopts a new logo, new look and looks forward to continue chronicling the life of Romanians. Its marketing campaign uses the movie concept to remind Romanians that the RL is a daily reel of their lives. Many will do a double take at the breakfast table, or at the cafe, or in the bus on the way to school or work: it is a new Romania Libera, and many will say it looks younger. We think so too. ALSO: New look for Estado de S. Paulo, Brazil AND: Having fun with page one of Austria's Die Presse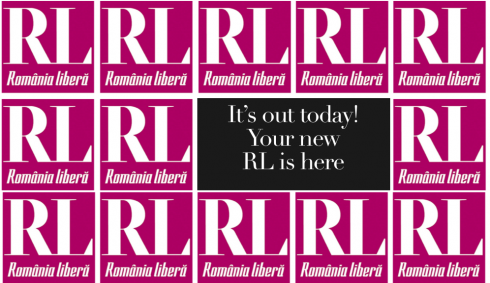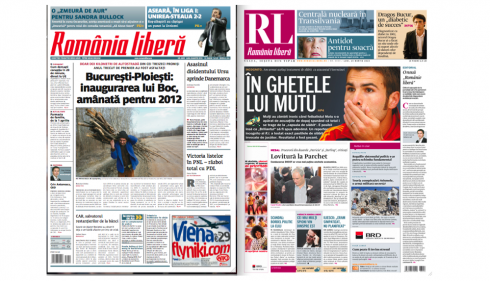 Front page before and after relaunch of Romania Libera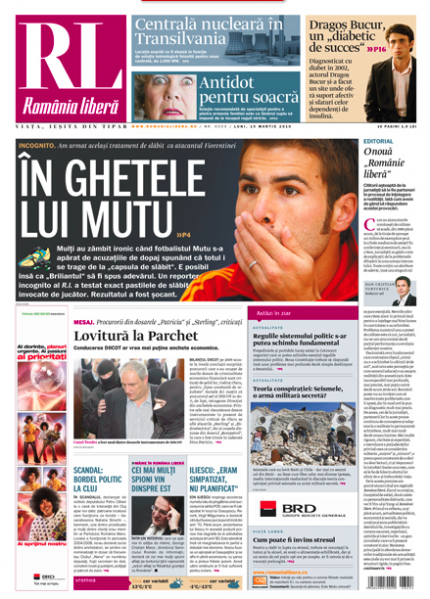 Front page of today's Romana Libera: first day of new look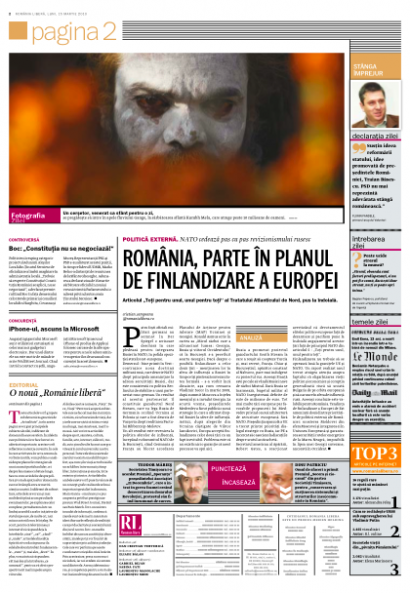 Page 2 of today's RL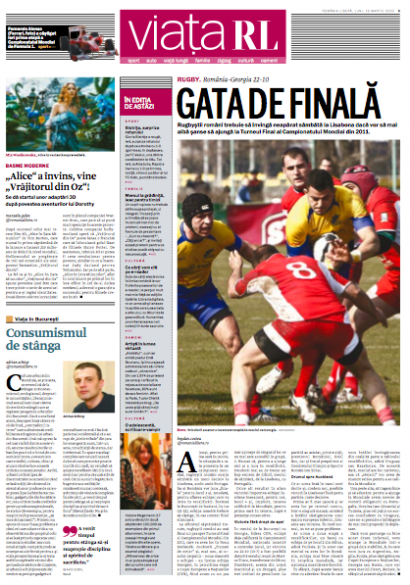 Reorganization of content led to creation of this VIATA (Life) section: daily themes like health, travel, autos, family, people and sports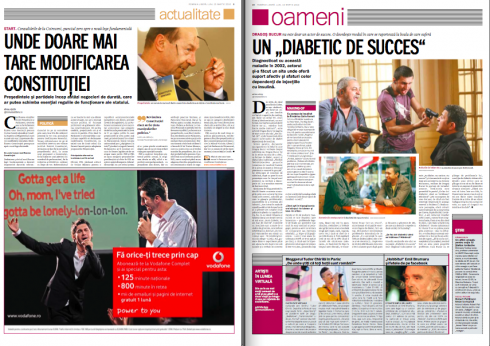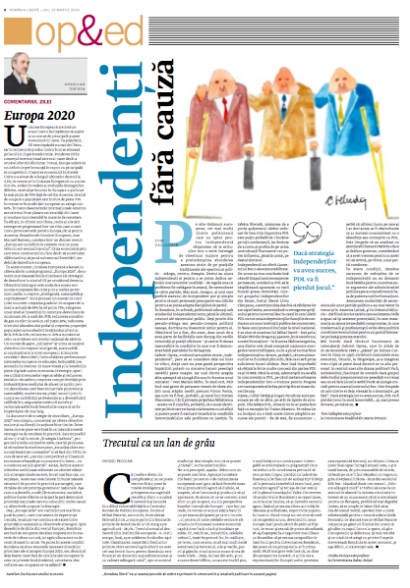 Opinion/Editorial page: texts tend to be long here, so we incorporated an ambience with greater use of white space, cut articles some, put color there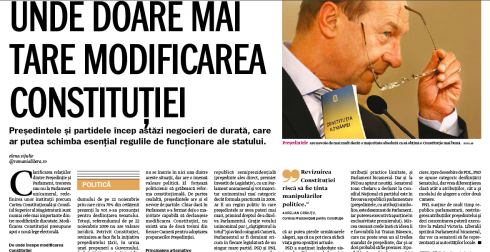 Close up of story structuring: shows the layers of information leading to an article, as well as inside the narrative, breaking up text and adding information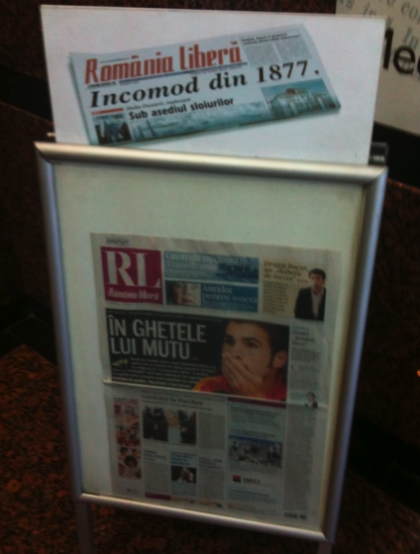 Here is how the page one appears at press kiosks, except that the logo and front page printed on the stand is still the old one: a matter of time before it changes


After five months of discussions, prototypes and preparations, today the first issue of Romania Libera with its new look and rethinking is out in the streets.
It is a dramatic change for this 133-year icon of Romanian journalism, especially because the red spelled out logo that has graced its front page, newstands and trucks for decades, is saying goodbye, and a new "pill box" style logo, with deep purple as its color, replaces it.
As we discussed this dramatic change, the emphasis was on letting a young generation of Romanians know that, indeed, the Romania Libera in their hands tomorrow is different from the one their grandparents read through the years of political turmoil that this country has endured——including many years under communism following World War II, when parts of its territories were occupied by the USSR and Romania became a socialist republic. For the world, however, Romania is usually remembered for the presence of Nicolae Ceau?escu, the country's president from 1974 to 1989. His presidency was characterized by his erratic personality cult leading to an overthrow of his government in a December 1989 military coup. He and his wife, Elena, were executed following a televised two-hour session by a kangaroo court. Romania Libera covered all of these events, and remained, for the most, an independent voice.
Even today, as I ask Romanians I meet in the street what they think of Romania Libera, two reactions immediately come to the front: it is not biased, and it is old.
The changes at a glance:
1. Content restructuring: our project included not just a change of the look and feel, but also a deep analysis of content rhythm, as well as the specific needs of younger readers.—-Starting on Page 2, content has been shifted from other sections. The Page 2 offers the photo of the day, along with agenda items, quote of the day, day planner; also added a new Photo Interview feature, in which a well known person is given three photos of the day to analyze and present opinions. The new Viata (Life) section: emphasis on younger topics, such as health, fitness, fashion, the arts. An enhanced Weekend supplement, and more about movies, television, celebrities, without abandoning the main stay cultural coverage of books, theater and music.
2. A different set of navigational tools—Starting on Page One, this page is used as an official and complete navigator to the newspaper.
3. New typographic scheme- (see below)
The Romania Libera is well known for its investigative reports, titled Incognito: reporters go into detective-like hunts to uncover corruption in a country that suffers from much of it. This video segment plays up the Incognito role, then showcases the new look of a newspaper that is a household word for Romanians


The marketing campaign for the launch of the newspaper emphasizes that the new RL is modern, but the editors are quick to point out in all interviews that the RL continues to be an independent voice, with no affiliations to any party.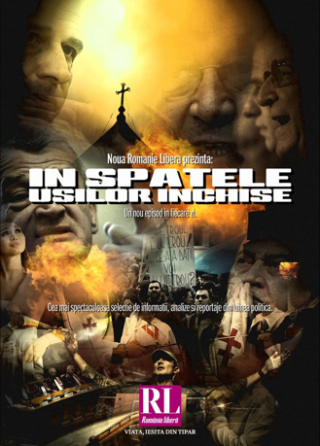 A movie poster environment is used by Romania LIbera to promote its launch of new look scheduled for Monday. This one is all about the newspaper's coverage of politics, with the "movie" title "Behind Closed Doors"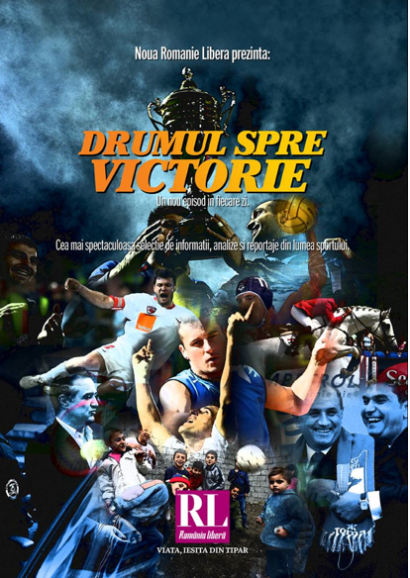 The movie poster concept for sports, with headline: Road to Victory
One of several short video spots shown on Romanian TV about the launch of RL: the campaign follows a "fake investigative report" , one guy asks: What is happening March 15?, another responds: I cannot tell you. Cut. Create the expectations and show the new logo for a couple of seconds.

The marketing campaign is already on and preparations are in order this weekend for the launch of our project, Romania Libera, in Bucharest, Romania.
The marketing guys at RL have put together an eye catching campaign inspired by the movies. Indeed, many of the visuals look like movie posters, with the theme: We Publish Your Life.
Different video segments show spots where a short dialog takes place between two individuals, leading to information about March 15, launch date, followed by the new logo for RL.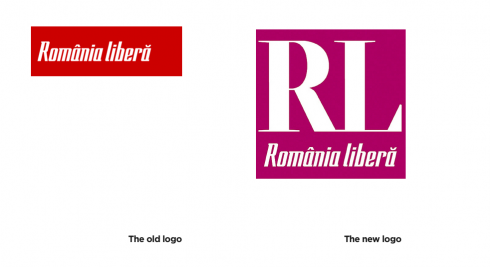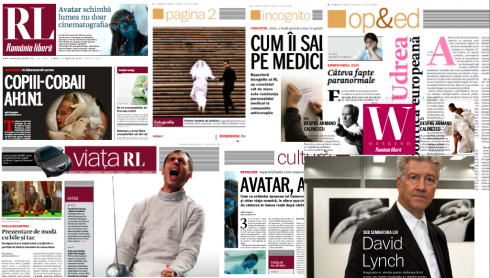 Various pages in collage that offers a glimpse of the new look for RL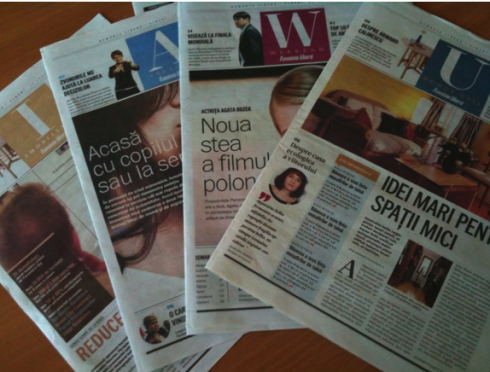 The supplements: real estate, weekend, jobs, home & design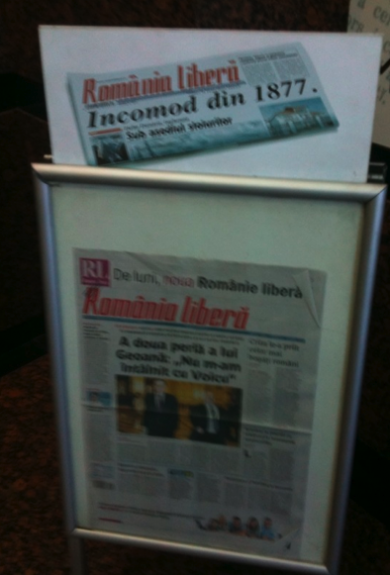 The last edition of the Romania LIbera in its old design stands at the press kiosks


-Two main fonts are used:
Serif: Greta from Typotheque:Greta Display for secondary headlines and logos;
Greta Text for bodytext.

Sans: ITC Franklin from Fontbureau.
Used for lead headlines, summaries, subheadlines, secondary texts.
Jan Kny explains about Greta:
"We picked this combination first to create a look that is fresh and
contemporary, second to meet the needs of Romanian language. And they work together
so well: Greta with its expressive forms,ITC Franklin Condensed with its more minimalist
attitude. Greta is done with special focus on Eastern European
languages with their diacritics and characters."
The choice of Greta and news from Typotheque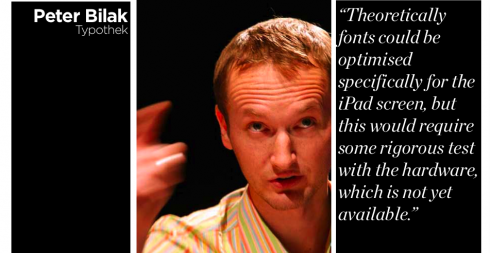 As a sideline to our choice of Greta for Romania Libera: Our year long intern, Reed Reibstein (Yale University '11) became aware of our work with Romania LIbera and suggested to Jan Kny and me the new font created by Peter Bilak from Typotheque, who has developed fonts especially suited for Eastern European languages. We looked at it, liked it, asked Peter to send us a sample, and we went from there.
Today, while communicating with Peter, we find out about other new developments at his end, such as:
Web fonts:Peter tells us that his company has developed technology to
use any fonts on the web. "So finally typography online can match what
we are used in print. At the SND (in Lisbon) I argued that today's web (with
Verdana, Arial and Georgia) is comparable to printed newspaper from
1900, which used Clarendon and Scotch Roman in all newspapers
published in Britain," Peter writes me.
Good news for designers everywhere: Peter reports that he now offers all Typotheque fonts for web use, but very
soon, he will start licensing the technology that allows safe use of
fonts on the web, so publications could use the same fonts as they use
in print.
Development of fonts for Indian scripts: A second project of interest , especially for thos doing work in India, is that Typotheque started a company
in India specialized in development of Indic fonts, for all major
scripts (Bengali, Devanagari, Gujarati, Gurmukhi, Kannada, Malayalam,
Oriya, Tamil, and Telugu).
I believe we are the first true typefoundry in India (the fonts made in India these days are made together
with text editors to push sales of software, and are usually not
Unicode compliant).Our Fedra Hindi supports Marathi, as Marathi is a Brahmi language using Devanagari script, which we cover.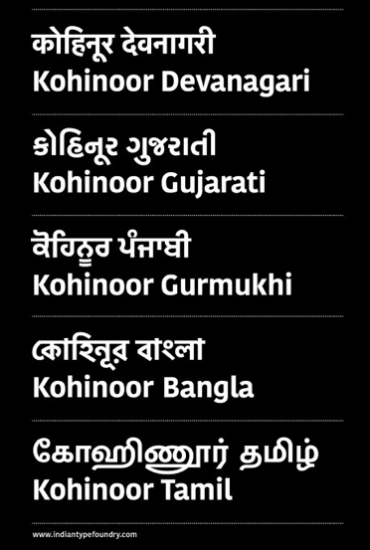 ndian Type Foundry fonts covering various Indic scripts

I asked Peter Bilak about use of fonts with the much-anticipated Apple iPad. Here is what he said:
"iPad / iPhone is a different beast, and as such doesn't support the standard fonts that other Internet browsers support, so one can't use the much hyped @font-face declaration that many websites start using now. But we figured out how to bring custom fonts also there. A special font format (SVG) can be loaded either via server, as on this example: [http://www.typotheque.com/webfonts/sample_2] A more effective method is to install standard OTF / TTF fonts on the iPad itself. That is not too complicated, but Apple SDK disallows sharing resources between applications, so the font will always work only in one app, and now on the iPad itself.* Custom fonts on the iPhone looks great because of the very high resolution, but it is not clear how fonts will look on the iPad, as the number of pixels per inch is lower, and iPad doesn't use subpixel rendering (which improves font rasterizing on desktop computers). Theoretically fonts could be optimised specifically for the iPad screen, but this would require some rigorous test with the hardware, which is not yet available.
Peter informs me that Typotheque online web fonts system cover 98% of browsers used today, and the missing 2% are indeed various mobile devices.**
"While Safari, Firefox, Explorer, Chrome, Opera already support print version of fonts (OpenType or TrueType), or special web optimised fonts EOT or WOFF), Mobile Safari supports none of those***. That's why we use this SVG font workaround. It seems to work, but it is less flexible for internationalisation that we proud ourselves in. So while in Safari, our Latin, Cyrillic, Greek, Arabic, or Hindi fonts work, in Mobile Safari we only cover basic Latin. Hope to cover more languages /scripts soon."

Peter reminds us:Of course embedding fonts into applications is prohibited by the font's End user License Agreement, so it is important to clear this with the copyright holders - the type foundry that sells the font license
Of special interest:
According to Wikipedia, the percentage of web browsers that support @font-face declaration is by now 98.63%.
http://en.wikipedia.org/wiki/Usage_share_of_web_browsers
***
For links and more information on these fonts, go here:
http://www.typotheque.com
http://www.typotheque.com/fonts/greta_display
http://www.typotheque.com/fonts/greta_text
http://www.webfonts.info/wiki/index.php?title=%40font-face_browser_support
http://www.evotech.net/blog/2010/01/font-face-browser-support-tutorial/
Estado de S. Paulo: sporting new design this week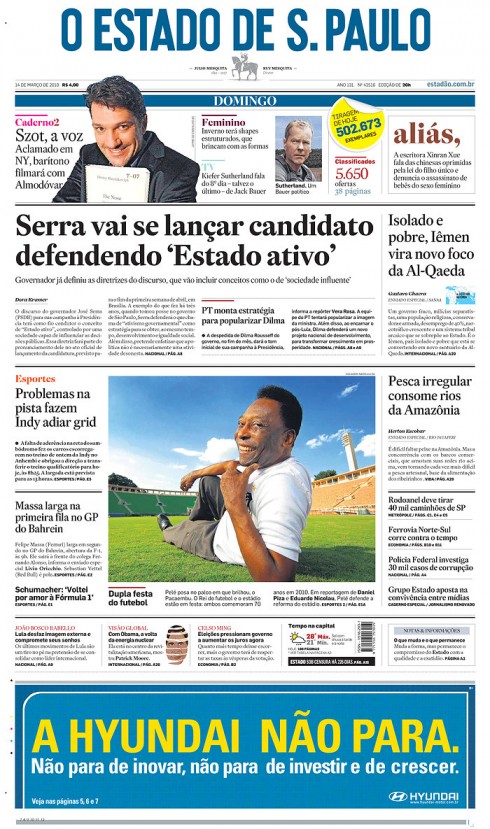 Front page of Estado: clean, more white space, uncongested, progress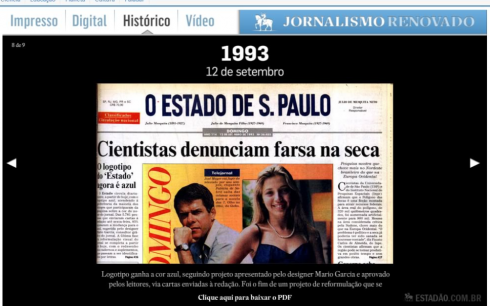 Perspective of Estado's visual history is part of the supplement announcing the changes: we were part of the 1993 redesign effort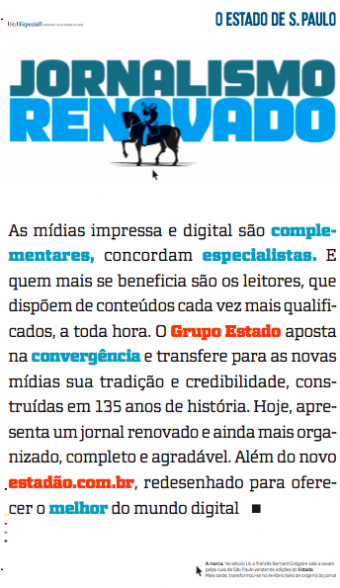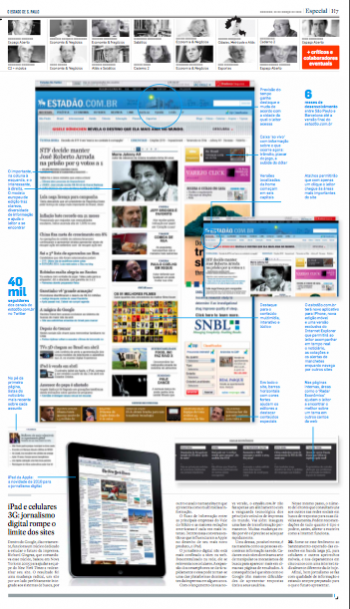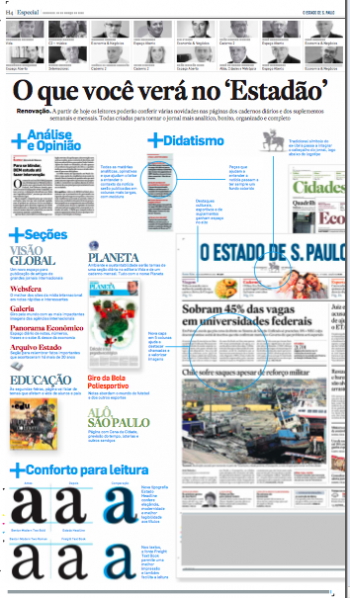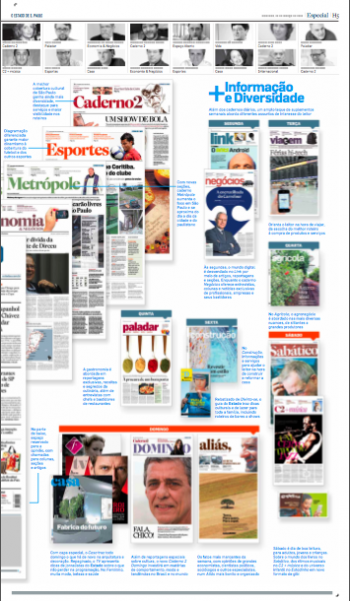 Pages from the "Renewed Journalism" special supplement prepared by Estado to guide readers through its new redesign

Another newspaper introducing a redesign this week is Brazil's Estado de S. Paulo.
Alexandre Linhares Giesbrecht informs us about the changes and sends us the special supplement prepared to guide readers through the changes, some pages of which we show you here.
One of my colleagues here with me today asked: How does it feel to see a project you did years ago redesigned by another designer?

I get attached to these projects beyond my tenure as a consultant with them. As a result, you want that project to thrive, to move on to better things and better times. Most importantly, whether I am involved or not, I want any project that I worked with to stay alive, to make giant strides. In that sense, I see me as a part of a chain of continuity and progress in the life of a publication. I am happy if success is the result, regardless of my involvement.
Overall, the new look refreshes what was there before. It remains a classically conservative look. Always was and always will be probably. I remember with affection my time with the Estado team, and the high level journalism of that house. I also remember that steps taken for change were always small and quite guarded. Tons of traditions to maintain there. I am sure that the designers involved in this effort were also guided by the hand of the past.
But, overall, a good effort that advances the newspaper graphically. I see an iPad as an illustration in one of the pages of the supplement. Moving forward is the key. Doesn't really matter who gets you there.

It is nice to see someone having fun with a front page. So when our friends at Vienna's Die Presse showed up with this front page for the Sunday edition yesterday, I took notice. I especially like the once-in-a-lifetime change of the logo to this playful and colorful rendition.
You see, the story on the cover is about a famous clown, Karl Valentin, Bavarian comedian, cabaret performer, clown, author and film producer , who even worked with the even more famous playwright, Bertolt Brecht.
I imagine readers of Die Presse enjoyed this clownish approach to Page One. We can only imagine the clown himself enjoying this treatment. My hat off to those who proposed the idea, and to their superiors who said: Why not?
The result: a page one must look at, and that is what it is all about in the end.

Stand up and .......read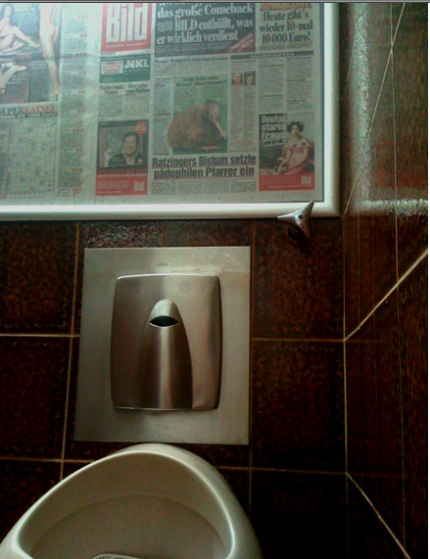 Sometimes you can't avoid bumping into a newspaper even if you are not trying to read one. In Germany, it is difficult not to be face to face with a copy of the country's most colorful daily, Bild Zeitung.. So when Frank Deville stepped up to the plate in the restroom of this restaurant in Aachen—-where his son, Maurice, plays football for the Allemanniajunior team—-he found himself face to face with Bild's pages.
Talk about a captive audience. Bild certainly knows how to find readers in all places
TheMarioBlog post #507