TAKEAWAY: What a difference a calendar year makes! Preparing to address an audience at the Nordic Media Festival conference in Norway this week, I take a look back at a similar presentation I did for the group in 2012: it's like rewriting a book.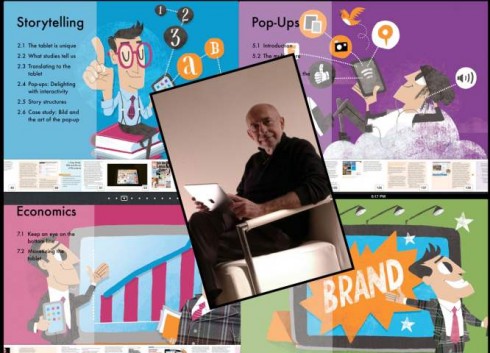 Three centerpieces that spell change
As I prepare for my session at the Nordic Media Festival in Bergen, Norway, this Friday, it is a good opportunity for me to take stock of where we are in terms of integrating newsrooms and giving print its proper role in the midst of the media quartet and looking ahead.
In the process, I am astonished by how much has happened since last year, when I spoke at the same conference. At that time, I encouraged editors in the audience to "get their iPad editions ready".
It is a calendar year, for sure, but it is several years in how we have advanced in our understanding of the new platforms, and three themes stand out:
--the role of the tablet continues to evolve and to gain momentum, but we are getting comfortable with the models that work, allowing us greater knowledge to make decisions as to what is the best tablet edition that works for a specific project. Should a tablet edition be all lean back? Too newsy? Perhaps a compromise of the two.
—the role of smartphones has been the biggest surprise, as more publishers look at this platform for possibilities to enhance their offering and increase their revenues.
—the role of social media is key to how publications connect with their audiences, how journalists interact with each other and their readers, and how a publication can promote its content beyond its front page or a traditional marketing campaign.
At the heart of it all, the essential discussion of that nexus where storytelling and technology meet.
All of this week I will try to expand on these subjects as I give finishing touches to my Nordic Media Festival presentation.
Highlights of my Nordic Media Festival presentation in 2012:
Nordic Media Festival: 1600 gather in Bergen, Norway
http://garciamedia.com/blog/articles/nordic_media_festival_1600_gather_in_bergen_norway/
For more information about the Nordic Days conference, May 8-10
Program and speakers
http://www.nordiskemediedager.no/om-mediedagene/nordic-media-festival/
TheMarioBlog post #1252
comments powered by

Disqus