TAKEAWAY: Brazil's O Estado de Sao Paulo has introduced a new redesign that involves fewer sections daily. It's the way to go, for sure, but not everyone is happy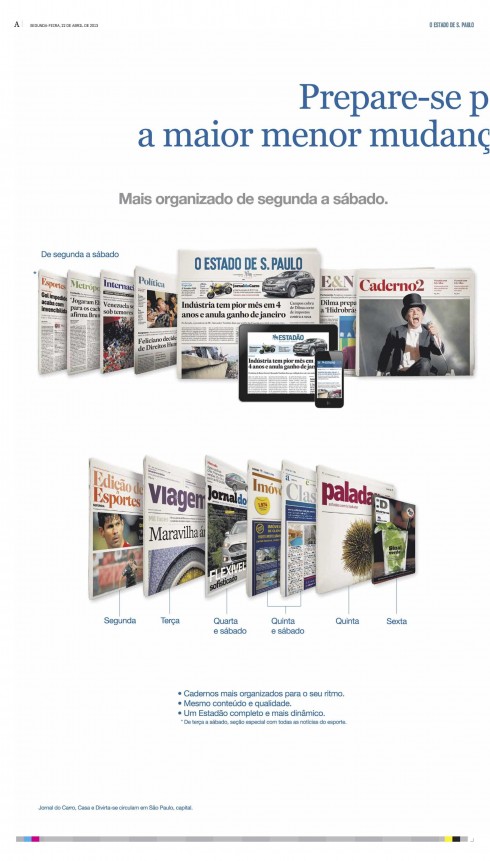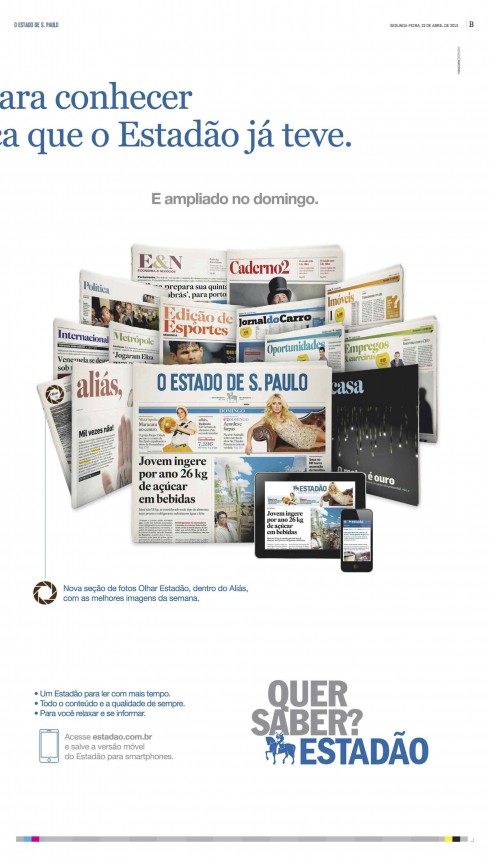 Slogan: "Want to know? O Estado"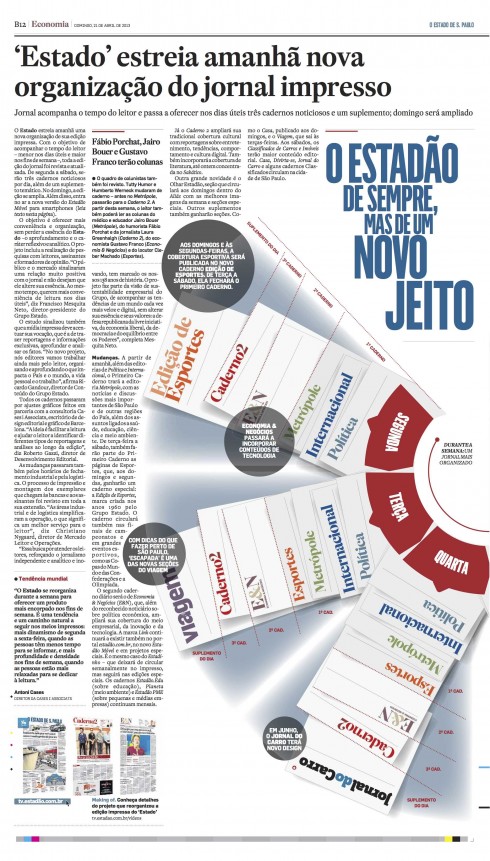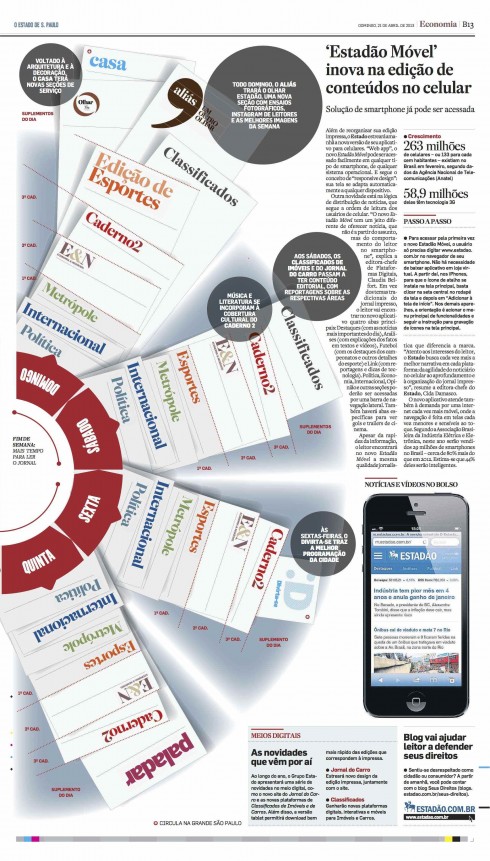 Here is the double page where the editors explained the changes in the new redesign of O Estado: a rethought newspaper to accompany busy readers with fewer sections working days, and a more robust package on weekends.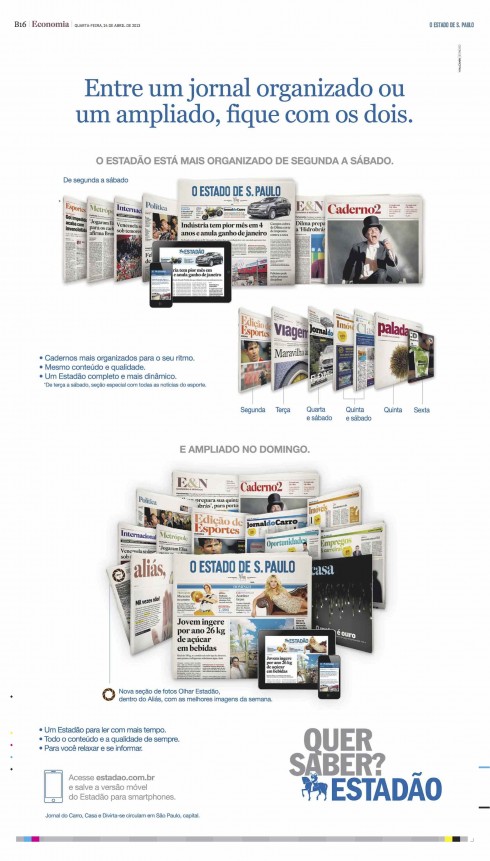 The marketing campaign for the new O Estado states: Between a well organized and an amplified newspaper, I stay with both.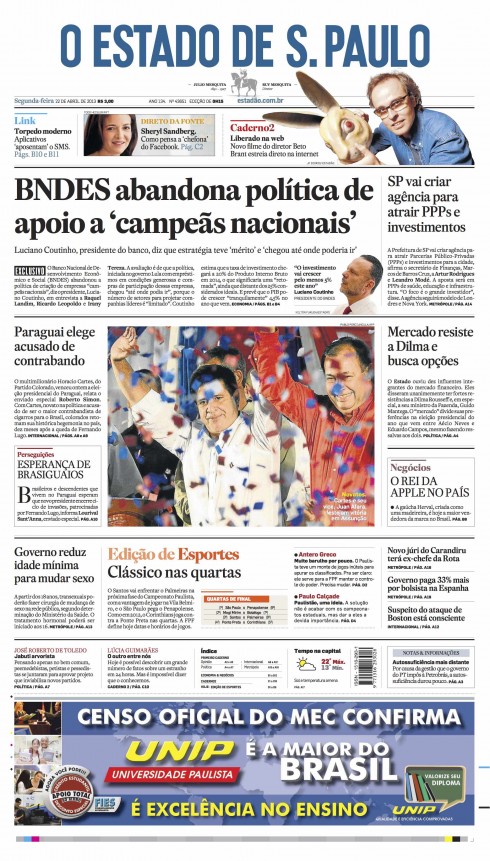 The new front page of O Estado
It is another redesign for Brazil's O Estado de Sao Paulo, but this time, it seems, without some of the marketing fanfare that has characterized previous ones.
Our regular blog reader,Alexandre Giesbrecht, has sent us these images along with his own comments, seen from the vantage point of a long-time subscriber of O Estado:
They are advertising it as a "good" change, but they don't seem to accept it as a "good" one. For instance, every time they redesigned or made big changes, there was an article the day after, about the repercussion with readers and newsstand owners. Yesterday, there was none. Also, usually they publish a few letters about the change, most of them saying good things. That didn't happen, either.
With the new changes, says Alexandre, come some that are more like revisiting strategies of the past, as in the combining of sections:
To me, it was a bad thing. The first thought that crossed my mind when I learned about it was my routine twenty-something years ago, when I had to wait for my mother to finish reading the City section, in order for me to read the Sports one. Now they are merged again, in the first section, along with Politics and International. I don't share the paper with my mother anymore, but I do share it with my wife. Guess which is her favorite section?
What's new with O Estado?
More than an aesthetically driven redesign, O Estado has concentrated on its content flow and organization, and, most importantly, in the number of sections it publishes daily versus weekend.
A story accompanying the change tell us the following:
"From Monday to Saturday, there will be three daily sections plus a thematic supplement. On Sundays, the newspaper grows considerably. IN addition, with the changes comes the introduction of a new Mobile Edition for smartphones."
"The purpose of the change is to offer more organization and convenience, without losing the essence of O Estado or its analytical and in depth journalistic character."
According to the editors, O Estado conducted research with readers, and one theme came through loudly and clearly: readers want more convenience to access content during work days.
One dramatic change: sports will appear as part of the first news section daily, but will have its own section only on Sundays and Mondays.
The rethinking of major metropolitan dailies
In a way, the changes introduced by O Estado are the way many large metropolitan dailies are coping with declining circulation for their printed editions. While readers may at first be inconvenienced by these profound alterations in the presentation of content, it is a fact that from Monday to Friday readers who subscribe to newspapers do now want more than probably three sections.
There is simply not the time to read more than that. Even three sections may require special devotion.
We have participated in perhaps one of the most dramatic such changes with Colombia's El Tiempo. It, too, went from six to three sections daily, and two and a half years later, it is greatly accepted by readers.
More than cosmetic redesigns, large metropolitan dailies should rethink their content and how it is presented. In a way, this is what O Estado has done.
Next step for all of these broadsheets: fewer sections and a smaller format, which is how I see the printed newspaper of the future.
El Tiempo case study
http://garciamedia.com/blog/articles/el_tiempo_launches_new_concept_today/
http://garciamedia.com/blog/articles/el_tiempo_at_100_a_fresh_proposition_journalistically_visually_digitally
Tuesday in TheMarioBlog: There has always been someone trying to show us what the newspaper of the future will be like.
Pages we like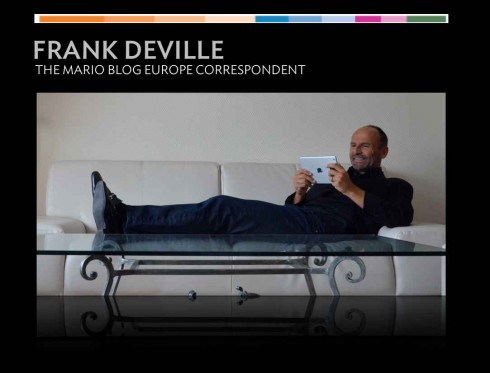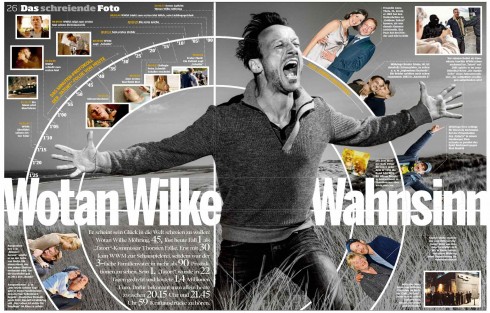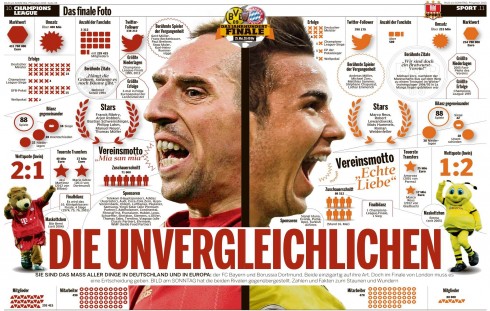 Two very special double pages from Germany's Bild am Sontag, sent to us by Frank Deville, the blog's Europe correspondent.
In the first one, the paper profiles a well known German actor, Wotan Wilke, who appears in police/crime TV series.
In the second one, Mario G?tze, who is at the moment the highest paid soccer player in Germany and Europe, switches team, from the dominant yellow of his existing team, to the red of the new one.
TheMarioBlog post #1248