TAKEAWAY: Today we begin our week-long look at the first two of our projects to launch in 2013: Silicon Valley Business Journal, of San Jose, California, and Metro, of Kuala Lumpur, Malaysia.
Update #1: Tampa, Florida, Monday, Jan. 7, 09:54
TAKEAWAY: Today we begin our week-long look at the first two of our projects to launch in 2013: Silicon Valley Business Journal, of San Jose, California, and Metro, of Kuala Lumpur, Malaysia.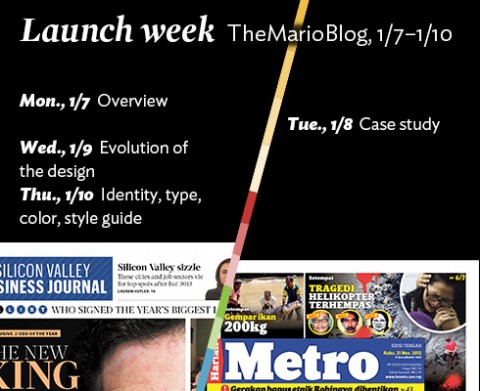 It is only seven days into 2013 but we at Garcia Media have seen two of our rethink projects launch their new products.
In the U.S., it is the Silicon Valley Business Journal (SVBJ), based in San Jose, California, and part of the American City Business Journals media group. On the other side of the world, in Kuala Lumpur, Malaysia, it is a new look for Metro, the popular and colorful daily with the highest readership in the country.
Two very different products. Yet, both have been rethought to perform across platforms. Both now feature vibrant and appealing print editions that have been customized for their role in the "media quartet".
A thought crossed my mind as I contemplated pages of the two newspapers' first editions: While SVBJ is a sophisticated business weekly aimed at an audience of tech-savvy and well-informed readers, Metro is a down market tabloid for a segment of the readership that wants to be titillated, entertained and informed in the most colorful manner.
However, both of the processes that were part of bringing these two newspapers to the next level included similar strategies: how to cater to readers who are quite dependent on mobile telephones and other mobile devices for their information; how to make that front page vital and interesting enough that it seduces on the spot; and how to implement navigational systems that make the journey through the newspaper easy and flawless.
To give each of these two exciting projects their proper space and perspective, today we will take a look at SVBJ, then tomorrow we will turn our attention to Metro. Wednesday and Thursday we will return to SVBJ to look at additional aspects of the design.
Silicon Valley Business Journal: An overview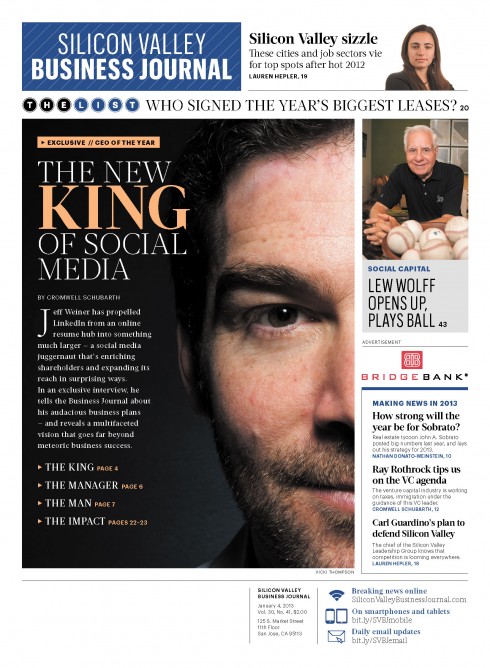 The front page of the relaunched Silicon Valley Business Journal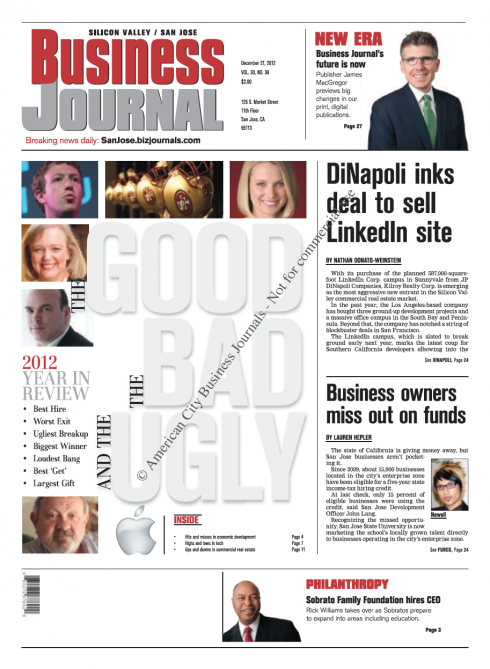 The previous front page (with previous name—San Jose disappears in the new edition to emphasize the powerful Silicon Valley brand)

What a joy to see this first edition of the Silicon Valley Business Journal. It does not just have a new and distinctive look that is carried across platforms. It also represents the end result of about twelve months of work and five dedicated workshops where we set out to study every aspect of storytelling, visual presentation and multi-platform strategies for the more than 40 titles that comprise the American City Business Journals group.
I must share with you my experience when we were about to start our first exploratory workshop with the ACBJ top management in Charlotte. Folded side by side on a table near the CEO's office, copies of the 40 newspapers that we were about to analyze in depth, each with its own distinctive nameplate, typography, look and feel. Some were quite advanced in their design and overall visual presentation—others not so much. But all were unified by excellent local business journalism, which is what distinguishes the titles and grants them enormous respect from their readers.
Honestly, I could not imagine unifying all these titles in cities as diverse as San Francisco and Phoenix and Atlanta and Tampa. We opted to concentrate our efforts in that first workshop in imagining and creating the ultimate business weekly for today. We were working with print, of course, but never letting go of how our efforts would affect what is done with digital.
Here is how Emory Thomas, chief content officer for American City Business Journals, remembers that day:
That first meeting was actually a small group of editors. (It was soon after that that we brought other departments into the discussion.) And I recall well Mario's reaction to the 40-title chore ahead. He literally sank in his chair as he pondered the complexity of the project. I was fairly sure he was about to walk out the door.
But when we turned the conversation back to the core mission, he re-engaged. Yes, we have dozens of independent publications, but they all needed a new model to follow, one that was built from the ground up for a digital age. We were, after all, re-imagining the operation of a local business newsroom that would produce excellent, made-for-the-medium content for every major platform – web, mobile, print, and tablet. Each of these platforms needed a rethink, in relation to the other, so that we could update and raise our game both online and in print. This required fully recognizing, and delivering, what readers wanted from each. We focused on print, in part because this was our legacy product, but it's been a multiplatform project from the outset.

It was a unique experience in which editors, managers, production, advertising and marketing people sat around the table to shape the new ideas, many of which appear in this edition of the Silicon Valley Business Journal today.
The SVBJ becomes the first of the titles to introduce the changes, and others will follow.
Pages from the launch issue
We will here take a close look at some key pages of the new print design. Accompanying each is a caption from the "users' guide," which appeared in the launch issue.
Cover story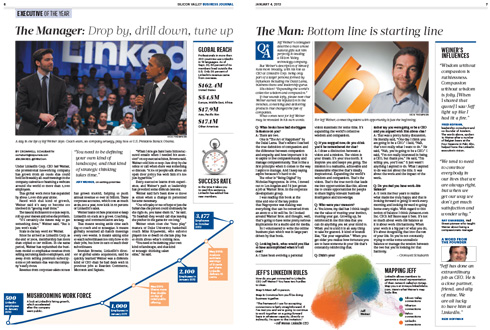 Our newsroom works months in advance to uncover the biggest, most important stories in Silicon Valley — then we tell you what it means. That's what you'll find in our new cover stories: deep dives on critical subjects, first-hand introductions to power players and analysis that helps you plan your next move.
The List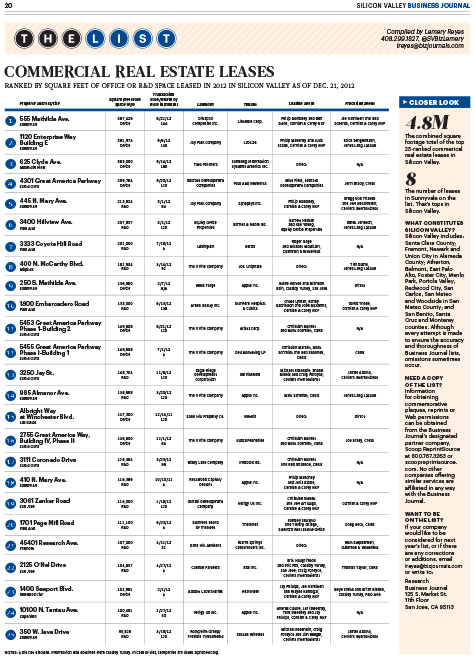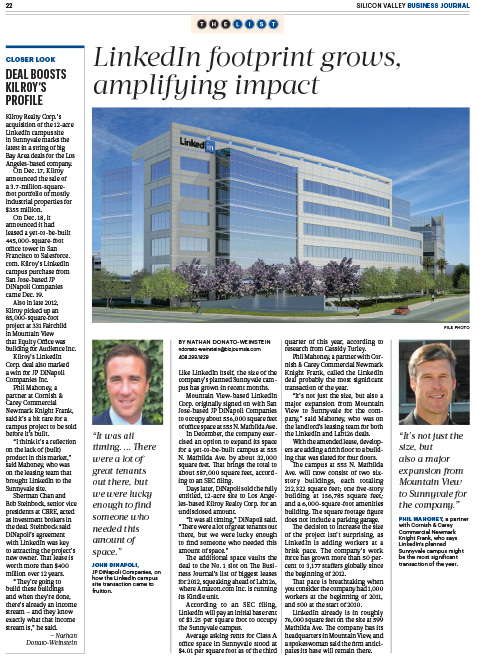 The Business Journal's lists are pure, exclusive economic intelligence. We've always carried these brand- name features, but now we're making them easier to use. We're applying our market knowledge to pull out the most important data for you and tell you why it matters.
Reporter hubs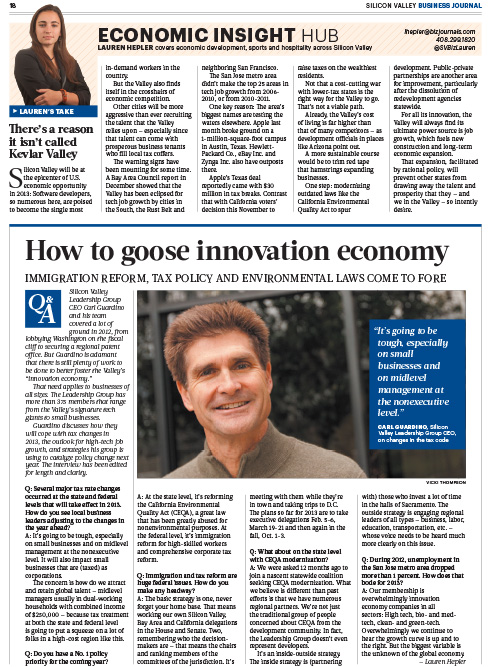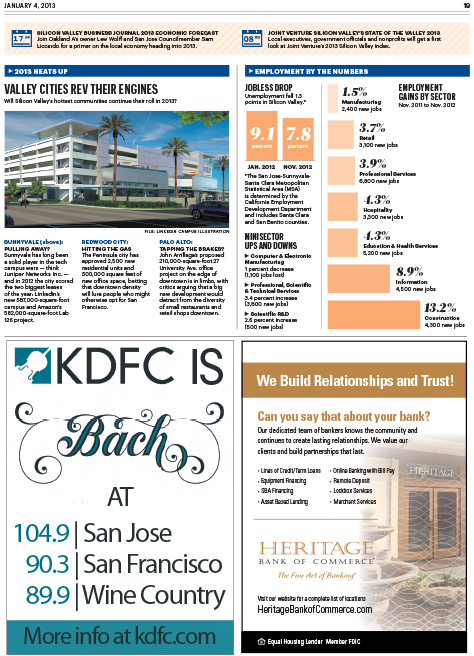 Our reporters spend each day collecting information so they can relay it to Business Journal subscribers. They're subject matter experts. Follow the beats you care about and develop a relationship with the best reporters in the business on our Hub pages.
Tomorrow's post
Tomorrow, we take a deep look at Metro in Kuala Lumpur. Wednesday, we resume with Silicon Valley Business Journal, examining the prototypes that got us to where we are today.
Previous post about the SVBJ
The new Silicon Valley Business Journal is here
http://www.garciamedia.com/blog/articles/the_new_silicon_valley_business_journal_is_here

Take advantage of our iPad Design/Ad Lab workshops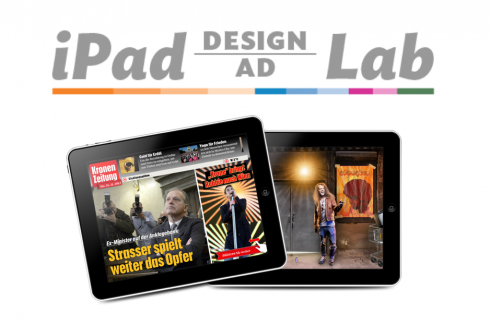 Do you want to take your brand to the next level by creating a tablet edition? Garcia Media can help. We now offer one- to two-day iPad Design Lab workshops on demand to jumpstart your presence on this exciting new platform. We also offer iPad Ad Lab workshops to develop engaging advertising models for your app. Contact us for more information.
Purchase the book on the iBookstore
The EPUB version of book is HERE:
Now available: The EPUB version of iPad Design Lab: Storytelling in the Age of the Tablet, ready for download via Amazon.com for Kindle:
http://tinyurl.com/8u99txw.
Take a video tour of iPad Design Lab
"iPad Design Lab" trailer on Vimeo.
Read the Society of Publication Designers' review of The iPad Design Lab here:
http://www.spd.org/2012/10/must-read-ipad-design-lab.php

Keep up with Mario Garcia Jr.. via Garcia Interactive: helping transform online news since 1995.
www.garciainteractive.com
Here is how you can get the book:
The original version of the book is the multitouch textbook version available on the iBookstore for iPad (iOS 5.0 and up): https://itunes.apple.com/book/ipad-design-lab/id565672822. This version includes video walkthroughs, audio introductions to each chapter, swipeable slideshows, a glossary and a sophisticated look and feel.
Apple only sells multitouch textbooks in certain countries at this time, unfortunately. Copies are available in at least the following countries: Australia, Austria, Belgium, Canada, Finland, France, Germany, Great Britain, Greece, Italy, Latvia, Luxembourg, The Netherlands, Poland, Portugal, Romania, Slovakia, Spain, and the United States.
For those in other countries and without an iPad, we have made the book available in a basic edition for other platforms. This basic edition includes the full text of the original, along with the images and captions, but lacks the other features such as audio and video. It is available on the following platforms in many countries:
Amazon Kindle: http://amzn.to/SlPzjZ
Google Books: http://bit.ly/TYKcew
TheMarioBlog post #1,166