More than twelve million read the new Sakshi daily of Hyderabad, India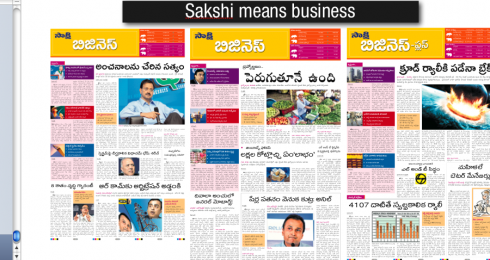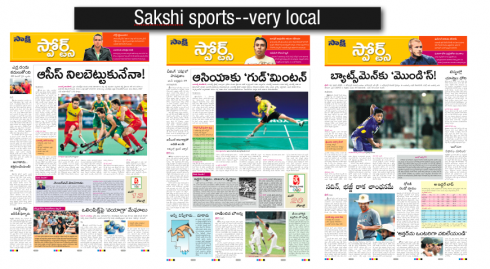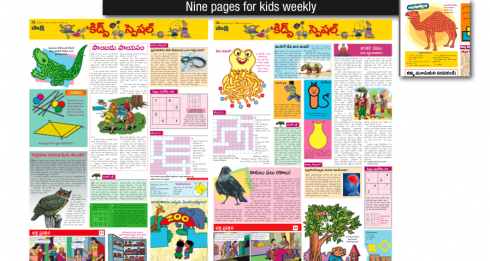 When my team and I first entered the conference room of what would be the newsroom for the new newspaper, Sakshi, we were first told that the name of the daily—which is published in the Telugu language—- means "witness". The young CEO, chairman and publisher, Jagan Mohan Reddy, spoke enthusiastically of how he wanted his newspaper to reach beyond the boundaries of Hyderabad—described by many as the new Sillicon Valley of India—and into every rural village around.
"We want Sakshi to be the newspaper of choice for all those reading in the Telugu language. We plan some 23 news centers, so that every corner of our region will be covered. Yes, we will print 23 district editions," he said.
Quite a tall order for any publication, we thought at the time, let alone a new one for which only a name existed.
Our task then was to design this product, as a broadsheet, with possible use of tabloid format for supplements. My art director Jan Kny and I went to work on sketches. Mario Jr. worked on the design of the newspaper's online edition. We were extremely fortunate to collaborate on the design of Sakshi with Shiva Kumar and his team, whose studio, Apparatus, is based in Bangalore.
I decided from the start that this would have to be a colorful newspaper, with lots of photos, big headlines and a powerful feature, entertainment and sports component. The printing press allows for color on every page.
On March 23, 2008, the new Sakshi made its grand entrance, printing 1.2 million copies from the start.

Today, as we visit Hyderabad to monitor progress, and to review what works and what doesn't, I am impressed with the story of Sakshi, as the numbers tell it:
Circulation: 1.3 million
Number of readers: More than 12 million daily
Editions: 23
Designers: 200
Photographers: 68
Editors and Reporters: 2000
Distribution network: 9960 exclusive agencies

Even more impressive is how Sakshi has managed to become the market leader among dailies published in the Telugu language, dealing massive blows to its competitors.
How did Sakshi do it?
These impressive circulation numbers were achieved through a vast and strong marketing campaign, which included door-to-door promotion in the most remote villages around Hyderabad. Billboards, television and radio spots plus print ads covered the area. In those places where billboards were not available, as in rural villages, artists were commissioned to paint murals on the walls, carrying the page structure and color palette of the new Sakshi.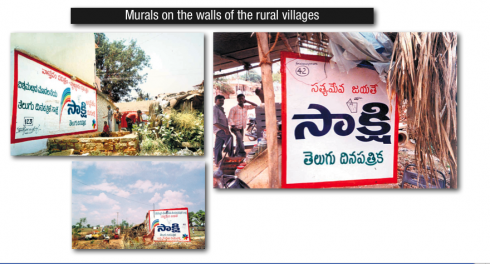 It worked. From the start, Sakshi had secured over one million paid subscribers.
With a current ratio of 20/80 advertising to editorial, Sakshi continues to grow, designing approximately an average of 240 unique pages daily, and making total changes on each of its 23 district editions, to make it the most local newspaper around. "We will break even financially by the newspaper's first year anniversary," says Reddy.
"We touch the lives of every person in our circulation area, and beyond," a proud Reddy says. "We continue to look at what we do, and how we do it. This is an ongoing process, as we find the right formula for our newspaper."
Indeed, the citizens of Hyderabad region are "witnesses" to one of the happiest and most successful newspaper start-ups ever.
We are proud to be involved and to witness the phenomenon ourselves.
WHAT SAKSHI DOES RIGHT:
*Substantial emphasis is placed on content for children 7 to 14 years of age—nine pages per week totally devoted to this age group.
*Strong entertainment section, with emphasis on the local cinema industry.
*Highly localized coverage of sports for the region
*Emphasis on topics of interest to women—-from health to fashion to entertainment and childcare
*A strong online edition that is coordinated to make the vastly popular printed edition a good companion
*Catering to the young adult reader. Average age of readers here: 27 years of age.
*Sakshi sells for2 rupees, while all the competition newspapers sell for 3. (One U.S. dollar is about 40 rupees).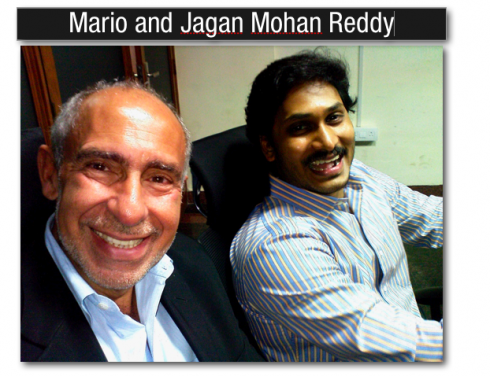 I speak with Jagan Mohan Reddy:
Mario: To what do you attribute the enormous success of your newspaper?
Jagan: First, the leading newspaper in our market was comfortable and complacent, making money and staying as #1 without much effort, investment or quality. They were not bothering to improve, which created a gap in the market. We came in to fill it. And, while the competition did not engage in any progress, we hired the best, from your designing team, to marketing, research. We wanted to create the best newspaper, unique and one that would serve the community well. It took the competition 30 years to get to all of the penetration area; we did it in one day. From start, we created 23 centers to make sure each edition was as local as possible. So we succeeded, and we put a dent on their circulation. It would be extremely difficult for another start up to come into this market at the moment; almost impossible, actually."
Mario: How is your online edition being received?
Jagan: Glad you asked. Big success, already the #1 online edition in Telugu language, with over 1.8 million visitors. (The Sakshi website was designed by Mario Garcia Jr., of the Garcia Media team)


Landed in Frankfurt, where I spend the weekend. But must tell you about my 45-minute car ride from the Taj Krishna Hotel to the brand new Rajiv Ghandi International Airport of Hyderabad. The chaotic streets of the city are soon left behind and a welcome sign ushers us into a different world, with clearly marked lines on the highway ("I could drive starting here," I tell my driver, "but I could not drive even one block in the traffic we just left behind.") He smiles and agrees. Indian streets are colorful all right, but to watch from the back seat. Tonight I saw the door less mini taxi made for four, carrying 7 people inside; well, not quite, as one passenger had most of his body outside the vehicle.
I took out my iPhone to take a picture of this, but the man hanging out of the taxi looked straight at me.
Soon after, at a busy intersection, underneath what will be a new expressway someday, a big white cow appears in the horizon, totally unaware of the multitude of cars around, and oblivious to people as well. They , too, ignore the cow. One unleashed brown dog with matted hair cuts in front of our car, and comes to rest under the standing cow. I am trying to capture the scene, but the driver has a different idea. He wants to talk.
"Are you comfortable back there, sir? Is the air conditioning OK for you," he asks.
Then, without me saying a word, and, out of the blue, he asks me if I go to church.
True, taxi and hotel drivers everywhere love conversation, and they will tell you their story whether you want to hear it or not. Is there a blog for taxi drivers anywhere? I am sure there is. Aren't all taxi drivers the original bloggers?

The 29-year-old driver, impeccably dressed in white, complete with white gloves a la Michael Jackson, proceeded to tell me that he goes to his mosque to pray at least three times a day.
"Good, " I said. "Very good"
"Sir, " I am a Muslim, but I had a life changing experience when my baby was taken to hospital here. She was dying and they took her to the Catholic hospital, and, there, one night I prayed to Jesus. And my baby is fine, and, although I pray to Allah, I carry Jesus in my heart.
Do you think there is anything wrong with that?"
"Not at all, " I said, as I read the sign on the road that said the airport was still 15 miles away.
"I am Catholic," I said. "I am happy for you and for your baby."
"You see, sir, in your country, America, they think that the Muslims are not good people, and that we can't coexist with the others. That is wrong. I carry Jesus in my heart, but I pray to Allah, and I hope you tell everyone back home that we are not bad and that we are believers."
I am keeping my promise, right?
"Next time you come to Hyderabad and stay in our hotel, I will personally take you to my mosque and you will see how wonderful it can be."
"Sure," I said as we reached the airport.
Just as he was helping me with my bags, he noticed the cross around my neck.
"You carry Jesus around your neck, I carry Jesus in my heart, " he said proudly, one hand over the gold button that sat right where his heart is.
"God bless you and your baby," I said.
"Inshallah," he answered, and I saw him snake his way around a large group of women in colorful saris—-a flowerbed of bright orange, fuchsias, greens and turquoise. Just when I thought he was gone, I saw him turn his head towards me, raise his hand and say:
"Oh, and say hello to everyone in America. We like America."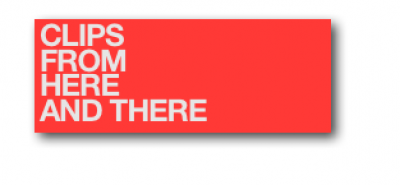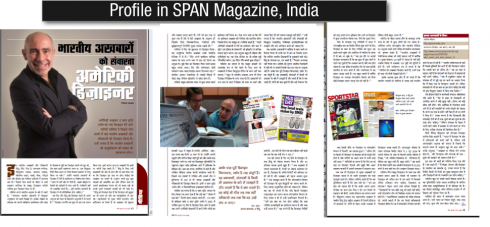 AND SPEAKING OF AMERICA: SPAN, the magazine published by the U.S. Embassy in Delhi, has honored me with a profile focused on my work in India since 1999, when I first visited Delhi's Hindustantimes. Since then, I have worked with Malayala Manorama, TV Week, The Hindu, Sportstar, Business Line, Frontline magazine, Midday, Sakshi, Saakal Times and the creation of the financial daily, Mint.
<
http://www.sakshi.com/main/homepage.aspx
Watch Sakshi television ads:
http://www.youtube.com/watch?v=KwcgEP29Yu4
About Telugu language:
http://en.wikipedia.org/wiki/Telugu


http://garciamedia.com/blog/articles/new_daily_in_telugu_language_for_hyderabad_india/