Malaysia's Metro: a favorite, colorful newspaper just got better
TAKEAWAY: It is a new look and total rethink for Malaysia's Metro, a newspaper that knows what its audience wants, and it now serves it in an even more colorful and easier to navigate product.
Update #1: Tampa, Florida, Tuesday, Jan. 8, 05:32
TAKEAWAY: It is a new look and total rethink for Malaysia's Metro, a newspaper that knows what its audience wants, and it now serves it in an even more colorful and easier to navigate product.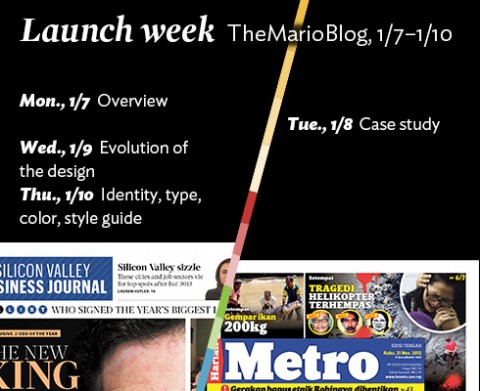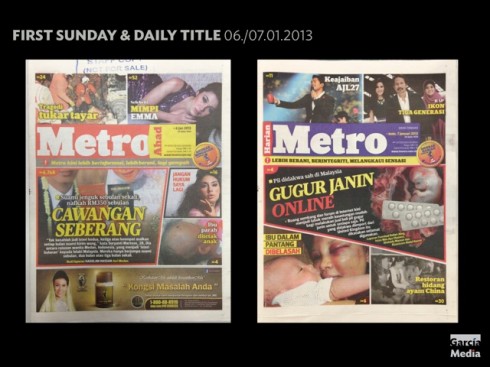 The first Sunday and daily editions of the newly redesigned Metro, of Kuala Lumpur, Malaysia
It was a special Sunday in Kuala Lumpur Jan. 6 as the new look of Metro, the largest circulation daily in Malaysia, premiered not just a new design, but also new content organization, renamed supplements, and an easier to read and to navigate newspaper.
There is something special about papers which, like Metro, are focused on a segment of the population that wants its news fast, but which wishes to be not just informed, but also entertained.
Metro does that well. With its editor in chief, Datuk Mustapa Omar (Pak Mus), at the helm since its first edition, Metro thrives on the type of human interest stories that report daily life in Malaysia, with emphasis on Kuala Lumpur.
I heard someone once say that the best tabloid newspapers are those which cover the stories we hope happen to us (Two plumbers Share Winning $50 million Lotto ticket), to those that we hope never happen to us ("Gunman holds family hostage, kills three").
Metro follows that formula well, and its success with readers (a loyal following that not just holds steady but increases all the time) proves it.
During the course of my career, I have worked with many of the so called "down market" newspapers globally. It takes a talented and focused editor to get the right content that the audience craves. At Metro, the good content parade starts on Page One.
Metro knows its audience, and has no pretenses. Like The Sun in the UK, the Daily News in New York City, and Bild in Germany, Metro titillates, informs, entertains and brings the faces of the people to each of its pages.
The new design accentuates photos—especially people photos.
The color coded sections guide readers to inside content.
Inside pages are orderly and easy to follow, based on my belief that simply because a newspaper is aimed at a down market audience, its design must not create chaos as a substitute for attractive and orderly pages. Let the content do the titillating. Let the headlines provide the "shake".
Those are some of the basic foundations I have followed here, as we worked with the Metro team in a series of workshops culminating in the new newspaper you see here today.
Garcia Media art director for this project, Constantin Eberle, of our Garcia Media Europe office, worked closely with Metro art director, Harry Shariman Maarup on the creation of prototypes and style guides for this project.
With the new look of Metro, we have now completed work with all three titles that are part of the New Straits Times media group. Previously we helped with the rethinking of the New Straits Times and Berita Harian .
Before and after pages of Metro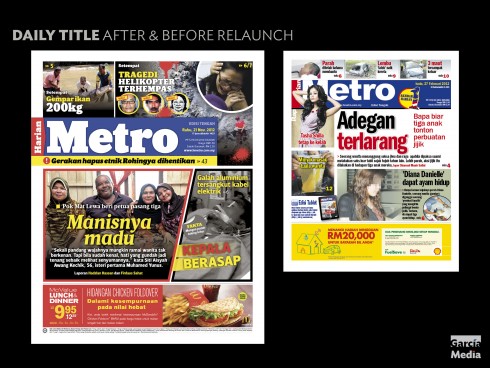 The new Metro front page (left) and before redesign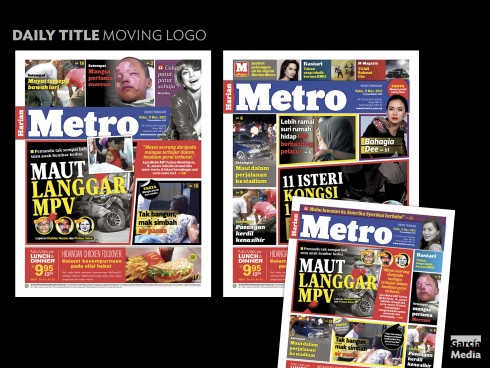 We have designed to logo to be on "wheels", moving around the upper portion of the page based on promo needs of the day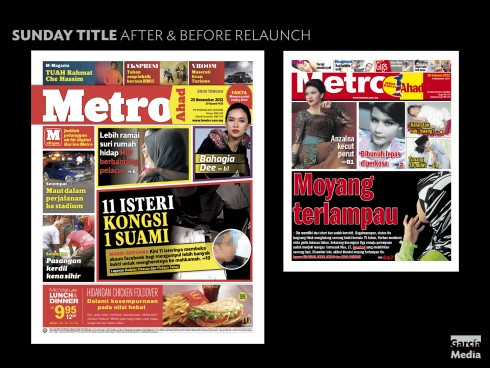 Front page of Sunday edition, before and after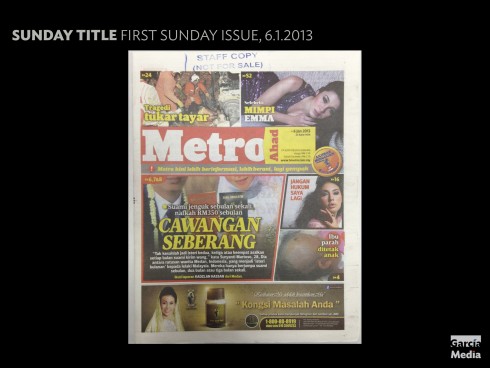 First Sunday edition front page
New typography and color palette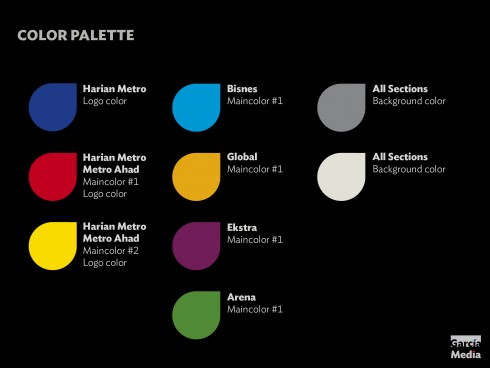 Before and after for all other sections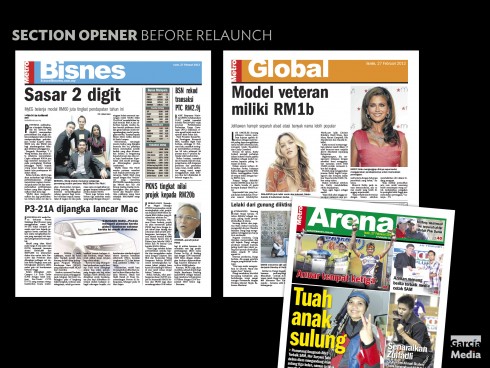 Here is how sections opened before the redesign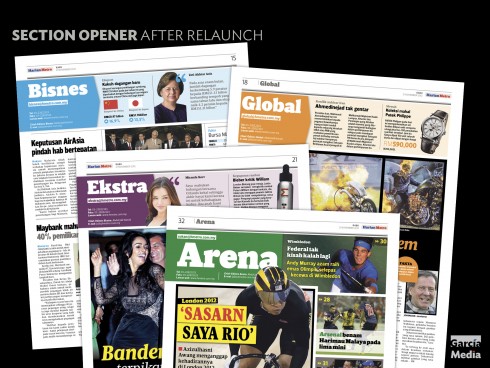 *Section openers AFTER redesign
*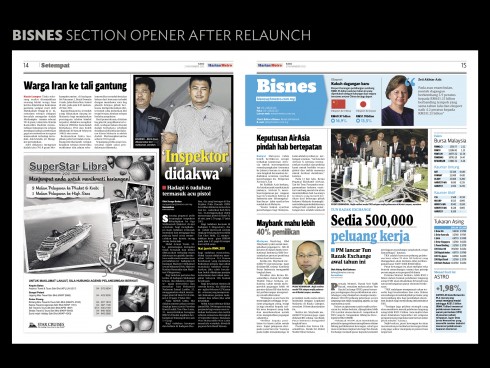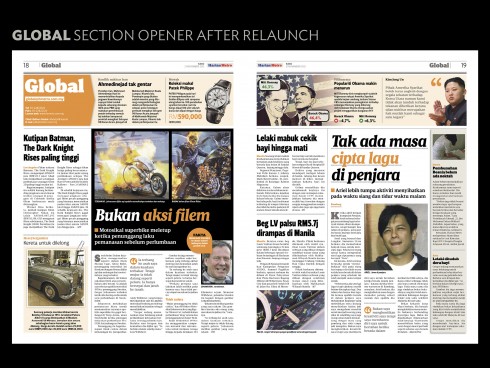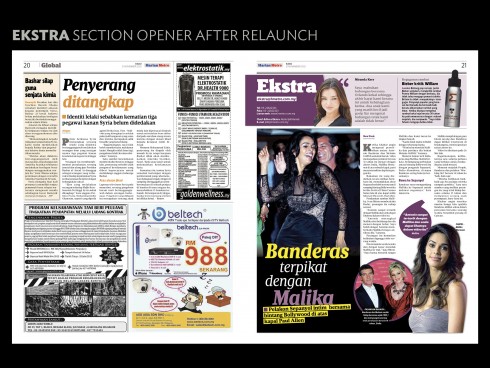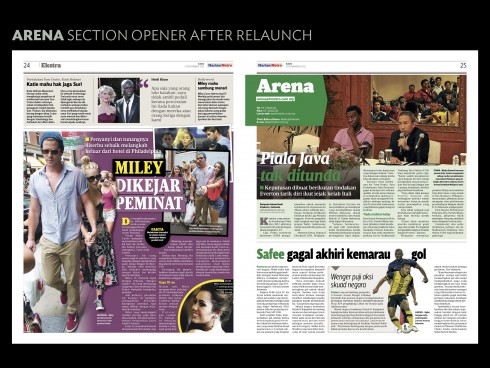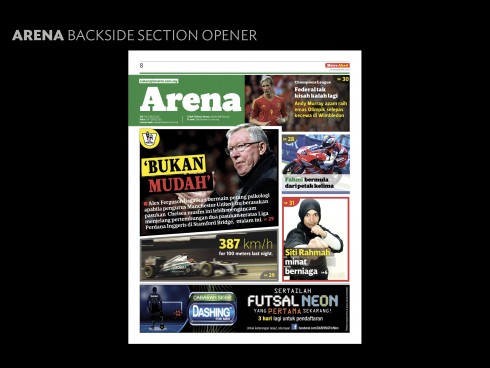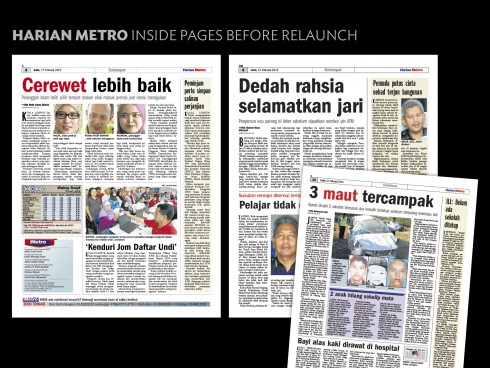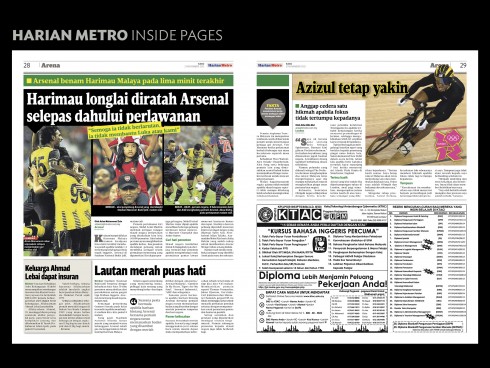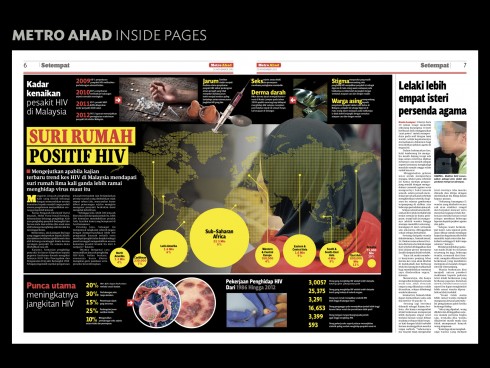 Supplements before and after redesign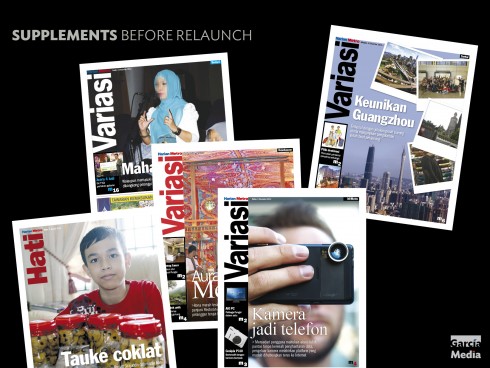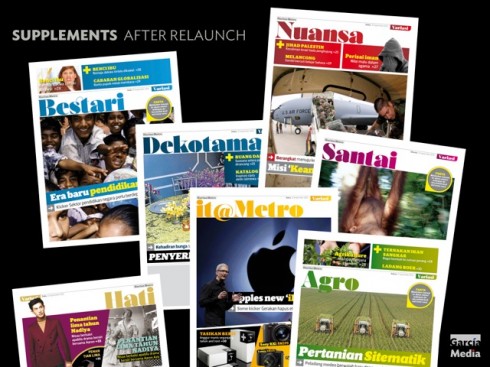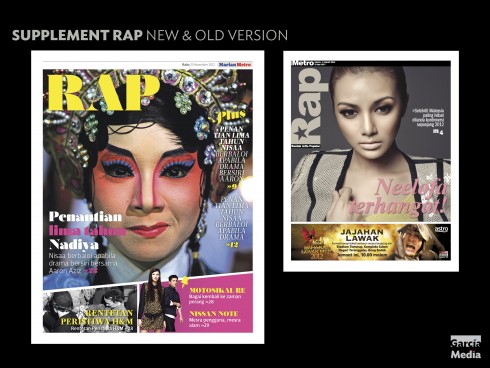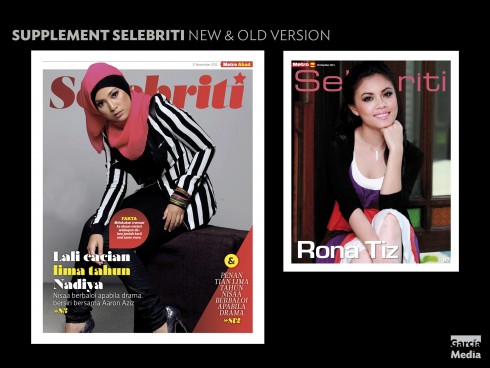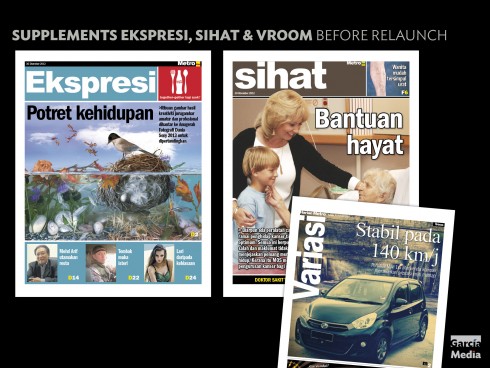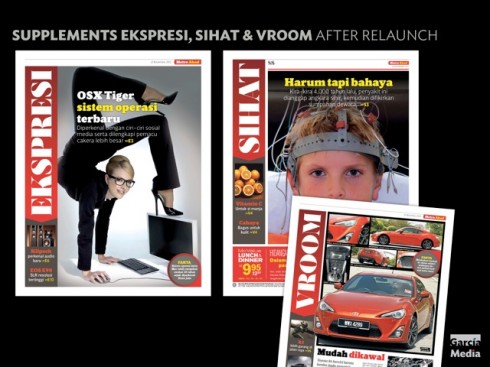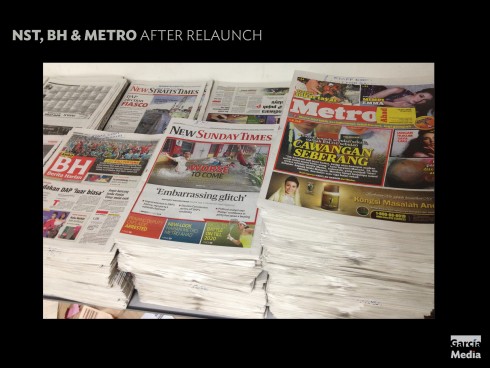 Reactions
Well, so far, it is too early to get a more scientific reading of how the new look of Metro has been received, except that as Putri Shireen Syed Othman, general manager marketing, writes us, the circulation figures for the first day were up: an increase from the regular 450,000 copies to 510,000. In addition, editor in chief , Pak Mus, who was out selling newspapers with the vendors on opening day, had this to report:
"People liked it very much. They were happy to see the new Metro."
Who's Who in the Metro newsroom
Datuk Mustapa Omar (Pak Mus), Chief Group Editor
Abdul Ghafar Ismail, Deputy Chief Group Editor
Yaacob Abdul Rahim, Editor Metro Ahad
Tuan Asri Tuan Hussein, Chief News Editor
Ramasamy Chellachamy, Deputy Chief Sub-Editor
Harry Shariman Maarup, Graphic Editor
Putri Shireen Syed Othman, General Manager Marketing

Take advantage of our iPad Design/Ad Lab workshops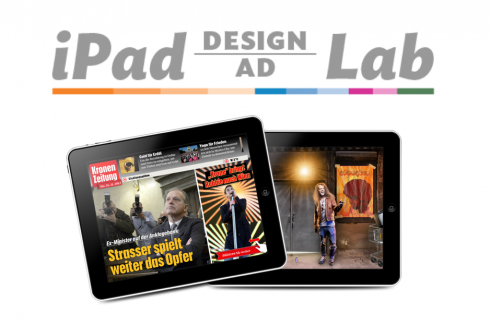 Do you want to take your brand to the next level by creating a tablet edition? Garcia Media can help. We now offer one- to two-day iPad Design Lab workshops on demand to jumpstart your presence on this exciting new platform. We also offer iPad Ad Lab workshops to develop engaging advertising models for your app. Contact us for more information.
Purchase the book on the iBookstore
The EPUB version of book is HERE:
Now available: The EPUB version of iPad Design Lab: Storytelling in the Age of the Tablet, ready for download via Amazon.com for Kindle:
http://tinyurl.com/8u99txw.
Take a video tour of iPad Design Lab
"iPad Design Lab" trailer on Vimeo.
Read the Society of Publication Designers' review of The iPad Design Lab here:
http://www.spd.org/2012/10/must-read-ipad-design-lab.php

Keep up with Mario Garcia Jr.. via Garcia Interactive: helping transform online news since 1995.
www.garciainteractive.com
Here is how you can get the book:
The original version of the book is the multitouch textbook version available on the iBookstore for iPad (iOS 5.0 and up): https://itunes.apple.com/book/ipad-design-lab/id565672822. This version includes video walkthroughs, audio introductions to each chapter, swipeable slideshows, a glossary and a sophisticated look and feel.
Apple only sells multitouch textbooks in certain countries at this time, unfortunately. Copies are available in at least the following countries: Australia, Austria, Belgium, Canada, Finland, France, Germany, Great Britain, Greece, Italy, Latvia, Luxembourg, The Netherlands, Poland, Portugal, Romania, Slovakia, Spain, and the United States.
For those in other countries and without an iPad, we have made the book available in a basic edition for other platforms. This basic edition includes the full text of the original, along with the images and captions, but lacks the other features such as audio and video. It is available on the following platforms in many countries:
Amazon Kindle: http://amzn.to/SlPzjZ
Google Books: http://bit.ly/TYKcew
TheMarioBlog post #1167