TAKEAWAY: It was a typical Apple introduction of a new product for its iPad 3, the much talked about new tablet in the series. The iPad 3 aims to please, and so far it apparently does, including investors and business types, who see Apple stock rising and the tablet continuing to dominate the market.
This is the weekend edition of TheMarioBlog and will be updated as needed. Next blog post, Monday, March 12
Update #6: Saturday, March 10, Goteborg, Sweden , 19:54


TAKEAWAY: It was a typical Apple introduction of a new product for its iPad 3, the much talked about new tablet in the series. The iPad 3 aims to please, and so far it apparently does, including investors and business types, who see Apple stock rising and the tablet continuing to dominate the market.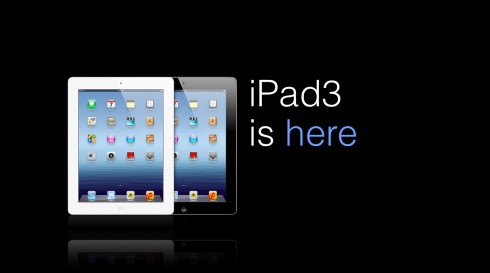 I happened to be in the US on Wednesday, when Apple announced its much awaited new iPad3, and for the past 48 hours it seems all the TV shows have something related to this new development.
TV presenters and commentators share details with their viewers about the color of the iPad they just ordered through the Apple Store——white seems to be the preferred. As with previous unveiing of Apple's slick products, the topic of conversation at the water cooler today has been "who got the new iPad already on pre-order" and what it will offer that is new and different.
I admit that I have ordered my white one, too, and, according to the Apple Store, those who preordered today will get their new iPads shipped around March 17. Look forward to getting the new one. In my case, there is always the next grandchild in line waiting to inherit the iPad I leave behind!
Apparently another very popular iPad coming out, not just for those who write about technology, but also those in the business side of the equation, who are quite bullish about Apple (AAPL) stock in view of the new features that the iPad 3 will have.
Reactions from the business community to the new iPad are quite positive, with experts emphasizing that the new iPad is positioned to dominate the category. They believe competitors (Android and Windows) will have trouble matching the price-performance specs of the current iPad product lineup.
What's new in the iPad 3?
—It will have a speedy quad-core processor. There are 3.1 million pixels on the device—or a million more pixels than standard HDTV. The data storage capacities remain the same.
—The new iPad also doubles as a 4G hot spot, allowing several devices to use its connection as they would a WiFi router. The new tablet can connect up to five additional devices through WiFi, Bluetooth, or USB.
—The iPad 2's battery holds up for nine hours of 3G connectivity or 10 hours of regular usage. The new iPad also offers nine hours of 4G LTE connectivity or 10 hours of regular usage between charges.

—-It'll Take Dictation, But Won't Talk Back
Apple's latest tablet takes voice dictation. But it will not work like the iPhone 4's Siri, who answers your questions and commands.
For a comparison of iPad2 versus iPad3 screens:
http://assets.sbnation.com/assets/995051/retina_compare.jpg
iPad pre sales sold out worldwide in two days
http://tech.fortune.cnn.com/2012/03/10/ipad-pre-sales-sold-out-worldwide-in-two-days/
At Bild: a day without women editors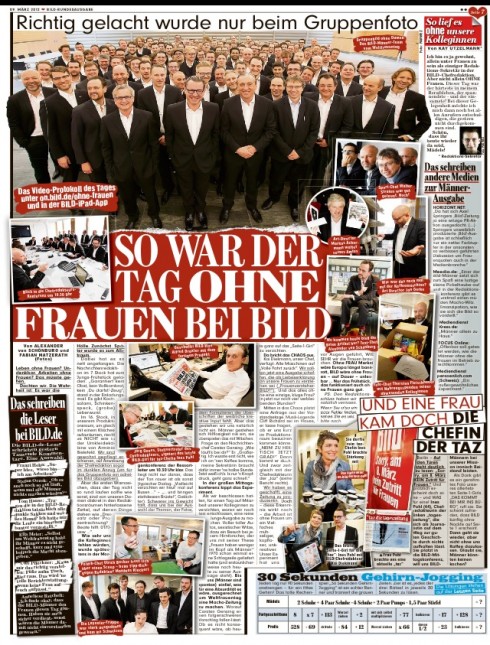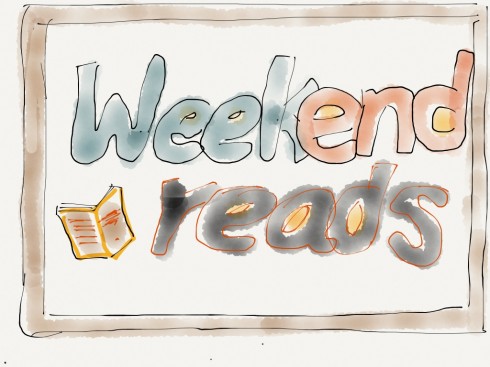 Bild's men report on their day without their women colleagues around in the newsroom: it was not easy!

Yesterday we posted an item from Frank Deville, our Europe blog correspondent, about Bild, the German daily, and how it gave all its women in the newsroom the day off to celebrate International Women Day.
Today's edition report how it was for the men in the newsroom to plan the newspaper without any women editors.
And here Frank has translated some of the transcript of observations from the men editors about their day without women colleagues:
Live without men, yes, work without women, NO. That is what we thought, but it was hell.

It all started quite nice, a breakfast with ham and more, instead of fruits and wheat bread

At 10:30, that was the first time we really missed the women, during the morning conference: The tone was heavier, and we miss that feminine creative touch that women bring to the table when choosing photos, topics and headlines.

By lunch time, we know the conference experiment without the ladies is failing as we decide to do a Bild edition that is full of cars, jokes, etc., something the editors used to do in the 70s, but this time it missed badly.

In those days, the pages had awful headlines like: Women have less brains than men!

Now we regret those headlines.

So, for our day without women in the newsroom we decided to not put the Bild girl on cover, that was chaos


Our editor Kai Dietman decided to do a Bild edition dedicated totally to women and in 4 hours we produced a Bild that is a declaration of love to women!

And doing all of this without the clever brain of women in the staff, not easy.

We found out, at the end, that it is not easy to produce a newspaper without women in the team, the experience is less creative and we realized how much we miss the women around us in the staff

Europe without (Angela) Merkel, not possible.

Bild without women, unreadable!
For Bild's story in German:
http://www.bild.de/news/inland/weltfrauentag/gruppenfoto-23059190.bild.html
Weekend reads of interest
New Republic gets an Owner steeped in New Media
http://mediadecoder.blogs.nytimes.com/2012/03/09/new-republic-gets-an-owner-steeped-in-new-media/?scp=1&sq=new%20republic&st=cse
First paragraph:
The newest owner of The New Republic magazine is Chris Hughes, a new-media guru who co-founded Facebook and helped to run the online organizing machine for Barack Obama's presidential campaign.
My take: For a magazine that is all about long form journalism, tablet editions are exactly what the doctor ordered. Its 28-year-old editor and publisher, Chris Hughes, is what we would call a digital native, so we are likely to see some fantastic examples of how to take the long narrative to the tablet format. Stay tuned, as I know I wil/l be.

3 New Reasons Apple Will Scorch Its Rivals This Year
http://www.fool.com/investing/general/2012/03/10/3-new-reasons-apple-will-scorch-its-rivals-this-ye.aspx

First paragraph:
Now that the new iPad is here and everyone and his brother is salivating to buy one, there is much talk about how Apple (Nasdaq: AAPL ) dominates the tablet market. A recent survey by InMobi showed that almost 30% of those responding were planning to buy the new iPad, and that more than half of those people didn't already own a tablet. That's pretty impressive loyalty to a brand that these consumers haven't even owned yet.

- The newsonomics of paywalls all over the world
http://www.niemanlab.org/2012/03/the-newsonomics-of-paywalls-all-over-the-world/
Highlight:
As more newspapers get on the paid-content bandwagon, there are a few promising models popping up. Here's what to learn from them.
NYT magazine editor Hugo Lindgren thinks he possibly blew it on the iPad
http://www.capitalnewyork.com/article/media/2012/03/5432532/nyt-magazine-editor-hugo-lindgren-thinks-he-possibly-blew-it-ipad

Highlight:
"At the moment we have a real problem: we do not have a separate iPad app, and our presentation on the New York Times app is not good enough … When I got there, we had a budget to create our own app. Literally, we were about to hire our own people and the budget disappeared. And I got pretty focused on the magazine, on the print magazine, because that's where we needed a lot of attention. And I probably kind of blew it a little bit not fighting that hard enough, and we're going to get that restored."
He said timetables say the app will be ready in two years.

"And you're like, two years? Oh my god."
TheMarioBlog post #956