TAKEAWAY: At midnight Dec. 18, West African time, a new newspaper made its entrance into the media world. It is appropriately called NEXT, and we are honored to have been part of this project, created, nurtured and engineered by publisher Dele Olojede, a Pulitzer-Prize winning journalist.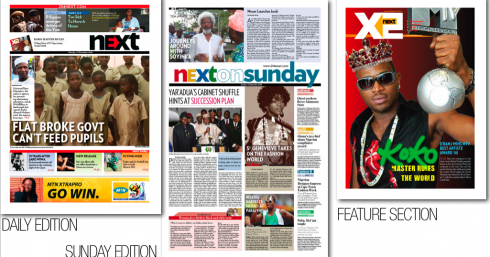 We show you here prototype front pages for what Next will look like when it appears in print, Jan. 4, 2009. It will be a compact format daily, a broadsheet on Sunday, with a features supplement called X2 Next.

Updated Friday, Dec. 19, 2008
The Next website has experienced its share of first-day technical difficulties, so it continues to be a "very soft" launch today, with some articles appearing fully, other sections not integrated yet, but with team and technicians at Next working around the clock to make sure that the site is running smoothly as soon as possible.
Says Jeremy Weate, project leader, who claims he is too tired to be formal: "We're out of nappies and learning to use the toilet"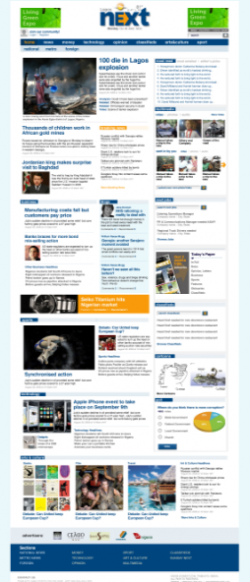 Final prototype version of the Next website/Garcia Media 2008

It is always a day of celebration when a new newspaper is born. So, here we are, at almost the grand finale of 2008,a year many will wish to forget following a string of bad financial news, all of which have made newspaper stories, in particular, quite grim and desperate. In the midst of this landscape, a new newspaper is born in Lagos, Nigeria. We at Garcia Media are proud to have been involved with the NEXT team from day one.
Now the online edition is there—-yes a light launch,or beta version, as it will take days and weeks to get this site running to its full potential. To prepare for that, the team, under the leadership of Dele Olojede, with whom I had had the pleasure of first working when he was an editor at Newsday, of Long Island.
Dele is a Nigerian Pulitzer Prize-winning journalist and former foreign editor for Newsday and was the first African-born winner of the Pulitzer Prize. Dele has overcome tremendous challenges to recruit young journalistic talent, and to train them, and get them ready for what is likely to be one of the most youthful, inspiring and service-oriented newspapers ever published in Africa.
For the Garcia Media team, we worked with my son, Mario Garcia Jr., who created the Next website, working closely with Frank Traina; for the print edition of Next we worked with our art director Christian Fortanet, and the ever resourceful Ron Reason, handling newsroom training, sprinkled with tons of inspiration and tips.

Welcome to NEXT. We're glad you found us. This means that now we are fellow travellers on a journey of discovery- which should surprise, amaze, infuriate, and inspire us. NEXT is launched now to provide news and informed opinion fairly and accurately to the Nigerian public in any land, based on the best judgment of the editors, and in a way that serves the public purpose and is compatible with the demands of an open and democratic society. We will deliver this to you wherever you are and by every means-via this web medium, on your mobile devices, to your desktop, on Tweeter and YouTube and Facebook-anywhere we can find you. Of course, we will engage you also via a superbly designed and edited and produced daily newspaper. The paper, NEXT and NEXTonSunday, will be distributed from Jan. 4 2009 simultaneously in multiple cities, in Nigeria and in the UK and the United States. That's a first for an African publication. Just so you know, our web site and our papers have been designed by Mario Garcia
From NEXT project leader: Jeremy Weate

Personally, this has been a journey of over two years, working closely with Dele Olojede and Garcia Media and our technical partners to create what we anticipate will be, in time, the best news website in Africa. For our initial preparation, we looked at hundreds of online news sites around the world, and visited quite a few leading organisations to talk to their senior digital management staff. The content management system we are using is best-of-breed, providing an operating environment that seamlessly integrates print and web. Our website combines design elements, functionality and user experience flavours from our favourite sites, and gives them a Nigerian twist.We launched a couple of weeks ago on Twitter – apart from providing some upfront awareness of the brand/service, launching on Twitter gave our reporters a first taste of how a contemporary newsroom works. Rather than 'print' or 'web', NEXT generates content that places itself on the most appropriate channel – Twitter, sms, web, YouTube, Facebook, newsprint etc. throughout the day according to the lifestyles of our users. As the name of our brand indicates, our focus is on providing as close to real-time a service as possible, with an analytical focus on what lies ahead.

The website you will see in a few hours time will be the worst you will ever see it – we will be continuously optimising the user experience in the next few days, weeks and months. Just like the road that brought us to this point, we have a long way to go to satisfy the varied needs of our audience (Nigerians, Africans and Africa-observers around the globe). Every step will be a thrill, because it brings us closer to a goal: of providing Nigerians and Africans with a news service that holds its own with the best in the world.
Print edition of NEXT to follow
The paper, NEXT and NEXTonSunday, will be distributed from Jan. 4 2009 simultaneously in multiple cities, in Nigeria and in the UK and the United States. That's a first for an African publication. This printed newspaper will be in a tabloid/compact format, with the navigation that modern Internet-inspired readers demand, plus a color palette to reflect the colorful environment of the newspaper's home base, Lagos.

The Next facts at a glance
Title: NEXT
Launch of online edition: December 18, 2008
Projected launch of print edition: January 4, 2009
Projected audience: Nigerians, Africans and Africa-observers around the globe
Publisher and creator: Dele Olojede
Editor: Muhtar Bakare
Project Leader: Jeremy Weate
Creative Director: Victor.Ehikhamenor
Art Director, Isiaka Gbodiyan
Published in Lagos, Nigeria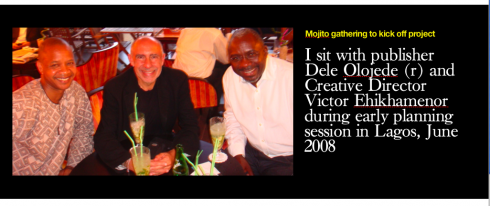 About Dele Olojede:
http://en.wikipedia.org/wiki/Dele_Olojede


To read TheRodrigoFino blog, in Spanish, go:
http://garciamedia.com/latinamerica/blog/
Today, Rodrigo Fino writes about how television, too, is having to change to adapt to the new media landscape..


In Frankfurt, waiting for connecting Lufthansa flight to Miami. The work for 2008 is completed, and now going home to begin the holidays with my family.
TheMarioBlog posting #159
Sign up and we will keep you updated.