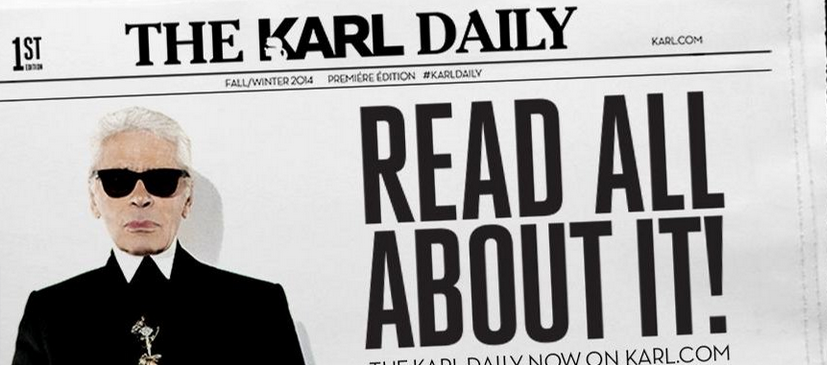 The arrival of the new "newspaper" is set to coincide with a retrospective devoted to the fashion designer which will take place at the Bundeskunsthalle in Bonn, Germany,
What are we likely to find in The Karl Daily. According to Women Wear Daily:
"We can anticipate to find within The Karl Daily news tidbits about various Lagerfeld product lines- candles, watches, fragrances and leather goods. A comic strip, street-style photos and a list of hot spots round out the 'satirical' broadsheet, which carries four pages of advertising for Lagerfeld brands."
"Tongue-in-cheek elements include fictional personals and Choupette, the couturier's pet cat, serving as guest editor and reporter."
The Karl Daily will appear in seven European cities where the designer operates freestanding stores for his signature brand. Distribution is to follow in the following weeks in China, with copies also landing in select stores, hotels and other cool spots.
Volume 1, Number 1: The Karl Daily
The first edition includes a headline that reads:
"Haute Off the Press" in large type, leading us to believe that, in terms of look and feel, the Lagerfeld daily is more like a racy tabloid than a soft a la Vogue type of publication.
I am sure his advisors have told Karl that, when it comes to print, shouting can be a virtue, if you wish to seduce readers who are too immersed in their iPhones and iPads.
Those who have seen the first edition say that it's 100% about the world of Karl. Sort of what Oprah Winfrey does in her popular magazine, except that hers is a monthly.
We will be looking forward to reviewing an actual edition of the new effort. For now, any new printed newspaper that is born circa 2014 is reason to celebrate.

http://blog.wan-ifra.org/2014/09/21/divisions-devolution-and-democracy-how-britains-national-newspapers-covered-the-scottish-
TheMarioBlog post # 1580
comments powered by

Disqus