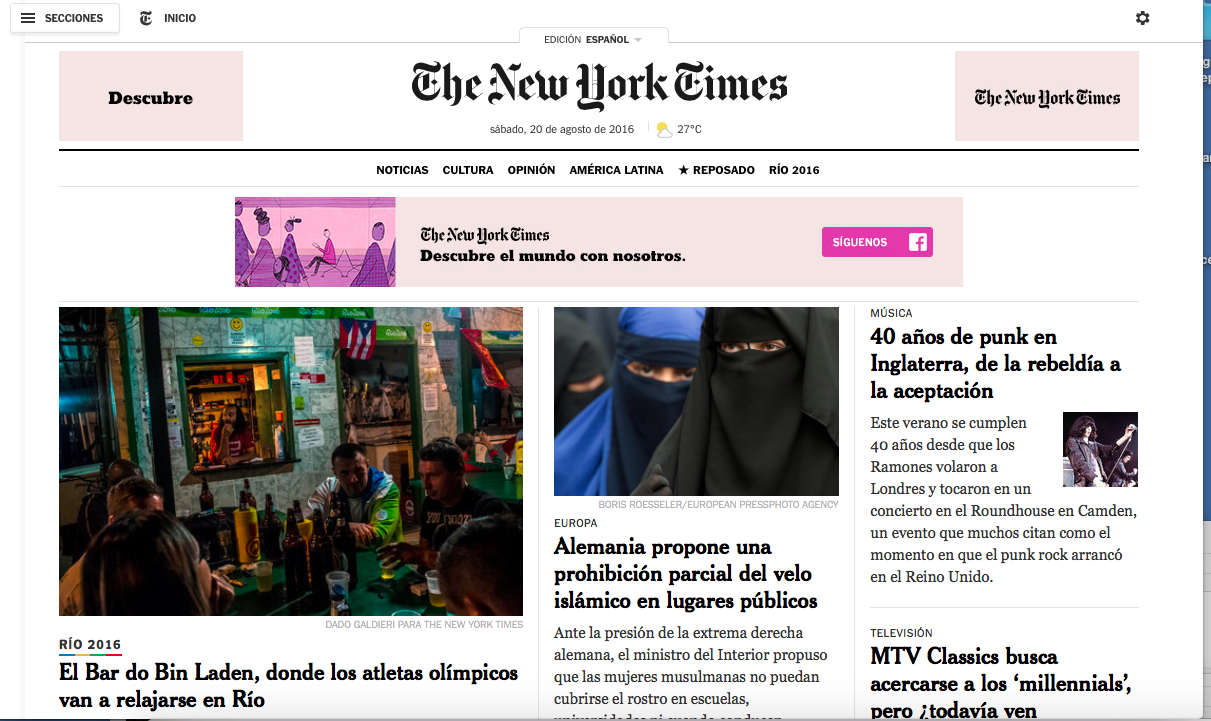 The New York Times En Español
Spain's El Pais in English
This is great news for those who like to get the outstanding journalism of The New York Times but in the Spanish language.
The look and feel is exactly that of the Times' English edition, but the content includes stories across all departments, with emphasis on Latin American and subjects and news of interest to Latin American readers.
I imagine that this will present some competition for Spain's El Pais, which aims to be the global newspaper for those reading in Spanish. But, El Pais also publishes a website in English. Obviously, the Times is aiming high with Latin American readers, while El Pais, already well established for Spanish readers in Latin America, tries to get a piece of the North American market as well.
Take a look at the NYT En Español here: http://www.nytimes.com/es/
Of related interest
En Español: The New York Times launches a Spanish language news site aiming south of the border
http://www.niemanlab.org/2016/02/en-espanol-the-new-york-times-launches-a-spanish-language-news-site-aiming-south-of-the-border/
Why The New York Times, the Financial Times and El País are eyeing Latin America
http://thenextweb.com/media/2012/10/15/why-the-new-york-times-the-financial-times-and-el-pais-are-eyeing-latin-america/
'El País': Mobile Services Move Slowly in Latin America, Because my People Ride Horses –or Something
https://miblogestublog.com/2016/03/08/el-pais-mariachi-mobile-services-latam/
TheMarioBlog post # 2474
comments powered by

Disqus