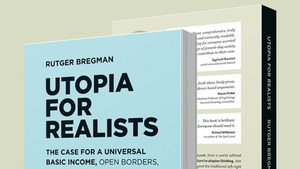 Great news, indeed, to read that De Correspondent, the Dutch site that I visit frequently because of its timely selection of content that we are not likely to see in other sites, is now publishing books, as a way to expand the site's audience. Let's not forget that De Correspondent's motto is "From news to new". In their own words:
"The Correspondent is a Dutch journalism platform that focuses on background, analysis, investigative reporting, and the kinds of stories that tend to escape the radar of the mainstream media because they do not conform to what is normally understood to be news. We currently have 40,000 paying members."
De Correspondent is publishing its journalism in book form since summer 2014. The books are offered on the company's own kiosk as well as through Amazon and other outlets. the site is available both in Dutch and English.
I like this idea, and, I predict that we are going to see more traditional publishing sites, such as mainstream newspapers and magazines, publishing fiction.
Here is how Ernst-Jan Pfauth, Co-founder & Publisher De Correspondent, explains his publication's entrance into book publishing:
"Journalism sees little return on its successes
I'm sure you all know what I mean. A journalist makes a name for herself with a fantastic series in a paper that has given her everything she needs to ply her craft. More and more people read her work, she's invited to appear on television news and talk shows, and before you know it, she's written a book that soars to the top of the best-seller list. The author embarks on a book tour, giving talks and readings across the land, records a TED Talk of course, and settles into her new life with a readership of millions."
Books are the ultimate lean back reading experience, and while mobile devices keep us on lean forward mode every waking hour, there is a thirst on the part of the hurried audience for a moment of relaxed reading. The New York Times is capitalizing on it, and we are likely to see a return to the practice of publishing books, something that was common to newspapers and magazines of another era.
Why Newspapers Should Enter the Book Business (It works for us!)
https://medium.com/de-correspondent/why-newspapers-should-enter-the-book-business-it-works-for-us-c9136cf2a75b#.h8k4eebik
TheMarioBlog post # 2471
comments powered by

Disqus