TAKEAWAY: Those taking a beach vacation along the Mediterranan this summer are in for something special—-beyond plenty of sun and sea. Monocle will bring the news right to their beach chairs. Yes, the first summer newspaper is here. And it is a printed one! ALSO: Follow up to the Poynter Tablet conference: today Reed Reibstein interviews Mario Garcia Sr. AND: The St. Cloud Daily Times eagle is back, for a day.
Update #3: Sunday, June 20, 08:52 EST. This is a weekend blog post and will be updated as necessary until Monday, when a new post will appear
TAKEAWAY: Those taking a beach vacation along the Mediterranan this summer are in for something special—-beyond plenty of sun and sea. Monocle will bring the news right to their beach chairs. Yes, the first summer newspaper is here. And it is a printed one! ALSO: Follow up to the Poynter Tablet conference: today Reed Reibstein interviews Mario Garcia Sr. AND: The St. Cloud Daily Times eagle is back, for a day.
Bild am Sonntag: Clever World Cup page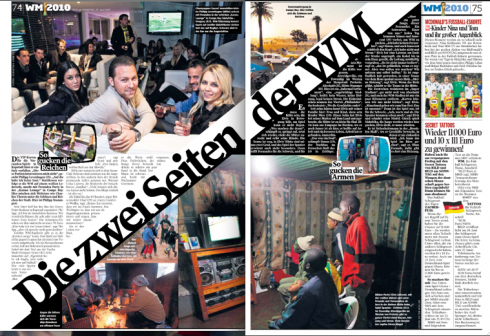 From Germany's Bild am Sonntag today.


In the department of best features derived from the current World Cup 2010 games in South Africa, we show you, courtesy of Frank Deville, who thought the pages were interesting and added value to today's edition, here is this double page treatment describing visually and through a narrative how the rich and the poor watch the games. As usual, Bild am Sonntag gives you the story visually before you even read the first line. The combination headline and images convey what it is all about. Good examples that we like!

In what may be an exclusive from TheMarioBlog, we are happy to tell you a little bit about the newest product coming out of that fabulous place called Monocle. We all enjoy reading the Monocle magazine, both in print and online; and we tune in weekly to listen to Tyler Brulé and his guests on Monocle Radio.
Tyler's idea for this summer is a special one. He calls it Monocle-on-Med and it will be a printed newspaper distributed, at first as a test, to beachgoers in those nice and exclusive beaches of the Mediterranean. If, as Tyler believes, paper is a luxury, then his Monocle-on-Med project is the product to satisfy the appetite of the luxury set.
The indispensable beach item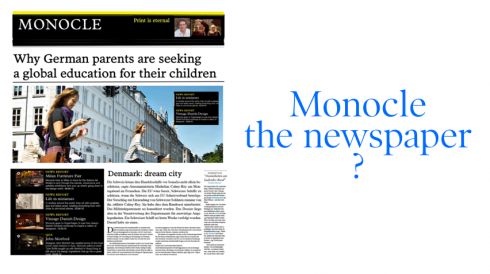 Here is my sketch of how I envisioned the new Monocle-on-Med. This is my own interpretation, playing with ideas as soon as I found out there would be a Monocle newspaper version. Caution: This is NOT what the real Monocle-on-Med will look like, although Tyler Brulé has written me that it is "curiously close to what we are thinking"
If Tyler has his way, his Monocle-on-Med, which premieres July 29, will be as indispensable as an exclusive suntan lotion and just the right kind of sandals this summer.
When I first found out about "Tyler's summer newspaper," as the rumor mill described it, I could not help but start thinking how this new printed part of the Monocle family would look. In my Thursday run I decided to concentrate on my vision of it.
And, of course, I sent it to Tyler as soon as I had come home from the run and put it on the screen of my computer.

Tyler's reaction:
"It is curiously close to what we're thinking." he wrote me, adding that "it is a one off and a bit of a political statement. I'd like to dump a little bit of cool Mediterranean water on the pad hype by showing that advertisers still love print (we've made a fortune on the concept) and iPads do not like sand, direct sun, water and the thieving hands of people lurking around sun
loungers. It's going to be loads of fun - essays, big maps, funny reportage. I think you'll love it."
Some facts about Monocle-on-Med
Here is the tip list Tyler has sent me when I asked for some details about his new baby:
- 68 pages
- gorgeous paper
- sheet fed
- code name 'Monocle-on-Med'
- distribution - all the places where people will be frolicking in the sea
and sun this summer
- anchor sponsor - BLACKBERRY!!! "We're shooting all the advertising
for it as well"
Newspaper and podcast on Fridays
The multimedia element:
Monocle-on-Med will be accompanied every Friday throughout the summer by a lovely podcast to listen to under the sun - sexy music and smart discussion.
Two men on a mission

Readers of this blog know my admiration for William Powers, author of the upcoming book, Hamlet's Blackberry. Powers believes strongly that print is "eternal," a notion that he discusses often in his lectures around the world and the inspiration for his new book, Hamlet's BlackBerry

As I know that Tyler Brulé also is very much an advocate of everything related to print, I decided to get the two men together for a dialog.
Recently, both met in Los Angeles, and, just as I had expected, William and Tyler clicked, and I foresee many interesting collaborations between these two men on a mission.
For William, print allows us to disconnect, to establish an intimate relationship between us and the platform in which we are reading; for Tyler, print is not only his passion, but one where, as he proves constantly, one can make money as well.
Two men on a mission, celebrating print.
According to William:
"Came away from LA with a real burst of energy, not just about the book but the enormous potential for fun and profit that media people are running away from as they pin all their hopes on facebook and tweets."
Not Tyler, of course. Rather than running away, Tyler is starting a new print product the very same summer that others run away from the rotary presses as fast as they can to venture into the world of touch screens.
Disconnect has found a dynamically smart duo to get us there quicker, starting on the beaches of the Mediterranean Sea July 29.
Post-presentation interview. Today's the last one, with Mario Garcia!
While at the tablet conference, Reed Reibstein was able to interview several speakers, following up their presentations with one or two additional questions. We will present transcripts of these recorded interviews.

Question: Do publications need a dedicated tablet editor?
Mario Garcia: I believe so. I believe very strongly that the tablet is a very specialized platform—it has its own needs . If you are going to treat it as it is and give it it's due respect, you need to have an editor who, while the others are thinking of how the print edition will shape up that day or what will be going on in online, will be thinking of the scope and the sequence on the tablet, the stories that people will come to the tablet to find, and the "pop-up" moments.

One of my concerns is that right now there is not a tablet editor appointed. In most cases, art departments are playing the dual role of creating the visual effects and anything that has to do with what art departments usually do, and in addition to that, playing the role of editors. I have a great deal of respect for my fellow art directors and designers—many of them are true visual journalists, so that's not the problem. The problem is that in a sense, this will create a sense of burnout in a few months. People are not going to be able to do all the things. These art departments are not exclusively working on tablets. So they have the tablet responsibilities, they have the print responsibilities, and in addition to that, you also have to deal with not only creating the pages for the tablet edition but making sure that the tablet has multimedia and that it has the excitement that the tablet needs to have.

I cannot imagine how long this can go on, so in the end we need to have a tablet editor in residence, and the qualifications for that person, if you ask me, and I have already done this in a couple of places, should be, find someone in your newsroom who is very tech savvy, someone who is connected, and someone who has a deep sense of what I would call traditional journalism. Who is someone there who knows journalism, who knows what makes for a good story, but at the same time has enough knowledge of digital media to bring the sense of good journalism to the tablet while allowing the art department people to concentrate on what they should be doing.

Question: Why would I want to read a tablet edition with "old" news later in the day when I can visit a newly updated website?
Garcia: I see the mobile telephone and the online editions as the constantly updatable platforms. Normally you go in there when you are looking for that sense of information—for me, it was who won at the Tony's and who scored at the World Cup. The tablet, I don't see as that. I see the tablet as that relaxing moment when I'm going to have my lunch. I'm going to have my end of the day, prior to being disconnected, with my tablet, and I want that tablet to give me a summary. Online does not allow you to relax that way. It allows you take a peek and find what you want to find about a breaking news event or sports event. The tablet is different. That's why the edition makes sense.
Of related interest about the tablets
Various publishers, including Donald Graham, of The Washington Post, discuss tablets and how they see the new platform's potential. One statement was consistently echoed by the publishers about the tablet: It's definitely a transformative device…
Does The iPad Change Everything? Publishers Chime In
http://techcrunch.com/2010/06/17/does-the-ipad-change-everything-publishers-chime-in/
That St. Cloud eagle keeps making history—-or reminding us of it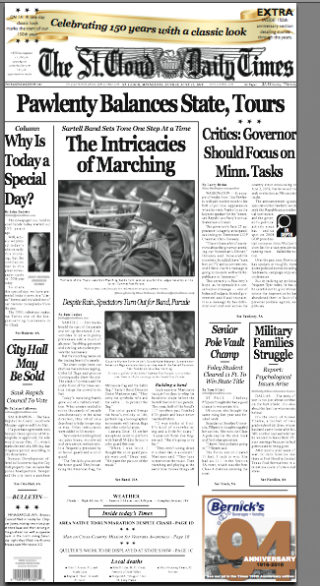 Readers of the blog know about my involvement with the St. Cloud eagle
. Well, the eagle is back. John Bodette, managing editor of the St. Cloud Times, writes me that last Sunday the newspaper celebrated the start of its 150th year. The newspaper started as The Minnesota Union on June 13, 1861.
In John's words:
To mark the milestone, we did a "classic" design for the front page including the old eagle nameplate that ran from 1927 until 1980.
We also had a special 10-page section on the big stories from our first 100 years. We have scheduled another special section with the final 50 years in August.
Reader reaction to the retro front page was very positive and it sold well. Not great but better than an average Sunday in June.
Believe it or not, we are working on revising our Sunday front page design to have it set off more than the look of the other six days of the week. That discussion includes a possible masthead change.
So, the eagle is anything but static. Congratulations to the St. Cloud Times on its 150th anniversary year.

TheMarioBlog post #585