Update #2: Thursday, Oct. 14, 08:46, Vienna, Austria
TAKEAWAY: It is no doubt one of the most compelling human interest stories of the year. It is what editors refer to as good copy, film directors as great movie material, and, well, reality show producers, are already salivating over the possibilities, knowing it would be hard to match what really happened here. As 33 Chilean miners are rescued, one by one, from the underground cave where they survived 68 days, newspapers in Chile produce special editions to tell the story. We show you some.
When the human spirit soars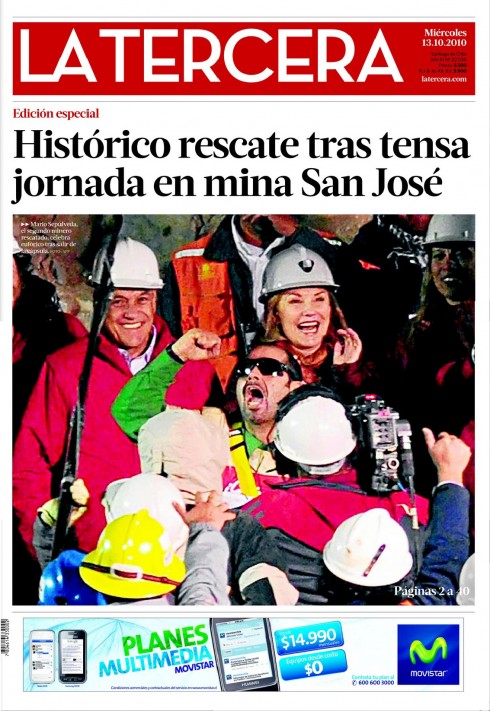 La Tercera, one of Chile's largest circulation dailies, produced a special edition. This poster style front page is exactly all readers need to get the message of the story.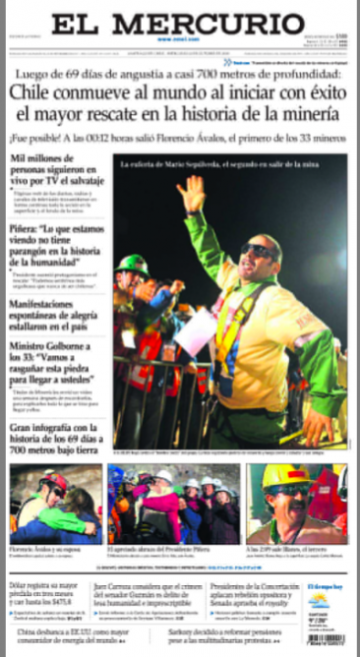 El Mercurio: the country's leading daily newspaper—-an unusual departure from its usually text heavy front page to offer a more pictorial, poster like look and a headline that reads;
Chile touches the world with the biggest rescue ever in the history of mining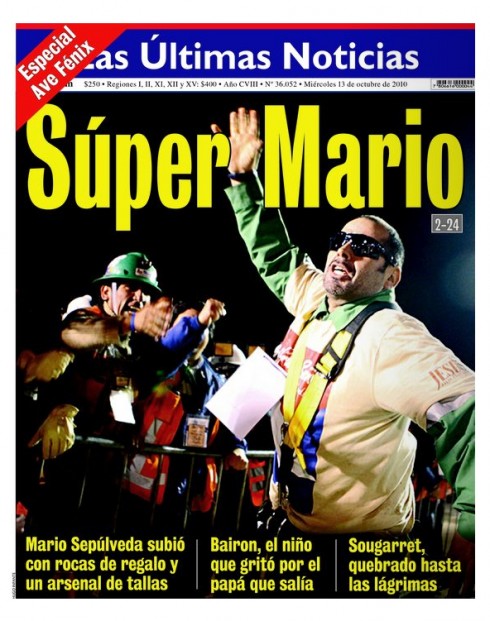 Ultimas Noticias plays its headline using the name of one of the rescued miners, Mario Sepúlveda: Super Mario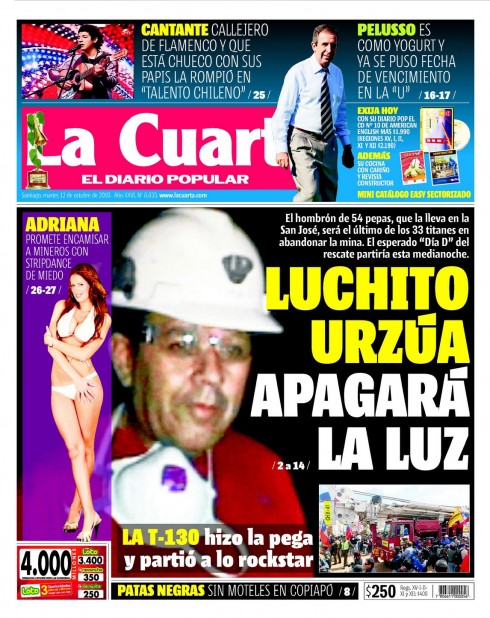 La Cuarta: a popular newspaper, focuses on the miner, 54 years of age, who will be the last one to be rescued. The headline reads: Luchito Urzua will turn off the lights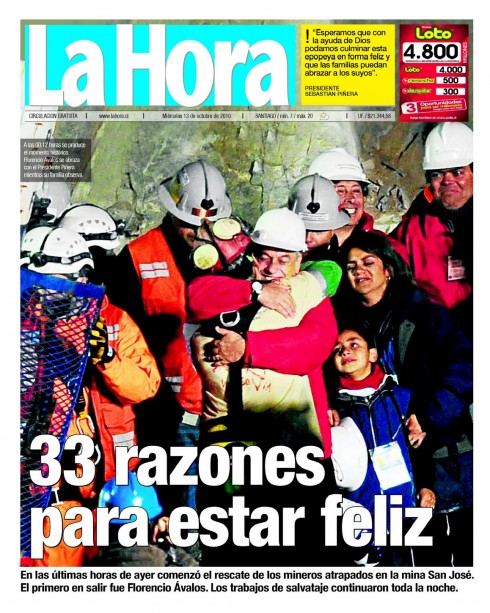 La Hora: Headline reads: 33 reasons to be happy

It is a story of survival that has kept millions glued to their TVs, laptops or mobile phones as 33 Chilean miners trapped 68 days about 600 meters under the earth were rescued one by one.
More than that, it is a story with universal appeal, one that shows what happens when the human spirit soars.
The scene at the rescue was like act three of a movie, with a Hollywood style happy ending. The world smiled with the miners and their families and rescuers. Good news never was so anticipated or visually convincing , and even those often stone faced CNN reporters and anchor people looked like this was Christmas morning as they told the story taking place at the San Jose Copper Mine.
I contacted Javier Devilat, a Chilean journalist and designer, and my former student, for a bit of the local reaction to this monumental story of human endurance and of the power of the spirit in the most unimaginable of circumstances.
The story of the miners' days in the dark is not likely to end anytime soon. We still have to look forward to the movie(s), not to mention a book or two from the miners.
For now, I wanted to share these front pages from Chile's newspapers as they covered a story of a lifetime , one that will for sure rank among the top ten stories of 2010 when such rankings appear in December.
For the Chileans: a moment of national pride
I asked Javier what the feeling was among his people in Chile:
Happiness, relief, anxiety, worry and expectation. All of those emotions blend at this moment for all Chileans as they see the miners emerge from their captivity one by one. Yesterday, people left work hearly to go home and watch the rescue effort on TV, and we could not believe it when we saw, live, the rescuing capsule. TV has been transmitting live and journaists, moved by the story, mix their personal feelings with the information. Twitter is abuzz with the rescue, that is all that is going on for Chileans on Twitter, with some criticism for those who are stealing the limelight, but as Chileans we are all proud of our miners, rescuers and the authorities who have worked relentlessly for 70 days. Today people are happy. Today, all Chileans feel more patriotic and Chilean. Now that the mine will remain empty as the media people go home to cover other news, we must remember that it is always better to prevent and to fund safety than to rescue.
Coverage elsewhere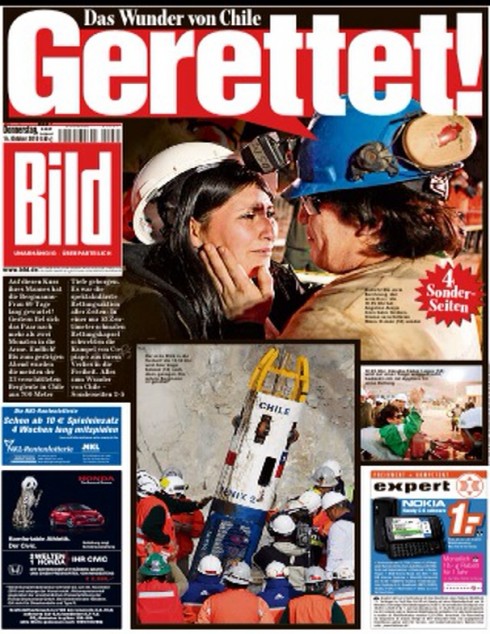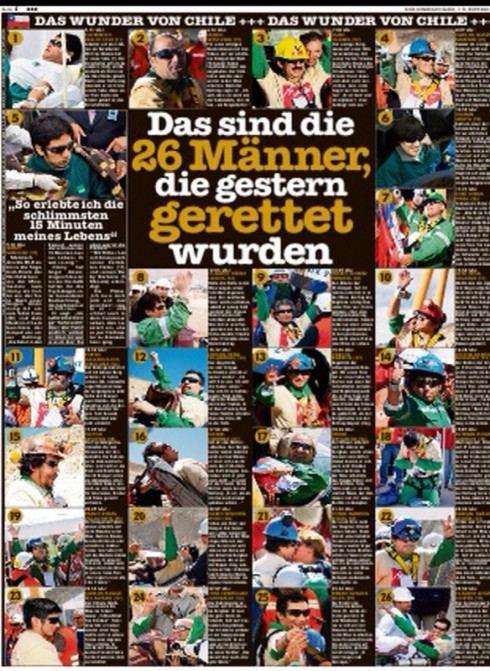 Germanys Bild Zeitung: a perfect story for the newspaper that thrives on showing emotions on its front page; also inside page coverage, highly visual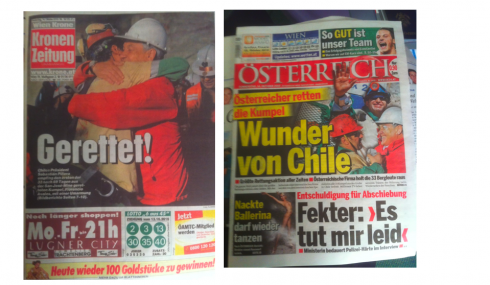 This is how two Austrian dailies, Kronen Zeitung and Osterreich opened their front pages this Thursday with the miners' story from Chile

For a sampling of related infographics, go here
Here is one of those stories that allows for some very necessary visual journalism in the form of infographics.
Sample some here:
http://newspaperdesign.ning.com/group/graphics/forum/topics/superb-infographics-on-chile
TheMarioBlog post #655
comments powered by

Disqus