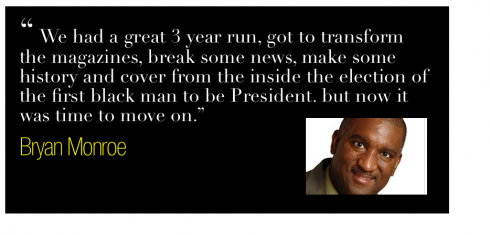 When I think of Bryan Monroe I see energy.
So I am not surprised to read the statement from CEO Linda Johnson Rice , who announced Bryan's voluntary resignation on Friday.and said that he "energized her brands".
I first met Bryan when he was barely out of college, at the now famous Knight Ridder project to create the newsapper of the future, yes, the Boca Raton News. As sometimes happens with projects to create the "anything" of the future, the Boca Raton News innovated for its time, but, we now know, that model was far from the newspaper of the future.
But what I saw of the future was Bryan Monroe: the first glimpses at the style of journalists of his generation (he is now a young and effervescent 43), and, especially the rise of a new breed of African Americans, who defined themselves by their talent, ambitions, and what they brought to the table, and not the color of their skin. In my world, Bryan was the first Obama.
Color was never a discussion, unless, of course, we talked about the legendary pink flamingo that we put on the logo of the Boca Raton News (but that is another story, for another blog posting).
It was through Twitter that I found out Bryan was no longer at Ebony/Jet, a job he took three years ago, and where, as is customary with Bryan, he did magnificent things. I am not surprised to read that during Bryan's tenure he added talented writers and editors to the team of the largest black-owned publishing company.
More importantly, he managed to bring the circulation numbers up at perhaps the most difficult of financial times for the publishing industry. His publications actually posted a year-over-year increase of 2 percent. And, he grew market share from 18.8 percent to 20.1 percent. That is reason to celebrate and take a vow while they throw roses at you.
But the icing on the cake: Ebony/Jet have received 11 nominations for NABJ (National Association of Black Journalists) awards…Way to go, Bryan.
In his own words to me this morning:
We had a great 3 year run, got to transform the magazines, break some news, make some history and cover from the inside the election of the first black man to be president. but now it was time to move on
We wish you well, Bryan. You and I always engage in big bear hugs (the big man, the little man), and I send you a big one from Vienna today. Some lucky publishing outlet out there now knows that the great Bryan Monroe is ready for his next adventure.
Keep us posted about that new adventure of yours.
See the Bryan Monroe files here:
DNC CONVENTION
Bryan on CNN during convention (video)
http://www.cnn.com/video/?/video/politics/2008/08/26/dcl.intv.bryan.monroe.cnn
ELECTION DAY
NPR All Things Considered (audio)
http://www.npr.org/templates/story/story.php?storyId=96670521
CNN after the election (video)
http://www.cnn.com/video/?/video/politics/2008/11/09/intv.bryan.monroe.cnn
ABC Nightline, toward the very end, :42 left (video)
http://abcnews.go.com/Video/playerIndex?id=6194256

EBONY PERSON OF THE YEAR
Tribune Network on first interview (text)
http://www.swamppolitics.com/news/politics/blog/2008/11/obama_gives_ebony_first_dibs.html
Huffington Post on first interview (text)
http://www.huffingtonpost.com/2008/12/02/ebony-names-obama-person_n_147930.html
McClatchy Washington Bureau (text)
http://washingtonbureau.typepad.com/washington/2008/12/ebony-scores-obama-interview.html
NY Times political blog, The Caucus (text)
http://thecaucus.blogs.nytimes.com/2008/12/02/obama-interview-in-ebony-magazine/?scp=1&sq=ebony&st=cse
CBS2 Chicago interview for magazine debut (video)
http://cbs2chicago.com/video/?id=52216@wbbm.dayport.com
NBC Chicago interview for magazine debut (video)
http://www.nbcchicago.com/news/local/35743329.html
Obama's first 100 days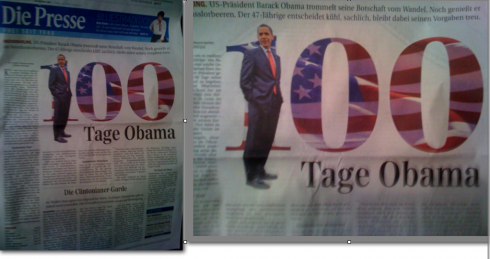 I know that many publications worldwide will mark this first landmark in the presidency of Barack Obama. I will be interested to hear from you if you see interesting coverage of the occasion.
Today, in Vienna, before flying to Dubai, I caught up with the national daily, Die Presse, which devoted its entire front page to an analysis of Obama's performance his first 100 days.
In tune with what was presented at the European Newspaper Congress, this front page contains two stories, and some navigation. The tone is one of analysis and contemplation, and not news on this particular day.
Will welcome other examples you find of Obama's 100 days story.
L'Essentiel's marketing campaign: attracting the young readers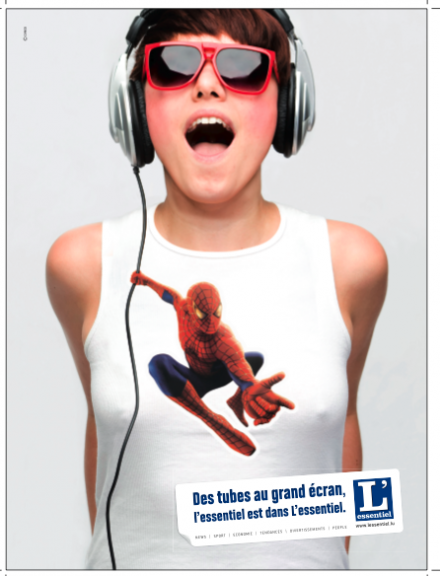 L'Essentiel's campaign uses imagery that appeals to target audience of 15-34 year olds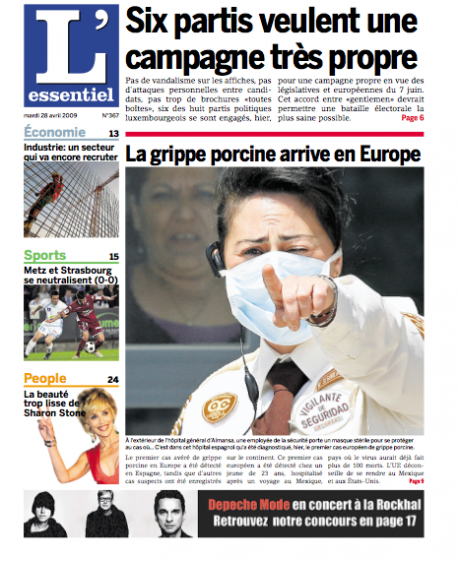 Here is today's front page of the free newspaper L'Essentiel, published in Luxembourg

Denis Berche, editor in chief of Luxembourg's L'Essentiel sends us new image of their campaign. More to come.
European Newspaper Congress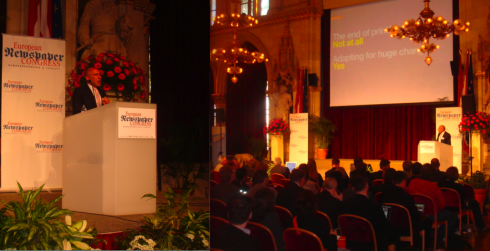 All TweetsByDesign yesterday were from the Congress, with tidbits and highlights of what speakers had to say.
Go www.twitter.com/tweetsbydesign and follow postings 27-60, all about the conference.

Trends so far as speakers make presentations, and show their newspapers:
1. European dailies seem to be adopting more of a magazine/poster look on their front pages, and many abandon the classic traditional news layouts.
2. Photography rules the day: with emphasis on ONE dominant photo, even for late breaking news, as opposed to many smaller photos.
3. White space, that one element of the design that diehard editors usually resist, seems to be gaining favor.
4. Overall, European designers turn their attention to Scandinavian newspapers and look at other European dailies for design trends, not so much to the American dailies anymore.
5. Spain is king for infographics. Nobody seems to do it better.
6. The financial crisis seems to have less impact of newspapers this side of the Atlantic.
7. In Switzeralnd, the free daily 20 Minutes thrives and manages to capture very young readers; a strong online edition helps.
A quote we like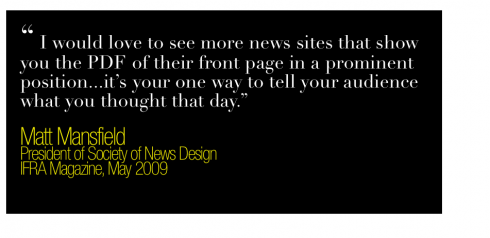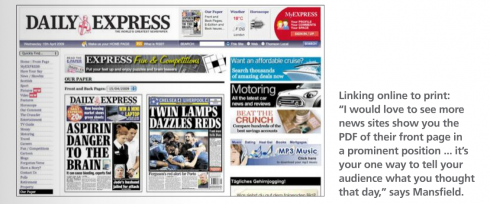 Matt Mansfield, president of SND (Society of News Design), in an interview with the IFRA Magazine out today, reminds us of something I constantly talk to my clients about: Please put a pdf of your printed front page on home page of your online edition. When I am in Hong Kong or Delhi, I love to see what the editors of my local papers, The Tampa Tribune and The St. Petersburg Times put on Page One. It gives me a sense of being there, just looking at the hierarchy of things. Good thing, Matt. Keep repeating that message.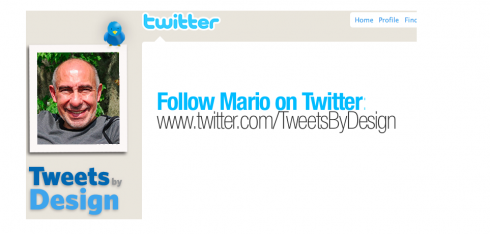 :


To read TheRodrigoFino blog, in Spanish, go:
http://garciamedia.com/latinamerica/blog/
TheMarioBlog posting #250
comments powered by

Disqus