Blog
Dec. 10th Printed newspapers' song for 2013: We Are Still Here
TAKEAWAY: Nothing reflects how much the newspaper industry is in transition as how the media itself covers it. Take a look: it is good news, bad news and in between. PLUS: The Garcia Media 2013 thermometer forecasts progress, expansion and print staying power.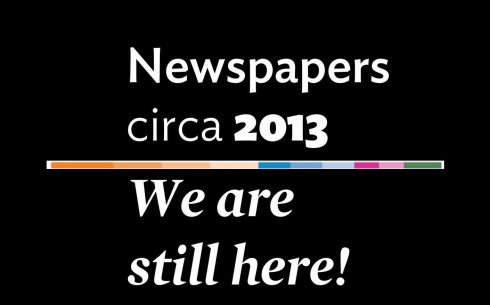 Within the last seven days we have seen the announcement that The Daily, the first newspaper created exclusively for the tablet, will discontinue publication.  We have seen the farewell black cover of a normally peach colored newspaper known as the Deutschland Financial Times, which also stopped publication last week.
Amidst these disturbing news, there is a mix of good and bad news for the newspaper industry.
It is a snowy Monday in Warsaw, Poland, and it is also December, the time when we begin to take stock of what the year about to end was like, while we ponder what's in store for 2013.
Before turning to other's forecasts, let me give my own take, which is decidedly positive.
2013 and the Garcia Media thermometer
As we all must make statements, and decisions, on the basis of our own microcosm of the industry, I am happy to say that, for Garcia Media, for the specific work that we do, and the media companies that we are honored to assist globally, 2013 is definitely not a year where we are dressing for funerals, not of the newspaper kind, anyway.
If our 2013 is an indication:
1) We will help some 20 media companies rethink their operation—-and print figures prominently in a majority of those.
2) We will help very established print brands extend to the media quartet, going mobile and tablet, while rethinking the role of their printed product.
3) We will be officiating over the creation of at least TWO new print titles. Yes, not kidding you, these are non existing titles that will see the light of day in 2013 as print products (among other platforms, of course).
4) We will help with the transition of printed broadsheet newspapers moving to compact—-a definite good and desire move.
5) We will engage in the rethinking of how top brand weekly print magazines strive to continue as vibrant print products
This is just a start. We will also conduct workshops globally about storytelling in the age of the tablet.  And, yes, we will create and design tablet apps, mobile apps, and lead newsrooms into soul searching, all with an optimistic approach, reminding everyone of our motto: These are the best times to be a storyteller.
All along, we will help companies redefine the role of the printed newspaper, and how to make it viable and interesting, even in media houses where the Digital First posters are up all over the newsroom.
For 2013, a large number of the newspapers I am familiar with are singing that song made famous in Stephen Sondheim's legendary musical, Follies, one that usually brings the house down when a theater diva of a certain age appears on stage to sing: I'm still here.
Here's that song in its latest incarnation, by Elaine Paige, as performed in the 2012 Broadway production of Follies
http://www.youtube.com/watch?v=PQQ28YD3_6w
Turning to The Economist, we see some more good tidings.
Let me start with the good tidings, please. And, no, it is not the fact that Warren Buffett has bought another newspaper to add to his portfolio, although that is also a recurring theme.
The reliable good news comes from a report published by The Economist, titled News Adventures, with a highlight that reads: After years of bad headlines the industry finally has some good news.
It is not everyday that the words newspapers and profits are mentioned in the same sentence, but, The Economist is doing so.
Highlight #1:
Things have started to look a bit less grim, particularly in America. Revenues from advertising are still falling, but those from circulation have at last started to stabilise. At some papers, such as the New York Times, circulation revenues this year are forecast to offset the decline in advertising for the first time in at least five years
Highlight #2:
Some newspaper stocks already reflect this good news. Over the past six months the New York Times Company's share price has risen by 37%. Those of Gannett and McClatchy, two other big publishers, have climbed by 34% and 24% respectively (although part of Gannett's gain is attributable to its television unit, which was boosted by America's election campaign). Hearst, a private company, has seen profits at its newspaper group rise by 25% this year and is having its best year since 2007, says Lincoln Millstein, an executive at the firm.
The newspaper's film noir
However, if you see the trailer of a soon to be documentary about the troubles of American newspapers—-centered, and not too positively, around the continuous saga of The Philadelphia Inquirer and Philadelphia Daily News —you would get your black suit and tie ready to attend the funeral of all things newspaper.
Just the title is enough to get you a second drink: Black and white and dead all over.
The documentary features David Carr, Paul Steiger, Bob Woodward.
In a salute to the idea that newspapers still represent the mother's milk of content in most newsrooms, one speaker asks: Where is the Internet going to get its information if the newspaper in your town goes out of business?
The better question is: how many readers are asking themselves that question.
Another timely question: when will this documentary come to a theater or TV set near you.
- USA: Forthcoming Documentary Looks at Impact of Newspaper Declines
http://newspaperdeathwatch.com/forthcoming-documentary-looks-at-impact-of-newspaper-declines/
Was that an early Tweet in 1941?
Meanwhile, as we continue to journey thru what I call transitional years for the newspaper industry ( I foresee another three years of the holding pattern), it is refreshing to travel a bit down nostalgia lane.
Today we know that news breaks on Twitter. But here is a blast from the past that tells us that nothing is ever so totally new.
Perhaps one of the early Tweets took place that infamous date of Dec. 7, 1941 when a news flash announced that the Japanese had attacked Pearl Harbor.
The statement from AP from President Franklin D. Roosevelt was all of 138 characters: The Japanese have attacked Pearl Harbor from the air.

Go here:
The Tweet-Like News Flash That Announced Pearl Harbor
http://www.theatlantic.com/technology/archive/2012/12/the-tweet-like-news-flash-that-announced-pearl-harbor/266051/
Other appropriately related items of interest this Monday

- USA: By slashing digital, has the OC Register written its own obituary?
http://ebyline.biz/2012/11/by-slashing-digital-has-the-oc-register-written-its-own-obituary/?mkt_tok=3RkMMJWWfF9wsRonuKTKZKXonjHpfsX56%2BsoUK%2BxlMI%2F0ER3fOvrPUfGjI4AT8NnI%2FqLAzICFpZo2FFdGPmZdY5F
- USA: Why Did The Daily Die? The View From Inside the Collapse
http://www.thedailybeast.com/articles/2012/12/06/why-did-the-daily-die-the-view-from-inside-the-collapse.html

Pay Wall Push: Why Newspapers Are Hopping Over the Picket Fence
http://mediadecoder.blogs.nytimes.com/2012/12/07/pay-wall-push-why-newspapers-are-hopping-over-the-picket-fence/

Online Paywalls and the Future of Media: A Few Hard Truths
http://gawker.com/5966560/online-paywalls-and-the-future-of-media-a-few-hard-truths
Take advantage of our iPad Design/Ad Lab workshops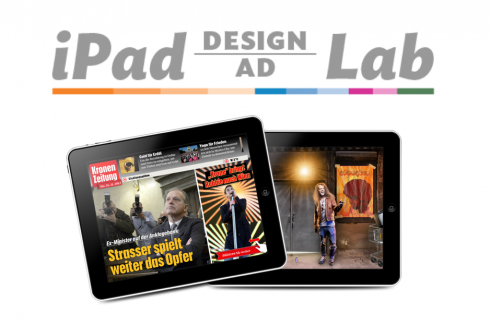 Do you want to take your brand to the next level by creating a tablet edition? Garcia Media can help. We now offer one- to two-day iPad Design Lab workshops on demand to jumpstart your presence on this exciting new platform. We also offer iPad Ad Lab workshops to develop engaging advertising models for your app. Contact us for more information.

Purchase the book on the iBookstore
The EPUB version of book is HERE:
Now available: The EPUB version of iPad Design Lab: Storytelling in the Age of the Tablet, ready for download via Amazon.com for Kindle:
http://tinyurl.com/8u99txw.
Take a video tour of iPad Design Lab
"iPad Design Lab" trailer on Vimeo.
Read the Society of Publication Designers' review of The iPad Design Lab here:
http://www.spd.org/2012/10/must-read-ipad-design-lab.php

Keep up with Mario Garcia Jr. via Garcia Interactive: helping transform online news since 1995.
http://www.garciainteractive.com
Here's a gift you don't have to wrap!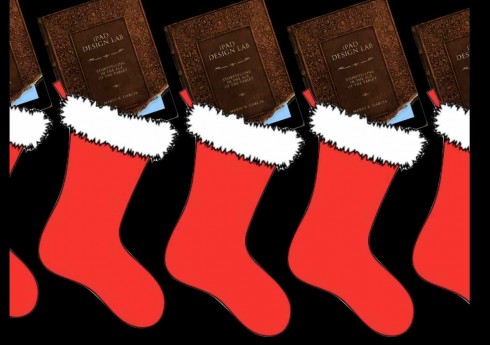 It's official. The Christmas/holiday shopping season is here.
Here is a suggestion for someone on your list, the digital book iPad Design Lab: Storytelling in the Age of the Tablet. No need to stand in line, no need to buy wrapping paper. Just send it to someone you think might enjoy a book about this magnificent new platform that is the tablet, and how to maximize its potential for storytelling.
Here is how you can get the book:
The original version of the book is the multitouch textbook version available on the iBookstore for iPad (iOS 5.0 and up):
https://itunes.apple.com/book/ipad-design-lab/id565672822. This version includes video walkthroughs, audio introductions to each chapter, swipeable slideshows, a glossary and a sophisticated look and feel.

Apple only sells multitouch textbooks in certain countries at this time, unfortunately. Copies are available in at least the following countries: Australia, Austria, Belgium, Canada, Finland, France, Germany, Great Britain, Greece, Italy, Latvia, Luxembourg, The Netherlands, Poland, Portugal, Romania, Slovakia, Spain, and the United States.
For those in other countries and without an iPad, we have made the book available in a basic edition for other platforms. This basic edition includes the full text of the original, along with the images and captions, but lacks the other features such as audio and video. It is available on the following platforms in many countries:
Amazon Kindle: http://amzn.to/SlPzjZ
Google Books: http://bit.ly/TYKcew
Scribd: http://bit.ly/PQTwla
TheMarioBlog post #1155
Posted by Dr. Mario R. Garcia on December 10, 2012
comments powered by

Disqus
Commenting is not available in this channel entry.
latest entries
about the author
Dr. Mario R. Garcia
Where's Mario? (January 5–31)

Mario's speaking engagements (January 2014)

Mario's latest book: iPad Design Lab

Mario at Columbia Journalism School

Teaching three continuing education courses at Columbia

Take advantage of our iPad Design/Ad Lab workshops
about the blog
A blog about storytelling, design, the projects we work on, the things we learn along the way. View all blog entries »
RSS Feed
Get updates delivered to your newsreader (RSS 2.0)
---