Blog
Nov. 3rd Evenings, the iPad and the lean back connection
TAKEAWAY: The evidence seems reassuring and conclusive: for a large number of iPad users, the evening appears to be the preferred time to kick back, take off their shoes and engage in all that the iPad offers. In a recent speech, the chairman of the New York Times Arthur Sulzberger, confirms it. Indeed, he says, you can get in bed with your audience.
Update #1: 1:52 p.m.—Added
NYT

ad


It is an 11-11-11 launch for the New Straits Times of Kuala Lumpur, Malaysia, and the Garcia Media team prepares to accompany the team next week as the rethinking of the past six months launches across all platforms: mobile, online, print and tablet. Check with TheMarioBlog all of next week for daily updates of the process.

Moonlight becomes it (the iPad that is!)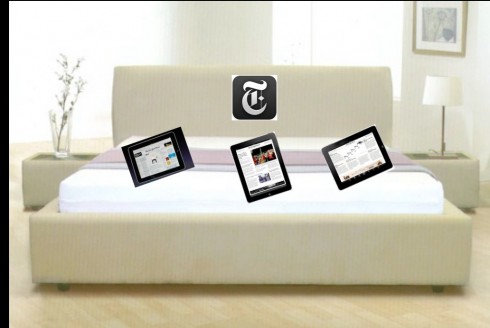 Bed image from http://interior-hits.com/designs/bedroom/beds-types/
It is the type of information that we see everytime we participate in a focus group about the habits of iPad users who read news and features: by large, the preference is to do so in the evening, primarily between the hours of 7 and 11 pm.
Regardless of where one is in the world, the results are quite similar. The iPad, undoubtedly, is the preferred lean back platform.
In a presentation at the London School of Economics and Political Science, the chairman of the New York Times Arthur Sulzberger reinforced the idea, especially as it relates to the Times:. Sulzberger stated that how the Times reports the news is evolving "and so is how our readers consume news."
The iPad, he agrees, has been significant in how readers of the Times access information. Here are some specifics of Sulzberger's speech:
"In the first round of research, we learned that many are now consuming more news than ever across platforms: Over 80% of iPad users read The Times on at least two platforms and half of them juggle three or more.
"It's no secret that we, along with the entire newspaper and magazine industry, were worried that the iPad – more than any other digital device – might cannibalize print, so we were delighted to see that these users are instead reading us more than ever.
Sulzberger mentioned that the Times commissioned a follow-on study on cross-platform behavior.
"The first set of recent findings are fascinating," he said, as he shared a few highlights.
Mobile. Very utilitarian. Users are really "filling in," "snacking" when they have free time…at the football field, the doctor's office… They also tell us our content made that downtime more meaningful and valuable to them.
Lean back: With print and the tablet, it's about the reading experience. Spread the paper out on the kitchen table, bring the iPad to the park, lean back and enjoy.
Evening reading: Print users read throughout the day, with a morning bias. Tablet users express an evening bias.
This led Sulzberger to what is the best quote of his presentation: "How many of you take your iPad to bed at night? Uh-huh. This is one of the key reasons that our engagement levels are up. This device has added an entirely new day part for us. You can literally get into bed with the audience."
Desktop and laptop: A week-day/work-day habit, and personal. Print and tablets on the other hand are more often shared, left on the coffee table.
The complete speech:
http://blogs.lse.ac.uk/polis/2011/11/01/the-continuing-digital-transformation-of-the-new-york-times-by-arthur-sulzberger/
A related New York Times print ad
Art director and project manager Reed Reibstein sends this advertisement from today's New York Times, touting the Times' readership on multiple platforms. 380,000 digital subscribers, 10.3 million users of the iPhone app, 3 million of the iPad app, 48 million global unique visitors, and 992,000 print subscribers.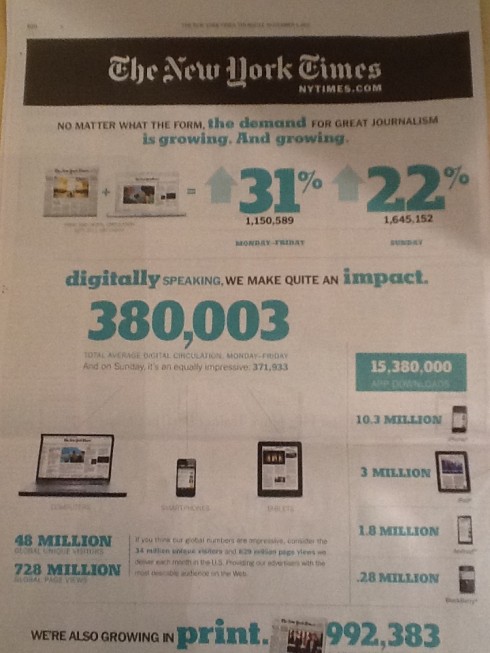 Our previous posts on the "lean back" iPad connection:
iPad apps with something extra
http://garciamedia.com/blog/articles/ipad_apps_with_something_extra/
Tages Anzeiger's new iPad app: it offers interesting extras
http://garciamedia.com/blog/articles/tage
Rediscovering the evening editions: Desperately seeking those lean back readers
http://garciamedia.com/blog/articles/rediscovering_the_evening_editions_desperately_seeking_those_lean_back_read
The concept of editions for news iPad apps
http://garciamedia.com/blog/articles/the_concept_of_editions_for_news_ipad_apps
Of related interest:

iPad creates new demand for evening news
http://blogs.journalism.co.uk/2011/06/28/su2011-ipad-creates-new-demand-for-evening-news/
Orange County Register Reinvents pm News Cycle with Curated iPad app
http://www.poynter.org/latest-news/media-lab/mobile-media/134450/orange-county-register-reinvents-pm-news-cycle-with-curated-ipad-app/
The transition to digital journalism
http://multimedia.journalism.berkeley.edu/tutorials/digital-transform/tablets/
Everyone loves using an iPad in the evening
http://www.cultofmac.com/103776/everyone-loves-using-an-ipad-in-the-evening/
iPad usage report
http://mashable.com/2010/07/08/ipad-usage-report/
TheMarioBlog post #883
Posted by Dr. Mario R. Garcia on November 03, 2011
comments powered by

Disqus
Commenting is not available in this channel entry.
latest entries
about the author
Dr. Mario R. Garcia
Where's Mario? (January 5–31)

Mario's speaking engagements (January 2014)

Mario's latest book: iPad Design Lab

Mario at Columbia Journalism School

Teaching three continuing education courses at Columbia

Take advantage of our iPad Design/Ad Lab workshops
about the blog
A blog about storytelling, design, the projects we work on, the things we learn along the way. View all blog entries »
RSS Feed
Get updates delivered to your newsreader (RSS 2.0)
---