This is the weekend edition of TheMarioBlog and will be updated as needed. The next blog post is Monday, January 26.
It is a first for a Middle Eastern newspaper: to gain access to Guantanamo's jail, and the editor of the Gulf News, Abdul Hamid Ahmad, is proud of the work his team has done there.
We decided to plan "Behind the Wire" as a web-led interactive project, primarily because it allowed us to tell the story of Guantanamo Bay in so many different ways.

The interactive features allowed us to provide details of every inmate, the cells in which they are held, torture techniques and provide a true insight into the camps.

It's the first time Gulf News has taken this approach, putting the emphasis on web. It's a living archive and resource that's there for the future.

This long-form interactive format means there are very few limits and it allowed us to investigate every facet of the topic. If this was solely a newspaper project, the content, words, pictures and graphics would have needed 20 Berliner pages, and would have been one-dimensional. Now, it's an exciting and very informative look at a very serious topic – and holds the viewer's attention
From an idea to execution--and a trip to Guantanamo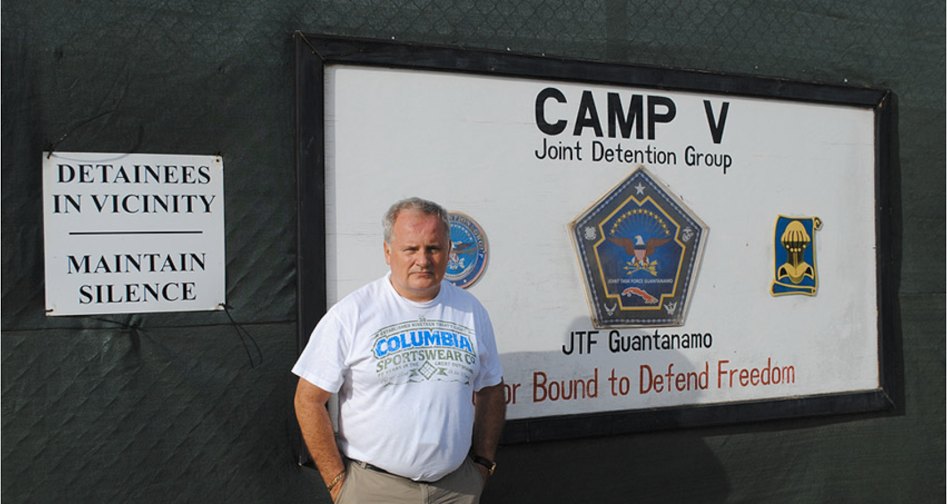 Mick O"Reilly, author of the Guantanamo piece, poses in front of sign at the Guantanamo detention facility in Cuba
It was Mick O'Reilly, Senior Associate Editor, who originated the idea for the story---and who eventually went to Cuba to do a first hand report from Guantanamo's prison.
It was not easy, he tells me.
On April 27, there was story on the wire about Guantanamo Bay. So the thought crossed my mind, 'I wonder if I can go there?' Why not. It took four months of filling forms, obtaining security clearance etc before I got a date – early September. Flew all the way from Dubai to Fort Lauderdale – and then a hurricane blew through Cuba, and the flight was cancelled. Back to Dubai … 24,000 miles in three days… to wait for another date to visit, renew security papers etc.

When I finally got there, my luggage was left behind in Fort Lauderdale. Luckily, I has a backpack with a still camera, video camera, and a tape recorder, plus some extra SD cards.

And once there, shoot everything and video what you can – and try and get it by the US military censors who review all video and images.

Thanks to jetlag, I was manic and wide awake at 3 in the morning and sketched out the entire project storyboard. We then refined it down to all the elements and the seven chapters. Entire project took from Dec 1 to Jan 21 to complete – and there were people off for Christmas and the New Year. A lot of work, a lot of fun and a real team effort



The design challenges
According to Jacob Hernandez, Senior Designer and the one in charge of the project, the challenging part was to reach the fast deadline with the best possible quality on ther product.
We have worked on interactives for quite some time now, but never with a time sensitive content like this and never with the depth that this project has; the learning curve made us to rework some elements and on the technical side, working on an iframe inside our website brought some issues on the usability but nothing crucial.
http://gulfnews.com/multimedia/graphics/full-frame/behind-the-wire-an-interactive-tour-of-guantanamo-bay-1.1443405#.VMEkmgD4Zk8.twitter
And the credit goes to....
Words, photographs and videos:
Mick O'Reilly, Senior Associate Editor
Web design and graphics:
Jacob Hernandez, Senior Designer; Dwynn Ronald Trazo, Senior Infographic Designer
Video editing: Logan Fish, Videographer
Copy editing: Sanjib Kumar Das, Pages Editor
Project inputs: Chiranjib Sengupta, Hub Editor; Meher Murshed, Senior Hub Editor; Jaye Lentin, Video Editor; Miguel Angel Gomez, Design Director
Additional inputs: JTF Group Guantanamo Bay; Reuters and AP
Special thanks to: Abdul Hamid Ahmed, Editor-in-Chief and Executive Director Publications; Mohammed Almezel, Managing Editor
TheMarioBlog post # 1658
comments powered by

Disqus