Latest News
TAKEAWAY: Whether you call them native advertising or branded advertising, or even branded journalism, one thing is for real, 2014 is the year when as, Wall Street Journal editor Gerard Baker, puts it: newspapers are ready for their Faustian pact. Translation: a pact with the devil.
And, indeed, for those of us who have been in the news business for decades, that sounds familiar. Advertising and news types have tolerated each other at best, and disliked each other more often. It has been the desperation of the last 8 years or so for the industry that has made the approximation possible.
In the digital age, we are ready for the engagement, and, for some already, marriage is just a branded ad away.
So, it is with great interest that I have read two items in the news that reaffirm my belief that 2014 is the year of the branded ad gaining speed and even respect.
Item #1:
Wall Street Journal Adopts Native Ads, Tactic Its Editor Has Said Can Lead to Faustian Pacts
This was quite a surprise, since we do remember not too long ago when WSJ editor, Gerard Baker, expressed his dislike for branded ads:
"The clear delineation between news and advertising is becoming more and more blurred. We have to resist that," Baker told a crowd at New York University's journalism school, before describing the deals many publishers are making with advertisers as a "Faustian pact."
He continued:
"It's also in the end I think self-defeating for these advertisers, most of whom now are trying to force news organizations to do this."
Apparently, even Baker has had a change of heart. A good thing, as many in the industry will be taking a look at how the WSJ handles branded advertising.
There are high expectations for this new adventure on the part of the WSJ into branded journalism.
Here is how Raju Narisetti, VP for News Corp, put it:
"Smart brands are creating compelling stories. They are not getting into the news business, but are getting into the storytelling business. But compelling storytelling is a craft and has a science to it and if most big publishers have had more than 100 years of experience doing that. Brands trying to create their own content will struggle to do so, and will quickly find out that creating engaging content inexpensively is going to be difficult. That is where our expertise comes in"
According to Trevor Fellows, head of global media sales at The Wall Street Journal, the term "native advertising" is misused, and overused.
"Somehow, it now applies to everyone and everything. Our Narratives product provides custom solutions to advertisers. It is clearly labeled and deploys sophisticated storytelling techniques and products in order to help brand tell their stories."
Item #2
Financial Times opens global commercial academy for staff
The Financial Times is launching the FT Global Commercial Academy (GCA), a new learning and development program for the FT's commercial team, bringing staff the latest insight and skills in digital advertising and development from a range of in-house and external experts.
This is a normal evolution to follow up the FT's very successful content matching service 'FT Smart Match' which recognizes the meaning of news articles, allowing advertisers to match their content to relevant news stories in real time on FT.com.
It's springtime for branded journalism
In the spring of 2014, it is obvious that we are at the big doors of the growth and evolution of more branded advertising greeting us, especially on those mobile devices.
It means that more of the big players, such as The Wall Street Journal, The New York Times, The Financial Times, USA Today and The Economist will impart and lend their knowledge of storytelling—-and in some cases, their talented teams of journalists—-to advertising clients, so that they can craft stories behind their brands.
Branded journalism is my preferred term for all of this. It will still be advertising, don't take me wrong, but it will not be advertising per se, or as we know it. It will not be the ads we skip, and will get into more like ads that inform, instruct, entertain and enhance our knowledge in a variety of topics.
The advertising agencies, in my view, are NOT at all ready with the "journalistic' talent that will be required. That is why the initiative for the success of branded journalism will rest with the news companies themselves.
Don't know whether this is a Faustian pact, or more of a high level summit where the two very essential disciplines of editorial and advertising finally come to terms that, while they may have been eternal enemies internally, to the audience they have always been strange bedfellows, but not enemies.
Could a marriage of advertising and editorial be far behind?
Of related interest (and highly recommended):
How Top Publishers Handle "Sponsored Content"
http://digiday.com/publishers/how-top-publishers-handle-sponsored-content/?utm_source=API%27s+Need+to+Know+newsletter&utm_campaign=450ce67c13-Need_to_Know_March_11_20143_11_2014&utm_medium=email&utm_term=0_e3bf78af04-450ce67c13-31701869
Key lessons for publishers from News Corp's Raju Narisetti
http://www.journalism.co.uk/news/-wpe13-key-lessons-for-publishers-news-corporation-raju-narisetti-/s2/a554387/
Previous related blog posts:
Interactive, sponsorship ads: the new marriage of digital advertising, editorial
http://garciamedia.com/blog/articles/psponsored_messages_cuddling_up_to_editorial_content_p/
Ralph Lauren and the Times: a marriage made in tablet advertising heaven
http://garciamedia.com/blog/articles/ralph_lauren_and_the_times_a_marriage_made_in_tablet_advertising_heaven/
TheMarioBlog post # 1451
Posted by Dr. Mario R. Garcia on March 11, 2014
TAKEAWAY: He is a one of a kind Pope. Ever since he was named, Pope Francis has never stopped surprising us. So we should not be too surprised that a publisher has decided to devote a magazine to him. Il Papa Mio is here.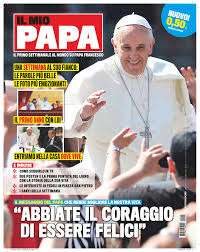 Pope Francis will now be the subject of a weekly magazine to be called Il Mio Papa (My Pope).
How many of today's celebrities can make that claim?
In fact, Mondadori, the publisher of the new magazine, already owns other titles, mostly about celebrities and gossip.
The expectations are as high as the pedestal where many have placed Pope Francis: 3 million copies in the first month, or about 750,000 each week.
"The idea for a magazine designed to report on and share the words and actions of Pope Francis came from observing how his election has stimulated a renewed interest on ethical, religious and moral issues," said the editor Aldo Vitali. "In fact, the current Pope is a figure who, thanks to his empathy, as well as the power, the courage and the simplicity of his message, has won over everyone, both the faithful and non-believers," Vitali concluded.
Engagement with readers and the Pope's followers and admirers is part of the aim of the new publication: "Il mio Papa will be a meeting place for readers who can also send letters, poems and other contributions for publication in the magazine."
Initially, the magazine will be available in print only, but then will also be possible to follow Il mio Papa on the web site http://www.miopapa.it, and on Facebook and Twitter.
Mondadori is Italy's largest publisher in terms of revenue and total circulation. It is controlled by Fininvest, Silvio Berlusconi's family holding company.
We imagine that , as with that other publication devoted to one person, Oprah Magazine, here, too, Pope Francis will grace every cover. The Pope's fans would not want it any other way.
We look forward to Il Papa Mio.
Of related interest (and quite fun):
The Guardian anticipates the type of headlines we are likely to see in Il Papa Mio.
http://www.theguardian.com/world/shortcuts/2014/mar/05/my-pope-francis-silvio-berlusconi-glossy-magazine

TheMarioBlog post # 1450
Posted by Dr. Mario R. Garcia on March 10, 2014
latest entries
about the blog
A blog about storytelling, design, the projects we work on, the things we learn along the way. View all blog entries »
categories
---